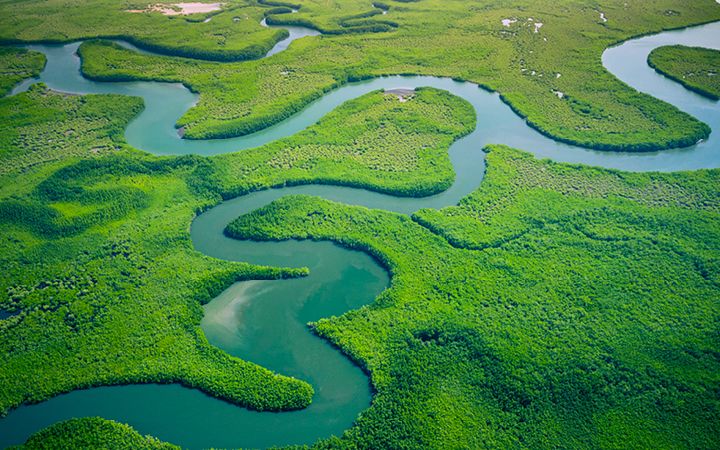 Sign up to receive exclusive Climate insights
Sign up to receive exclusive Climate insights
Sign up to receive exclusive Climate insights
Want to hear more from our experts? Get the Climate newsletter.
Want to hear more from our experts? Get the Climate newsletter.
Want to hear more from our experts? Get the Climate newsletter.
Subscribe now
Supporting Nepali municipalities to build green, resilient, and inclusive growth
The three partner municipalities of the Sudridh-Nepal Urban Development Program (NURP)—Pokhara, Butwal, and Janakpurdham—deserve huge credit. Their response to challenges demonstrates pathways to success for municipalities throughout Nepal. I've been privileged to work with ICF's NURP team, based both in Kathmandu and within those municipalities, providing technical support to staff.
Through NURP, we've collaborated with these local governments to support their technical expertise and realize their development potential through a transition into greener, more resilient, and inclusive urban economic growth.
This draws on our 20 years of local governance work in Nepal, during which we've developed our expert understanding of Nepal's history, political economy, and culture; and a commitment to a sustainable future for Nepal's growing metropolitan areas.
Discover more about how ICF and NURP are helping to build a more prosperous, resilient Nepal here.
Building federalism
Like many urbanizing areas in developing countries, these municipalities face growing populations and increasing demand for public services, infrastructure, and employment. The growth of secondary cities and rural municipalities requires new approaches to planning and land use, economic development, social services, and environmental protection.
This is a challenge in itself. Most municipalities have limited technical capacity, financial resources, and staff. But unlike most other cities in the developing world, Nepal's municipalities are now also working under a new system of governance. This has added another layer of challenge.
In 2015, Nepal adopted a new constitution—shifting responsibility and authority for many government decisions (and associated development budgets) from national to local level. Decentralization provides huge opportunities for local government to shape growth in ways best suited to residents and businesses.
But this is easier said than done. It requires municipalities to build new systems and skills—designing and implementing the institutional elements that well-functioning local government needs. It also requires a shift in institutional culture, where local leaders assume a more proactive role in shaping the future of their community. And it requires a more inclusive approach to investment decisions, promoting evidence-based and stakeholder-supported decisions, and space for dialogue between local government and communities.
Nepal's new federalist system is in its infancy. Local governments are working to understand their new roles, create workable systems, and build the knowledge and expertise to succeed.
Supporting public service delivery, infrastructure development, and employment
Even as the ICF NURP team worked with them to build robust local governance, COVID-19 added a fresh challenge.
Under the new constitution, responsibility for primary healthcare has been devolved to local government. This includes ward-level health facilities and clinics, but not hospitals. Municipalities were forced to shift attention and resources to the critical public health needs of their communities, deal with pandemic protocols and staff absences, and shift to remote work and virtual communication, despite limited technical capacity.
With the steady support of ICF's NURP team, the three municipalities have forged ahead. Their experiences—both setbacks and successes—are now models for municipal governance that local governments throughout Nepal can learn from.
These include the fundamentals of running a local government—from cleaning streets, to collecting taxes, to setting building codes and standards. They also include designing approaches to municipal growth that focus on sustainability: strategies for green, resilient, and inclusive development that achieve thriving communities, equitable opportunities, increased resilience to climate and other hazards, and a reduced carbon footprint.
Our staff has collaborated with these partner municipalities to develop more resilient urban areas through technical support to municipal staff. Our extensive on-the-ground local governance experience in Nepal is complemented by our expertise in working with local governments in developing countries globally.
ICF and NURP's work in partnership with Butwal, Pokhara, and Janakpurdham offers best practice for local governments throughout Nepal—and elsewhere—as they build capacity for more effective, responsive, transparent, and predictable local governance.
Best practice #1: Focus on the fundamentals
Nepal's newly empowered local governments are building their staff and systems from the ground up—taking on new responsibilities and learning how to get things done—despite often lacking the human resources, funding, and experience needed for the basic functions of governance. Our training and technical support helps municipal staff develop the fundamental processes and skills they need.
Examples include training in areas such as revenue management, help establishing new systems for data collection, and support in organization and management to improve the efficiency of municipal service delivery. This has helped partner municipalities to establish the foundational administrative infrastructure for effective governance. Read more about how we are building institutional capacity and systems in Nepal here.
Best practice #2: Engage and support local teams to deliver results
We have assembled an impressive team of Nepali men and women, including experts in planning, economics, infrastructure development, land use, disaster risk management, gender and inclusion, financial management, GIS, and data management.
They bring both technical knowledge and their wealth of understanding of Nepal's cultural norms, politics, and history. Nepali leadership ensures that NURP's program design is grounded in the realities of Nepal, while supported by ICF's global experience. Building and empowering local teams is also more sustainable, as local knowledge remains long after the project ends and can then be multiplied or scaled up.
Best practice #3: Be on the ground
NURP deployed Municipal Technical Support (MTS) staff to each partner municipality. Each team is comprised of full-time coordinators, planners, engineers, and social development/economist professionals–Nepali specialists in local governance who work day-to-day with local government staff and policymakers.
This hands-on support expands the capacity of local governments. Being 'on location' gives the NURP team a nuanced understanding of what each municipality needs to be effective and what is feasible.
Working with municipality staff also forges trusting working relationships and an understanding of the actors involved. Local staff are supported by experts in Kathmandu who work across municipalities, coordinate with national stakeholders, and develop resources that can be accessed by each local government depending on need.
They also support dialogue among municipalities to identify common concerns and share effective strategies—building a network through workshops and informal discussions.
NURP's Urban Areas Learning Alliance provides a platform for knowledge sharing and peer learning, for all municipal officials and key staff. This means local governments avoid reinventing the wheel and past mistakes-and build on existing successes.
Best practice #4: Tailor a decision-driven approach to meet local priorities
Each partner municipality is unique. NURP staff have worked with each one to identify their key concerns and develop work plans focusing on their specific challenges and development goals.
For Pokhara, this means furthering their vision of a growing eco-tourism destination. For Butwal, it means building their role in commerce and expanding transport infrastructure. NURP is working with Janakpurdham to promote its rich cultural heritage, while providing basic municipal services to its growing population. NURP works to facilitate stakeholder engagement, identify private sector partners, and design multi-year strategies to advance development objectives.
NURP staff have helped introduce and strengthen innovative approaches to planning and development that will bolster capacity to meet future challenges. This includes gender and equity training to expand the engagement of women and marginalized groups. NURP also helps municipalities integrate environmental and climate change objectives into their land use and economic development plans, to ensure that infrastructure expansion and economic growth incorporates climate resilience and sustainability.
Best practice #5: Expect the unexpected
Local governments in Nepal are building basic systems while focusing on an economically vibrant and sustainable future. Yet priorities can shift rapidly—as the result of a natural disaster, economic or political shifts, changes in local leadership, or most recently, a pandemic.
When COVID-19 hit, we shifted gears, working with municipalities to set up virtual communications systems so that work could continue while staff could not be in their offices. We then designed a rapid impact assessment to understand the immediate and longer-term impacts on municipality goals. It was a snapshot of how COVID-19 was changing the development environment for each municipality and its impact on different segments of the population. This helped NURP to work with municipalities to incorporate the realities of the pandemic into their near-term priorities and plans.
Our capacity to quickly pivot to help deal with this unexpected challenge further highlighted the importance of maintaining an agile, flexible stance. The NURP team's ability to respond to the unexpected provides the real-world support that local governments need in this critical period.
With help from NURP, Pokhara, Butwal, and Janakpurdham are now building strong local governments, ready to lead their communities toward economically resilient and sustainable futures as they transition into low-carbon urban economic growth. Read more about COVID-19's impact on sustainable development in Nepal here.
With our support, these municipalities now offer pathways that other local governments can look to, as they also take up the challenges and opportunities of Nepal's new federalist approach.
New climate data reveals warmer, wetter future for the U.S.
In this report, our climate scientists project some Americans could experience 42-61 additional days with temperatures above 95 F by midcentury.