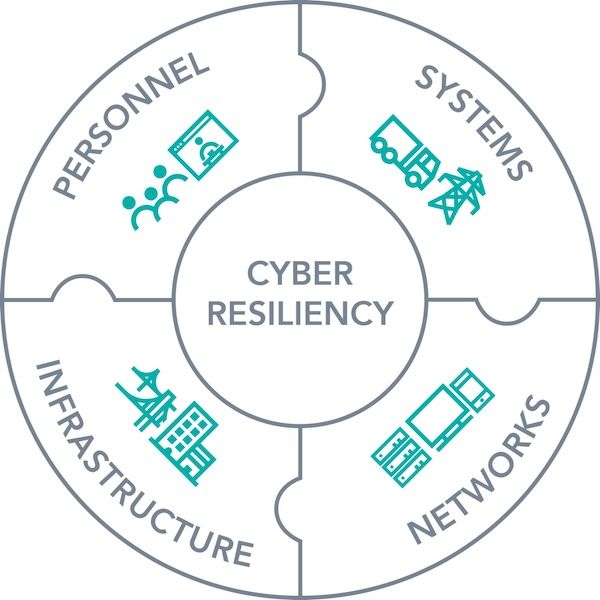 Your mission, assured
The need for cyber resiliency touches every aspect of our national well-being—defense, energy, banking, transportation, and disaster recovery. Beyond just cyber security, resiliency keeps an organization's entire mission going, assuring its future, and protecting its people.
Adaptability is survivability. Evolve your integrated security culture to address people, processes, systems, and technology alike. You'll advance your readiness beyond network protection to stand ready for terrorism, large-scale technological failure, severe weather, and pandemic diseases.
Explore ICF's practices in Climate and resilience, Energy, Transportation, Disaster management, Digital and enterprise technology.
Building more resilient missions
Educate and train workforce
A chain is only as strong as its weakest link. Our team of experts develops and delivers training and guidelines that strengthen the resilience of military and civilian organizations under any circumstance. Our Integrated Training Environment simulates real-world cyber threats with live malware, advanced persistent threat binaries, and zero-day exploits—to prepare trainees for their mission and role.
Secure critical systems
Cyber risk is real-world risk. The consequences of a breach aren't just technical, they can be legal, financial, and reputational. While DevSecOps is all about securing the IT environment, cyber resilience is about protecting the entire mission—marrying the digital with the physical in a holistic solution.
Protect critical functions
The consequences of disrupting our power, water, telecommunications, elections, or supply chain could be catastrophic. Protect the functions and missions that are vital to our people, government, and military through proactive planning and strong public-private partnerships.
Defend cyber networks
Information warfare, peer-to-peer threats—future warfare isn't going to be fought with soldiers—it's going to be hybrid and asymmetric. Cybersecurity must be a critical mission priority because today, attacks are happening right here at home.
Services
Mission assurance
Research and development/test and evaluation (R&D/T&E)
Cyber operations
Enterprise transformation
Identity management and access management
Governance, planning, and oversight
Application security/DevSecOps
System hardening and security configuration
Infrastructure resilience and security
Industry specialists, risk-management professionals, engineers, analysts, developers, innovators, former government officials, and specific hazards specialists bring decades of hands-on, real world experience to do one thing—protect your organization from the ground up.
Related industries, solutions, and services