Rooted in our purpose of building a more prosperous and resilient world for all, we're committed to supporting our people, protecting the planet, giving back to our communities, and serving our clients with integrity.
Accelerating change for lasting impact
Mounting global health, social, and environmental challenges require quick, positive change. As a firm whose very purpose seeks to make the world a better place, we're taking meaningful, deliberate actions for our people, our planet, and the communities around us.
In our latest corporate citizenship report, we share how we're supporting our workforce while deepening our commitment to inclusion, equity, and diversity. Minimizing our carbon footprint while continuing to set the bar with our greenhouse gas emissions reduction goals. And supporting more equitable, healthy, and resilient communities—both through our giving and in our work.
Investing in our people
Our employees find meaning in work that changes the world now and for generations to come. It starts by attracting talent who want to make an impact, then investing in their personal and professional growth. We want our people to thrive in a stimulating and respectful environment—where everyone feels a
sense of belonging
and finds
purpose
in their work.
Pay equity
across gender and race
44%
female and minority executives
30K+
training and technical courses
Minimizing our footprint on the planet
In response to the need for urgent climate action, we're helping lead the transition to a low-carbon economy. As the first professional services firm in the world to reach carbon neutral status in 2006, we continue to
set goals
, measure, reduce, and offset our carbon emissions. Today we're among the top 1,500 companies to set a
science-based target
, an approach to a zero-carbon economy that boosts innovation and drives sustainable growth. View our
CDP report
to see how we're implementing the recommendations of the Task Force for Climate-related Financial Disclosures (TCFD).
As we grow, our emissions decline
Though we've grown in revenue, number of employees, and facilities square footage since our 2013 baseline, our absolute emissions and emissions intensity have decreased after purchasing renewable energy certificates.
Carbon neutral
since 2006 due to a reduction strategy and investments in high-quality carbon offsets
100%
net renewable electricity for global operations via renewable energy certificates
93%
reduction in greenhouse gas emissions per employee since 2013 baseline
As we're reducing our own carbon footprint, we're helping our clients decarbonize.
The
ICF Climate Center
generates science-based research and practice-driven perspectives that not only offer a better understanding of climate change, but also help organizations foster and accelerate innovation, and establish clear, practical pathways forward.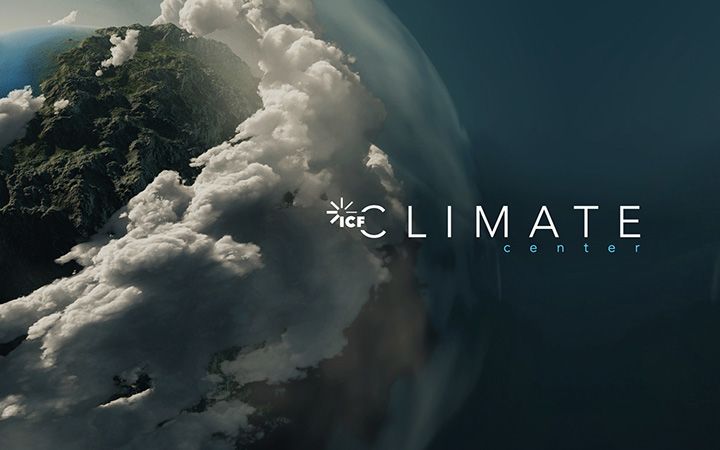 Supporting our communities
We work to make our communities more equitable, healthy, and resilient by accelerating change today to make a lasting impact tomorrow. We tap into our employees' philanthropic passions and amplify them with matched giving. Whether it's providing for health care, education, or relief from natural disasters, we work together to assist people in need around the globe.
$1.1M
charitable donations from employee giving and company matching funds
1:1
match of employee donations
3.4K+
employee volunteer hours
Ensuring value through governance
Trust is the foundation for our relationships. Our
Code of Business Ethics and Conduct
embodies our commitment to build and sustain trust with clients, each other, shareholders, business partners, and other stakeholders. Governance—our corporate policies and structure—helps us operate ethically and in compliance with the law.
Past corporate citizenship reports