Stakeholder engagement
Move beyond checking a box and unleash the power of data and analytics to drive project success. We take a full lifecycle approach to stakeholder engagement, leveraging digital capabilities to understand public sentiment—and using that early analysis to shape a winning message.
Stakeholder engagement for environmental projects is often viewed as a required but limited activity, conducted in the middle of a project to satisfy compliance regulations. But we know that stakeholder engagement can—and should—be so much more. It should start early in a project's lifecycle. Done well, stakeholder engagement allows you to tune into the conversation and use what people are saying to create tailored messages to key audiences, solicit input, and shape a project to be reflective of community interests.
Our stakeholder engagement strategies keep you ahead of potential pitfalls that can slow down your projects or stop you in your tracks.
We support clients throughout the project lifecycle with:
Assessment
Research
Market analysis
Audience segmentation
Social listening and analysis
Strategic communication and engagement planning
Execution
Message development
Public engagement and community outreach
Input and public comments
Website and collateral material design
Media relations
Facilitation
Event planning
Sustainment
Monitoring
Redesign
Continued assessment and realignment
Trust and confidence building
Waypoint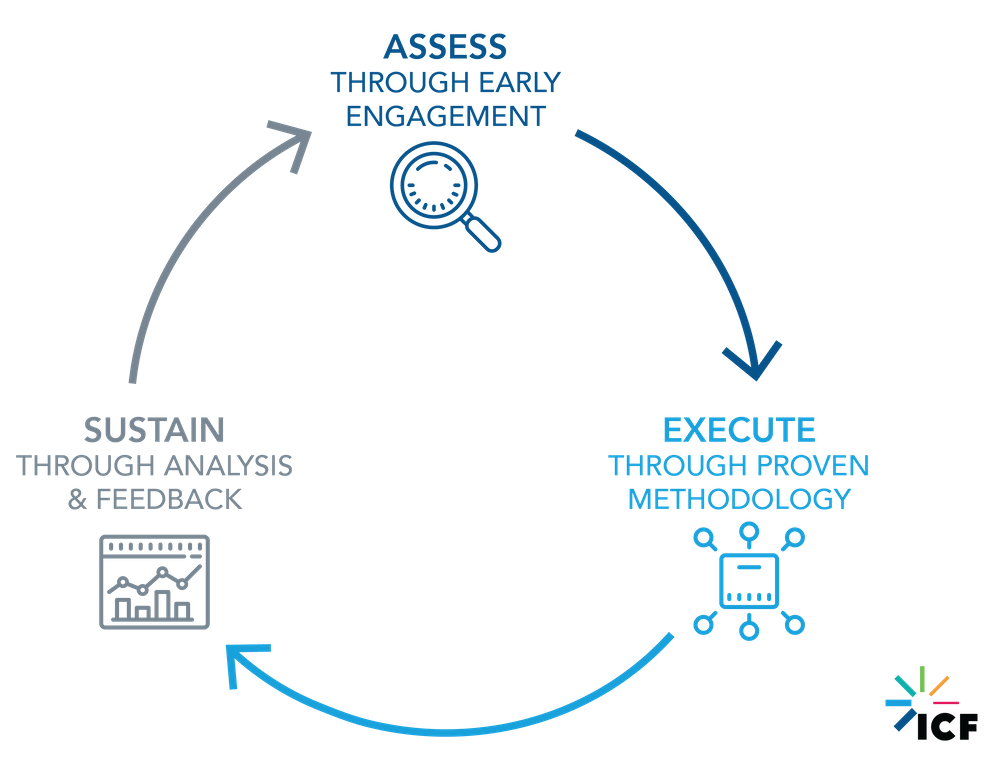 A data-driven approach to stakeholder engagement
Leveraging the digital insights and analytics capabilities of our global marketing services agency, ICF Next, we analyze data to understand public sentiment and craft effective stakeholder engagement strategies and tailored messaging. Our methodology allows us to answer questions such as: How do we reach people? Are we reaching the right people? How many people did we reach? And once we reached them, did they engage with our message in a meaningful way? By listening to the data, and responding to it, we help you ensure project success.
We meet you where you are
We know each project is different. Some clients engage us before the environmental review process has begun to take advantage of our assessment and early engagement capabilities, and some tap us mid-project to ensure transparency and regulatory compliance. No matter where we plug in, our stakeholder engagement experts can meet your communication goals and enhance project outcomes.
Related industries and services