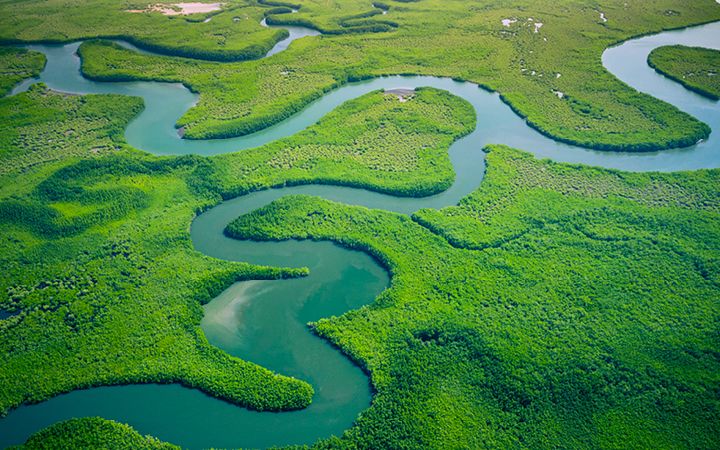 Sign up to receive exclusive Climate insights
Sign up to receive exclusive Climate insights
Sign up to receive exclusive Climate insights
Want to hear more from our experts? Get the Climate newsletter.
Want to hear more from our experts? Get the Climate newsletter.
Want to hear more from our experts? Get the Climate newsletter.
Subscribe now
How nature-based infrastructure builds transportation resilience to climate change
Here's how to use nature-based solutions to build climate resiliency into infrastructure, and take advantage of anticipated new funding sources.
To help achieve U.S. climate goals, President Biden signed into law the Infrastructure Investment and Jobs Act, also known as the Bipartisan Infrastructure Law (BIL) of 2021, and the Inflation Reduction Act (IRA) of 2022. Both provide historic investments in infrastructure and climate action, including nature-based solutions to address critical challenges.
In order to maximize their eligibility for likely funding opportunities, transportation agencies and departments can start integrating nature-based resiliency solutions into their transportation planning. Starting to plan for these projects now will give you a jump start when funding becomes available.
Now is the time to review the projects in your transportation improvement program to determine where there are opportunities to bolster resiliency. Start planning for new resilience projects you have been putting off due to lack of funding. Embark on a vulnerability analysis and adaptation and resilience plan so you can map out the steps you will need to take in the near- and long-term to protect your communities. Throughout your climate resilience planning efforts, consider how nature-based solutions can be used to bolster your resiliency.
What are nature-based solutions and how do you get started?
Nature-based solutions use plants, soils, and other natural features to protect communities and ecosystems from extreme weather. For example, barrier islands are more than just popular tourist destinations—the coastal natural infrastructure of dunes and grasses help absorb storm surge that threatens to flood coastal communities.
Some agencies may be new to nature-based solutions or they may not know how to create a resilience plan that evaluates these along with other more traditional infrastructure projects. Resources exist to help you get started including our overview of key steps for state departments of transportation to begin to incorporate climate risk into their work. We also developed a practical and user-friendly geographic information system (GIS) risk assessment tool to help agencies like the Southeast Michigan Council of Governments and Michigan Department of Transportation make decisions around flood mitigation.
The Federal Highway Administration's (FHWA) Nature-Based Solutions for Coastal Highway Resilience: An Implementation Guide, prepared for FHWA by ICF, is another good example of how transportation leaders can turn visions of resilience into well-designed plans of action. Below are some of the ways a guide like this can help planners and decision makers tackle resilience planning.
Why nature-based solutions?
Nature-based solutions are great for protecting the environment, but they can also offer a variety of other benefits, from reduced risk of infrastructure damage in flood events to beautiful recreation spaces or higher water quality that can improve public health.
In addition to reducing climate risk, nature-based solutions offer a host of other mitigation and adaptation benefits, such as carbon removal through forest management, forest restoration and conservation, urban tree planting, coastal habitat restoration, and climate-smart agriculture.
Nature-based solutions often cost less than other mitigation and adaptation strategies, particularly if they reduce maintenance or replacement costs of infrastructure over time.
As Michael Regan, Administrator of the EPA, told NPR, "I think when you look at those billions of dollars for climate resilience, not only is it focused on bridges and roads, it's also focused on natural, resilient measures that we can put in place with our lakes, our streams, our rivers to prevent erosion and to have these water bodies better protected from what we know to be the extreme impacts of climate change."
How can the Nature-Based Solutions Guide help?
A resource like the Nature-Based Solutions Guide arms transportation practitioners with the information they need to make the case for exploring investment in nature-based solutions, whether to protect native fish or their bottom line.
Once practitioners are ready to explore options, the Nature-Based Solutions Guide meets them where they are—it mirrors the steps of the project development and delivery process.
Organized in the order these questions typically arise, the guide helps practitioners:
Consider nature-based solutions in the planning process
Conduct a site assessment to determine whether nature-based solutions are appropriate
Incorporate key engineering and ecological design considerations, permitting approaches, construction considerations, and monitoring and maintenance strategies
In addition, detailed in the appendices are tools that practitioners can use for site characterization, to decide between different nature-based solutions, and to measure performance. It also includes links to additional resources and tools.
Learning from examples
Nature-based solutions aren't new—which means there are many case studies of these measures in practice.
Not sure how to assess your stretch of highway to determine which solutions might be a fit? The guide will walk you through it, from characterizing your site to performing that assessment, to building a team with engineers and scientists to hammer out project design, to monitoring and managing performance once construction is done.
Interested in the idea of using a beautiful marsh to naturally improve water quality under a bridge? Look at the case study about a $25,000 Teaching Marsh in Gloucester Point, VA.
Don't know where to start, and lost among the "nature-based" and "resilience" jargon? Definitions and design schematics will clear it up.
As extreme weather fueled by climate change increases in the coming decades, it's important to invest in resilience before the worst impacts of climate change occur. If you're trying to figure out how to weave resiliency throughout the infrastructure planning of your organization, guides like this are prepared to get you started and carry you across the finish line. Now is the time to take advantage of existing funding opportunities to turn your community's resilience vision into a reality.
New climate data reveals warmer, wetter future for the U.S.
In this report, our climate scientists project some Americans could experience 42-61 additional days with temperatures above 95 F by midcentury.