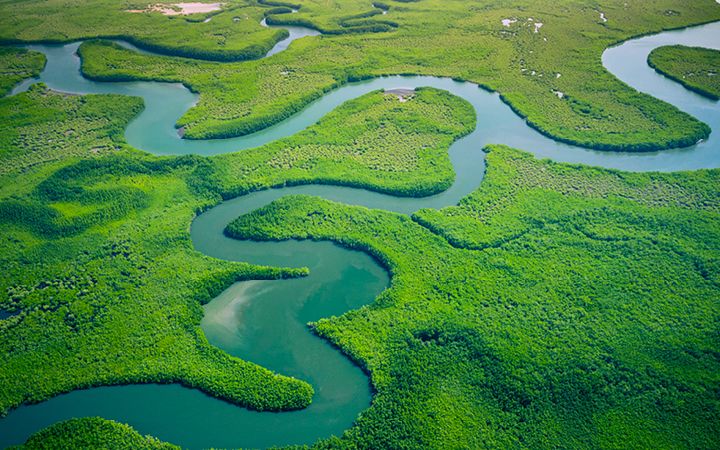 Sign up to receive exclusive Climate insights
Sign up to receive exclusive Climate insights
Sign up to receive exclusive Climate insights
Want to hear more from our experts? Get the Climate newsletter.
Want to hear more from our experts? Get the Climate newsletter.
Want to hear more from our experts? Get the Climate newsletter.
Subscribe now
What the Bipartisan Infrastructure Law means for transportation climate resilience
Understanding how state DOTs and MPOs can prepare for new transportation resilience funding opportunities
Sorting through the 1,039 pages of the Nov. 15, 2021 Infrastructure Investment and Jobs Act (IIJA)—now known as the Bipartisan Infrastructure Law (BIL)—takes time. We all know the highlights—it includes unprecedented funding for our infrastructure systems to pull them out of a state of disrepair, invest in the technologies of tomorrow, and create a more resilient system—but what exactly does that entail? This article dives into the funding sources and requirements specific to improving transportation resilience to climate change. In particular, it covers:
Discover the details for funding opportunities and how state DOTs and MPOs can leverage them by taking proactive steps.
A major funding opportunity for climate resilience
The Promoting Resilient Operations for Transformative, Efficient, and Cost-saving Transportation (PROTECT) Program is the crown jewel of the BIL's transportation resilience components. It authorizes the spending of $8.7 billion over five years, with $7.3 billion distributed via formula to state DOTs and the remaining $1.4 billion available through a competitive grant program. While this isn't nearly enough funding to fully "future-proof" the transportation network, it helps transportation agencies jumpstart the planning and implementation of back-burner resilience projects.
A wide range of DOT activities and projects are eligible for PROTECT funding. The table below summarizes PROTECT's four competitive grant programs, their funding levels, and the eligible project types. State DOTs can use the formula funding to finance projects eligible under the Resilience Improvements, Community Resilience and Evacuation Routes, or the At-Risk Coastal Infrastructure categories. These programs aim to increase the resilience of the highway network, transit systems, intercity passenger rail, and port facilities.
FHWA has not yet established the scoring and evaluation criteria for the competitive grant programs. While we anticipate that most of the applicants will be state DOTs, other eligible candidates include metropolitan planning organizations (MPOs), local municipalities, tribes, public authorities with a transportation function, and federal land management agencies.
Explore insights on how to drive low-emission transitions and build resilience against the effects of climate change.
Go to Climate Center
Breaking down the match requirements of the BIL
The BIL provides an interesting opportunity to reduce the federal match requirements for projects funded under the PROTECT program. Construction projects generally require a 20% non-federal match, whereas the program covers 100% of costs for planning projects. However, if a state DOT or MPO develops a resilience improvement plan, the construction match requirement drops to only 13%. Additionally, if the resilience improvement plan is incorporated into the state DOT or MPO long-range transportation plan, the match can be further reduced to just 10%. This could represent significant savings.
At a minimum, resilience improvement plans are required to:
Demonstrate a systematic approach to system resilience.
Include a risk-based assessment of vulnerabilities of transportation assets and systems to current and future weather events and natural disasters, such as severe storms, flooding, drought, levee and dam failure, wildfire, rockslides, mudslides, sea-level rise, extreme weather, extreme temperatures, and earthquakes.
Include an investment plan that includes a list of priority projects, identifies matching funds, and uses science and data. If a project is on this list, it is eligible for the non-federal match reduction.
Other new funding programs for increasing resilience
The BIL establishes two new funding programs that will help enhance climate resilience: the Healthy Streets Program and the National Culvert Removal, Replacement, and Restoration Program.
The Healthy Streets grant program aims to mitigate urban heat islands, improve air quality, and reduce stormwater runoff by deploying cool and porous pavements and expanding tree cover. This program is relatively small, funded at $500 million over four years, with a maximum grant size of $15 million. Urbanized areas with low-income and disadvantaged communities or projects partnered with youth or conservation corps receive funding priority. Eligible projects include:
Conducting an assessment of urban heat islands to identify hot spot areas of extreme heat or elevated air pollution
Conducting a tree canopy assessment
Comparing tree canopy gaps, flood-prone locations, and urban heat island hot spots to pedestrian walkways and public transportation stop locations, low-income communities, and disadvantaged communities
Purchasing and deploying cool pavements in urban heat island hot spots
Purchasing and deploying porous pavement in pedestrian-only or low-volume/speed traffic areas
Purchasing, planting, maintaining, and monitoring trees, including repairing them after storm damage
Assessing underground infrastructure and coordinating with utilities
Hiring staff to conduct any of these activities
In addition to healthy streets, the BIL also seeks to improve or restore fish passage. The National Culvert Removal, Replacement, and Restoration Program is a competitive grant program funded at $1 billion over four years. This program is focused on improving or restoring fish passage. As a co-benefit, increasing the number of culvert openings or their size can also increase resilience to larger future flooding events.
Changes to existing programs to incorporate resilience
To update opportunities for existing programs to better incorporate resilience, the BIL singles out the National Highway Performance Program (NHPP), Surface Transportation Block Grant (STBG), Emergency Relief (ER), Infrastructure for Rebuilding America (INFRA), and Rebuilding American Infrastructure with Sustainability and Equity (RAISE) programs.
National Highway Performance Program changes
The BIL expands the scope of the NHPP to include support for "activities to increase the resiliency of the [National Highway System or NHS] to mitigate the cost of damages from sea-level rise, extreme weather events, flooding, wildfires, or other natural disasters." In doing so, it also updates the funding eligibilities to include resilience improvements on the NHS, with up to 15% of NHPP funds available for use to implement protective features on Federal-aid highways and bridges off of the NHS. Numerous protective features are defined in the BIL, including raising and relocating roadways and bridges, stabilizing slides and slopes, and replacing culverts, adding scour protection, and more.
Surface Transportation Block Grant Program changes
The BIL also continues the Fixing America's Surface Transportation (FAST) Act requirements to consider extreme weather and resilience in lifecycle cost and risk management analyses.
The BIL expanded the list of eligible project types in the STBG program to include those with protective features to enhance resilience. In addition, it now adds eligibility for projects to replace a low water crossing with a bridge for off-system bridges, increasing resilience to flooding.
Emergency Relief Program changes
State DOTs often struggle to integrate resilience features into recovery projects after extreme weather events due to ER Program requirements that require replacing infrastructure in-kind unless the case for a betterment can be made. After an emergency event, state DOTs typically don't have the time or resources to make the case for a betterment.
With the BIL, the ER Program now includes wildfires on the list of natural disasters for which ER funds are authorized and explicitly allows for the incorporation of economically justifiable protective resilience features. It states that "the cost of an improvement that is part of a project under this section shall be an eligible expense under this section if the improvement is a protective feature that will mitigate the risk of recurring damage or the cost of future repair from extreme weather, flooding, and other natural disasters."
In addition, the Federal Highway Administration (FHWA) will revise the ER Program manual to include a definition of resilience, best practices for including resilience, and tracking the inclusion of resilience in ER Program projects.
INFRA and RAISE programs
The popular INFRA and RAISE programs are funded at $7.25 billion and $7.5 billion, respectively, over the next four years. Although the BIL does not change the eligibilities of these programs, FHWA updated the evaluation criteria for both programs in 2021 to include resilience considerations. Given the emphasis on resilience in the BIL, it's likely that these programs will continue to rate resilience projects highly. The INFRA program focuses on multimodal freight and highway projects of national or regional significance, while RAISE focuses on grants for rail, transit, and ports.
Pending federal guidance and resources
Transportation Resilience and Adaptation Centers of Excellence
The BIL includes funding for 11 academic Centers of Excellence for Transportation Resilience and Adaptation—10 regional centers and one national center. The timing of when these centers will be up and running is unclear, but we expect this sometime in 2023. These centers will focus on a myriad of opportunities, including research, development, design, implementation, and meaningful engagement to address climate resiliency across the country.
Risk and system resilience quantification
The BIL requires the U.S. DOT to develop a process for quantifying annual risk to increase surface transportation system resilience. This methodology will provide guidance for quantifying:
Resilience to threat probabilities by type of hazard and geographical location.
Resilience to asset vulnerabilities with respect to each applicable threat.
Anticipated consequences from each applicable threat to each asset.
Some states already follow a similar process today, including Utah DOT and Colorado DOT. Both are focused on current natural hazard risks (rather than climate change risks) at this point in time.
What should state DOTs and MPOs do to prepare?
Most of the BIL's funding programs, changes in the ER Program, and other provisions are not yet well defined. The FY 2022 appropriations bill was just signed on March 15, 2022, which finally made the funding in the BIL available to U.S. DOT and FHWA. These agencies can now begin to fully flesh out the programs and complete other tasks such as creating evaluation criteria for the competitive grant programs.
At this time, state DOTs and MPOs should ask themselves what they can do now to prepare for these funding programs. The good news is that there are a number of proactive steps to take. Our recommendations include:
Develop a resilience improvement plan. Developing this plan now allows resilience projects to reduce their non-federal match on PROTECT projects as soon as the program launches. Developing a resilience improvement plan includes conducting a climate change vulnerability assessment and using the results to develop a list of priority projects. We have conducted dozens of these assessments and can help you get started.
Determine if you need additional consultant support to pursue funding under the large number of competitive grant programs included in the BIL. State DOTs don't traditionally pursue many competitive grants, but the BIL changes this significantly with its new programs. Consulting firms have a depth of experience writing competitive grants applications and can help round out your bench while you adjust to this new approach to transportation funding.
Bring your agency policies in line with the priorities established in the BIL. Resilience is clearly a priority in the BIL, and state DOTs that develop their own resilience policies or raise resilience as a departmental priority can motivate staff to pursue resilience projects. Some states have already developed resilience policies, including North Carolina DOT and Colorado DOT.
Establish formal resilience staff positions. Empowering staff now to work on resilience will help them be up and running when the BIL resilience funding is released. The Delaware DOT provides an example of an established resilience office.
New climate data reveals warmer, wetter future for the U.S.
In this report, our climate scientists project some Americans could experience 42-61 additional days with temperatures above 95 F by midcentury.