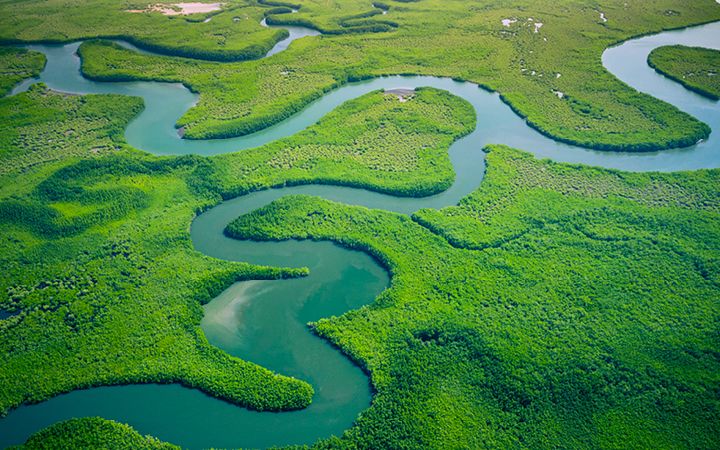 Sign up to receive exclusive Climate insights
Sign up to receive exclusive Climate insights
Sign up to receive exclusive Climate insights
Want to hear more from our experts? Get the Climate newsletter.
Want to hear more from our experts? Get the Climate newsletter.
Want to hear more from our experts? Get the Climate newsletter.
Subscribe now
The green, resilient, and inclusive approach to infrastructure design
In recent years, climate change and the COVID-19 pandemic have further deepened social and economic challenges around the world. This new dynamic illustrates just how important it is to elevate social inclusion and environmental goals, alongside economic growth, as core priorities for donor countries that fund international development programs.
Social inclusion and the environment are central tenets of our approach to infrastructure development in Nepal, where ICF has been working for over 20 years. Working with our partners in the Sudridh-Nepal Urban Resilience Programme (NURP), we support three local governments—Pokhara, Butwal, and Janakpurdham—with their infrastructure governance.
Beyond simply constructing new infrastructure, taking a greener, more resilient, and inclusive approach to planning, design, and implementation considers the long-term sustainability of the infrastructure and the need for a transition to low-carbon local growth.
Taking an integrated approach to infrastructure development
NURP is a great example of what an integrated approach to infrastructure development can achieve. Our work in Nepal shows a clear pathway to meeting the infrastructure development needs of a growing and rapidly urbanizing country, in a way that is also sustainable and addresses the needs of the planet.
Because we have relatively light resources across the three partner cities, we aren't delivering large-scale programs. Instead, we're intervening in different stages of the infrastructure development, delivery, and operational cycle at a municipal level. For each partner municipality, NURP teams are helping to identify:
A long-term vision for each of the partner cities
The key strategic elements needed to realize that vision
Plan of action programs and interventions to support those strategic elements and help to achieve the vision
Ways that we can help develop projects which can attract external investment
How to leverage each project in order to link up with other donors and investors, including private sector finance and green finance
Support in asset inventory preparation and preventive and periodic maintenance scheduling
Planning and designing infrastructure with the needs of every stakeholder in mind
NURP adopts an inclusive approach to urban resilience, aligned with the principles of Green, Resilient, and Inclusive Development. These were identified by the World Bank and are now recognized by all the international donors in Nepal, who use them as guiding principles when allocating funding. They are seen as the best way to ensure a full recovery from COVID—three pillars that will support sustainable growth and recovery that will not leave anyone behind again.
From the beginning, NURP has incorporated inclusion into the planning and design of infrastructure as a basic starting point for our approach to stakeholder engagement. Inclusion is particularly important in infrastructure projects because urban planning and service delivery have such an impact on citizens' lives. Poor infrastructure and unplanned urban spatial growth can exacerbate issues such as marginalization and ghettoization. In Nepal, we've particularly focused on gender equality and social inclusion to ensure that any design is inclusive and participatory. We follow the principle of "Leave No One Behind" - the central commitment of the 2030 Agenda for Sustainable Development and the Sustainable Development Goals (SDGs).
A participatory approach to meet local needs
Taking an inclusive approach isn't just about proposing a project and then asking people for their views. It's important to build participatory engagement into our infrastructure development and service delivery interventions.
We encourage local consultation in design, and drive participation in decision-making through membership of the task forces governing the infrastructure. In Nepal, we've also created many person hours of work to support the recovery from COVID-19, often with small scale, locally run infrastructure projects, staffed through local employment schemes financed by the municipalities. The Inclusive Local Economic Development Strategies and Action Plans we've developed in each city create an enabling environment for new jobs, skilled and non-skilled, and for encouraging dialogue between the private and public sectors. We've also created a labor database to connect the local private sector with the unemployed.
But we don't just do this to build support for a project. Rather, we do it because it means that the infrastructure addresses issues that everyone accepts.
Bringing together the best global and local experience and expertise
Nepal isn't the only country where we're delivering this kind of approach. We recently worked on a project with 32 cities in Andhra Pradesh, India. There, we built more strategic, evidence-based decision making into infrastructure development and service delivery. In the past, infrastructure funds had simply been distributed to city wards to spend as they saw fit.
By creating the Municipal Action Plan for Poverty Reduction, we provided a strong, evidence-based rationale to drive a broad consensus behind infrastructure investments. We influenced political leaders as stakeholders and showed them the evidence justifying investment prioritization (poverty and service deficiency). By building agreement for focused, step-by-step investment, we brought everyone along together. This approach has since been successfully replicated in other states across India.
This underlines the need to create genuine local ownership at all levels, so that resources, investments, and infrastructure will be better maintained and will benefit everyone—because people recognize that what is being built actually responds to their needs.
Providing external strategic focus also helps address the many different needs of each stakeholder group and leverages the value each group can add to the project. Importantly, this doesn't just mean engaging poorer or marginalized communities. It's also about engaging the local experts who will ultimately deliver the infrastructure project but who might otherwise be left out of consultations.
In Nepal, we're building this participatory approach into the infrastructure governance process for the long term. We're ensuring that participation becomes part of the way in which business is done by municipalities. While this may take many years, we're already demonstrating that this should be a normal part of every physical spatial planning and infrastructure planning activity. A key example is the process NURP has been following in the development of Risk- and Inclusion-Sensitive Land Use Plans (RISLUP) for all cities in which we work. RISLUP is a well-known best practice and first step for good urban planning. It involves mainstreaming Disaster Risk Management (DRM) within the governance and operations of public and private institutions in spatial and physical development plans, and we extended this to inclusion.
Building capacity and financial sustainability
Capacity building is also a big focus in Nepal. While we're creating an enabling environment through the overall policies and procedures, we're also helping cities to implement some projects, step by step.
One area we've done this is procurement. Historically, public-private partnership arrangements in Nepal have had limited success. We're working with municipalities to help them through that process of procuring services or investment, leveraging private-sector expertise and financial resources. We're also supporting more traditional project procurement steps, including design, feasibility studies, and initial environmental assessments.
This support means that they get the best value for the money, but also that they develop the ongoing capacity to manage private sector partnerships effectively. The aim is to embed transparent and open, systematic procurement methods.
Crucially, we also focus on 'just in time training'—learning by doing, rather than in a classroom environment. We work with the local governments on specific focus areas where they need training support. We take them through the process; by doing it together, they are much more likely to be able to apply that knowledge in the future.
Financial sustainability is also key. Within the NURP project, we factor in how to operate and maintain any new services efficiently and affordably, as well as looking at where we can create cost recovery mechanisms further down the line. We work with the municipal governments on creating short- to medium-term frameworks for municipal resource allocation, as well as helping with their annual budgets, and on asset management and maintenance.
A sustainable approach for the future
In Nepal, we're taking a broad perspective, focusing on economic growth and helping to identify what would be best for the cities to invest in.
One example is Pokhara, the premier tourism capital of Nepal. We've worked with them on their 80km "Round the Rim" cycle route, which supports both green travel and tourism. The idea is that tourists visiting Pokhara to get to the Himalayas are now likely to spend longer there to do this cycle ride. The NURP team helped the municipalities and a cycling group within the city to make the route a reality. The British Ambassador to Nepal, Nicola Pollitt, has recently cycled the circuit, posting her experience on social media.
Another example of our work is in Janakpurdham, where there have been major problems with waste management. The Ramjanaki temple is a pilgrimage site for Hindus and Janakpurdham has a number of ponds that have religious, social, stormwater retention, and recreational value but are under threat from encroachment, siltation, and used for waste disposal. We're working with the municipality to conserve and preserve these existing assets, which are a critical part of the city's infrastructure and have important cultural and religious value. We're also supporting the process to potentially add the site to the UNESCO World Heritage List.
These examples illustrate how NURP's work in Nepal is not simply about building roads or improving drainage. Instead, we're raising the ambition of local governance in terms of infrastructure and service delivery projects, ensuring that they bring a green, resilient, and inclusive lens to each one.
New climate data reveals warmer, wetter future for the U.S.
In this report, our climate scientists project some Americans could experience 42-61 additional days with temperatures above 95 F by midcentury.