How electric aviation could spark a revolution in sustainable travel
Why are more carriers expressing interest in electrifying their fleets? And what does that mean for how the aviation industry connects communities?
Electric aviation will have a transformational impact on how we travel in the future, providing greater connectivity while also improving the sustainability of air travel.
At current levels of systems design, propulsion capabilities, and battery technology, electric aircraft are already feasible in the nine-seater commuter aircraft segment, with ranges of up to 500 miles. These aircraft are well suited for the European travel market.
In 2019, over 40% of scheduled flights in Europe had a range of less than 500 miles, and more than half of those were domestic. Feeder services to airline hubs generate much of this demand. If we include non-scheduled general aviation flying, these proportions only increase. Also included in the under-500-mile segment are regional and commuter airlines, serving point-to-point demand generally on lower volume and thin routes.
The economics of regional aviation in Europe
Regional aviation faces challenges to generate feasible operating economics, with its business model in a squeezed middle between low-cost and full-service carriers. Current aircraft technology does not support the mission of this segment of the market. Given shorter stage lengths of regional carriers, airlines may also be competing with alternative transport modes, such as rail, where high-speed rail corridors in European countries offer fast national and inter-country travel options.
On regional aircraft in Europe, passengers can pay between $0.50 to $0.75 per mile, making it up to five times more expensive than rail travel and up to 2.5 times more expensive than driving.
Explore insights on how to drive low-emission transitions and build resilience against the effects of climate change.
Go to Climate Center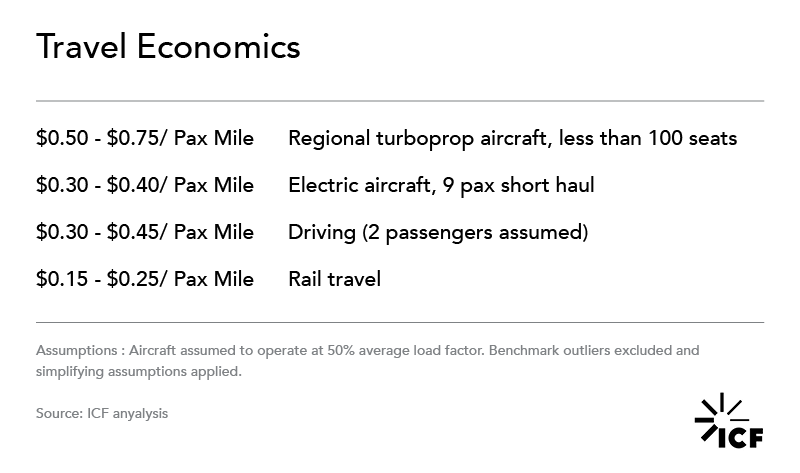 Short-haul flights—operated with existing technology regional jets and turboprops, or with lower demand volumes—will often operate on thin margins, as economies of scale achieve better benefits on larger aircraft or denser routes. This limits the number of point-to-point routes to meet regional travel demand. Consumers may therefore opt for cheaper, more flexible travel by road or rail.
Electric aircraft operators will benefit from cost reductions compared to conventional aircraft operators due to the lower cost of electricity compared to aviation fuel. Newer electric aircraft are also likely to have lower maintenance costs than regional aircraft.
When electric aircraft enter commercial service in European markets, we expect the cost to passengers will be slightly below that of today's regional services. With continual improvement in technology and an increased uptake of electric aircraft, the longer-term costs may compete more closely with driving. While trains are a cost-effective, low-carbon option for major city pairs, the cost of building and maintaining rail infrastructure is not economical for connecting small-volume markets. Therefore, short-haul electric aviation may be a better solution to support transportation between small-volume markets in Europe.
The most suitable business models and scheduling patterns to generate load factors that make electric aircraft services economically viable are still to be determined. However, the lower operating costs of electric aircraft allows for increased operational flexibility for network planners.
Comparisons with other travel modes
Looking at travel times by mode in the United Kingdom, passengers who opt for rail transport or flying will incur initial time on their journey before traveling via their preferred mode. Inter-city rail travel can require a passenger to travel to a larger station, often located in a city/town center. If the trip requires rail connection, then the travel times by this mode become even less favorable. Passengers traveling by air will incur time getting to the airport, going through security, and making their way to their departure gate.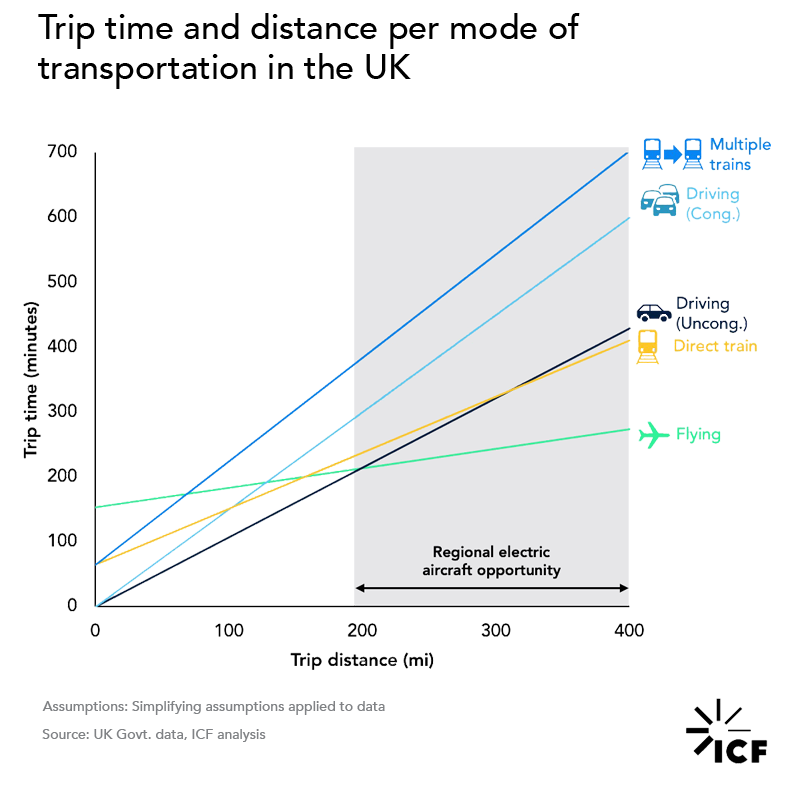 Benchmarking travel times in the United Kingdom shows that regional electric aviation is most competitive in the 200-mile and above range. Below this, driving or rail travel may provide a more efficient journey.
Consider an example of a family traveling domestically from South London to the Lake District National Park for a holiday: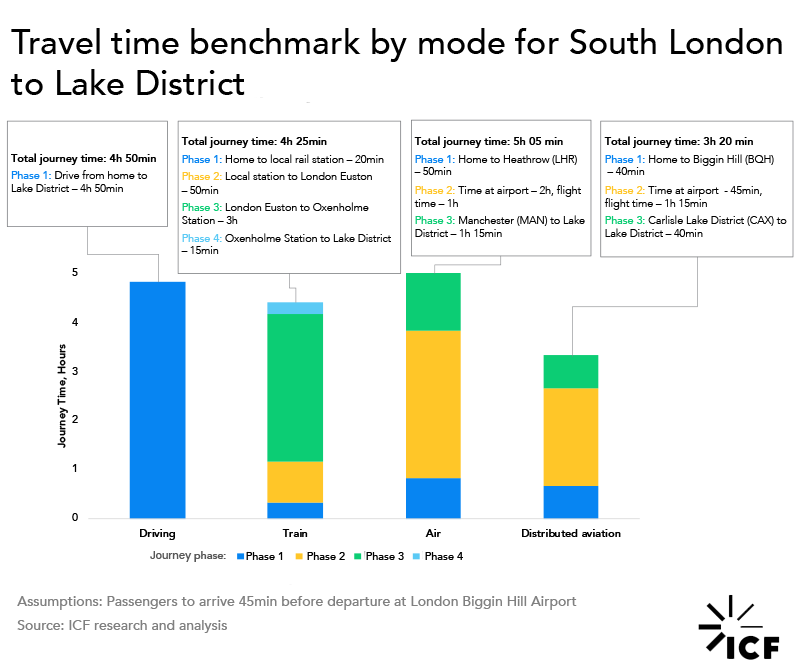 Door-to-door drive time from London to the Lake District is approximately five hours.
The train journey from London to Oxenholme Lake District Station is a three-hour journey. In addition, travel time from the passengers' home to the central London train station can take over an hour. Once the passengers reach Oxenholme Lake District Station, there will also be travel from the station to their hotel, and the total journey time would be approximately 4.5 hours.
Getting to the Lake District by air would mean flying from Heathrow (LHR) to Manchester (MAN), a one-hour flight. However, the passengers would need to arrive at the airport two hours before their flight. Once they reach Manchester, they can then either take the train or drive to the Lake District, both trips taking up to 1.5 hours. Add to this travel time from the passengers' home to Heathrow and the total journey time could be more than 5 hours.
Traveling to a general aviation airport closer to the passengers' home in London, for example, London Biggin Hill Airport (BQH), and flying to Carlisle Lake District Airport (CAX), approximately a 1h15min flight, could be a potentially more convenient option. Passengers would be able to arrive at the airport closer to their flight time. Carlisle Lake District Airport to the Lake District is less than a one-hour drive. The journey time in this scenario would be approximately 3h20min. A potentially more convenient option is the vision of a more "distributed aviation".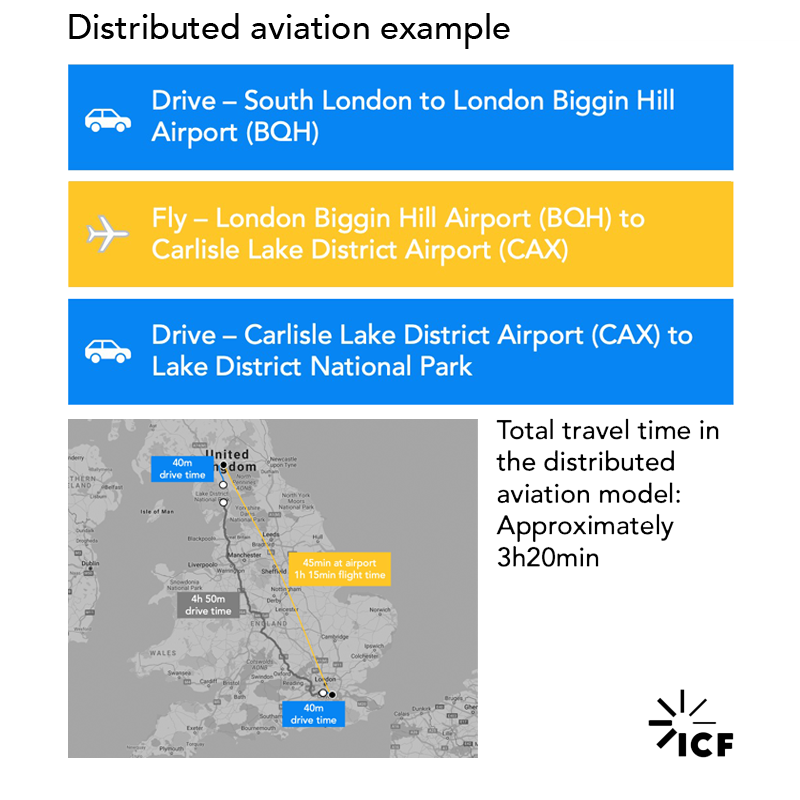 The distributed aviation model may be an important lifeline for smaller airports and general aviation airports, providing an opportunity for economically viable services on aircraft with less than 10 seats at competitive costs, opening the potential for new routes.
Electric aircraft certification in Europe
The European Aviation Safety Agency (EASA) is responsible for aviation regulation and certification for European Union member states and countries in the European Free Trade Association (EFTA). In June 2020, EASA gave the world's first type-certification for a fully electric aircraft: a two-seater to be used predominantly for pilot training. The aircraft achieved certification within three years, with close cooperation between EASA and the manufacturer.
Following a consultation last year, EASA published a special condition paper on an initial set of certification requirements for electric and hybrid propulsion systems.
Another type of electric aircraft exists: electric vertical takeoff and landing (eVTOL). These aircraft can operate similarly to a helicopter and are a key component of urban air mobility, which offers new approaches to urban transport and can bypass airports altogether.
EASA is also developing certification procedures for eVTOL aircraft. In 2020, the EASA published a proposed means of compliance and special condition paper for eVTOL certification. Several eVTOL and one fixed-wing aircraft are currently undergoing testing for EASA certificate specification conditions.
This development highlights the importance of openness and engagement between regulators and manufacturers to enable innovation and bring new electric aircraft to market in a shorter timeframe.
Early electric aircraft commercial services
Electric aircraft will be ready for commercial passenger service in Europe during the latter half of this decade. Norwegian regional carrier Widerøe has partnered with Rolls-Royce and Tecnam to develop an electric aircraft capable of serving regional connectivity demand with entry into service in 2026. This development will also work towards a vision of total electrification of domestic air travel in Norway by 2040.
Public service obligation (PSO) routes make up approximately 40% of Widerøe's network. These routes often have relatively low demand; however, they're vital for communities, and their economic viability is supported by PSO contracts. The cost advantages at smaller cabin capacities of electric aircraft may help improve the standalone feasibility of these routes.
Other European airlines are also exploring the introduction of electric aircraft into their fleets for regional flying. Finnair signed a letter of interest to purchase electric aircraft from Heart Aerospace, and Volotea and Air Nostrum have formed a consortium with Dante Aeronautical to develop an electric aircraft.
At first, commercial services on electric aircraft are likely to be on short-distance routes with relatively low demand volumes (which can serve as a proving ground for the technology) before being deployed on higher volume routes.
Early eVTOL services are most likely to operate between airports, until the social acceptance of a new type of urban transport and off-airport infrastructure developments—notably vertiports—in strategic locations, all of which can integrate with other transport modes for efficient onward journeys.
Connecting communities through electricity
In just five years, passengers in Europe could be traveling onboard an environmentally friendly electric aircraft.
As the technology continues to develop, and as more carriers express their interest in electrifying at least part of their fleets, electric aviation will play an ever-increasing role in connecting communities and transforming the way we travel.