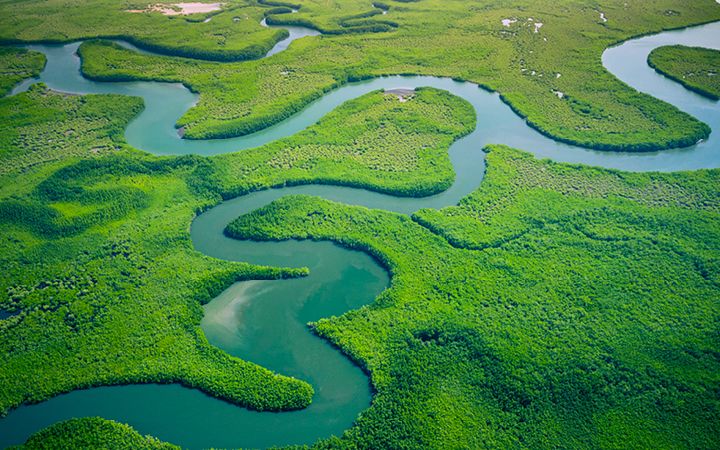 Sign up to receive exclusive Climate insights
Sign up to receive exclusive Climate insights
Sign up to receive exclusive Climate insights
Want to hear more from our experts? Get the Climate newsletter.
Want to hear more from our experts? Get the Climate newsletter.
Want to hear more from our experts? Get the Climate newsletter.
Subscribe now
Our transportation systems are currently planned, designed, and maintained with the (often implicit) assumption that the climate in the future will be the same as it has been in the past. Climate change upends that assumption. It affects transportation agencies' ability to deliver services and maintain safe and reliable road networks that communities depend on. In addition, damage from extreme weather events—as well as increased wear and tear from gradual changes—increases costs to already tight maintenance and repair budgets.
Today, more agencies are recognizing the importance of climate resilience as agencies continue to experience climate-related impacts, and state and federal leaders are prioritizing this issue.
Recognizing the threat of climate change is an important first step. But mitigating climate change risks to the transportation network with a limited budget can be challenging. Transportation agencies have to balance evolving extreme weather and climate-related risks alongside deferred maintenance backlogs, seemingly endless infrastructure needs, changing transportation patterns and technologies, and much more.
When resources are limited, how can departments of transportation (DOTs) know where and how much to invest in climate resilience? It requires analysis of past and future climate risks, staff resources, funding and, of course, means to integrate an understanding of climate risks into asset management and other existing investment prioritization processes.
Fortunately, the funding landscape is shifting with new resources coming out soon as part of the Infrastructure Investment and Jobs Act (IIJA) Promoting Resilient Operations for Transformative, Efficient and Cost Savings Transportation (PROTECT) program. The table below summarizes the funding that will be available from FY22-26.
For state DOTs that are new to thinking about climate risks and wanting to prepare for the PROTECT program, below are some insights into the "do's and don'ts" of incorporating climate change risk into your work.
Do:
Cultivate champions across the agency. Resilience can't be the responsibility of a single office or department. It cuts across all agency functions, from planning to design and maintenance. A key champion in each of these key offices, and a leader to coordinate their work goes a long way.
Find early wins. For example, incorporate resilience as a goal, create a resilience working group, or analyze available data on flood or weather incidents from your operations center to understand areas of current impact.
Consider whether there are additional specific investments or projects needed to address priority risks (and that could be good candidates for competitive grant funding).
Mainstream climate change risks and resilience into policy statements and as a consideration alongside the many factors that go into planning, asset management, design, and other investment decisions. For example, the North Carolina DOT adopted a formal resilience policy in September 2021, and Maryland DOT State Highway Administration (MDOT SHA) has developed a resilience strategy that identifies how each office will integrate climate risk data into their decisions (see box).
Quickly build toward a "Resilient Improvement Plan" that uses a structured decision-making process for prioritizing resilience investments. This is the ultimate goal of these mainstreaming and resilience efforts. Creating such a plan will also reduce the non-federal match requirements for the PROTECT program by up to 10%. But agencies can still make decisions in the near-term to address existing risks before having a formal plan.
Use language that resonates. Know your audience. Use terms that resonate with staff and leadership in your agency. Resilience to extreme weather events and climate change, among other hazards, has benefits in terms of core DOT objectives like safety, reliability, and cost-effectiveness. Investing to reduce damage or disruptions saves money over asset lifecycles. Funding is now available to agencies who are taking action to address risks.
Consider broad community resilience and equity implications. As you are beginning to weave resilience into decision-making, consider also how to ensure these decisions are equitable. DOTs will be best served by coordinating with communities and identifying resilience strategies that can benefit both transportation service resilience and community resilience as a whole.
Mainstreaming in practice
Maryland DOT State Highway Administration completed an initial pilot-scale vulnerability assessment in 2014, generating data on asset-level risks to coastal flooding.
Since then, ICF has worked with the State Highway Administration to expand the vulnerability assessment statewide and, perhaps even more importantly, make sure those data are available to staff and partners, and that all offices are using the information appropriately to inform decisions.
For example, in 2021 we completed a Climate Resilience Strategy, which outlines—at a detailed, practical level—what each individual office and division should be doing in their role to support a resilient transportation system. For example, planning will screen for climate risk in project reviews, and the highway hydraulics division will integrate climate resilience considerations into the Highway Drainage Manual to factor into project design.
The strategy was developed through close coordination and working sessions with each office and division of the State Highway Administration.
Don't
Start from scratch. There has been a lot of work done in this area, and there is a robust network of transportation professionals from DOTs and Metropolitan Planning Organizations (MPOs) who have been leading the way. Check out the Federal Highway Administration's (FHWA) climate resilience resources (including many DOT pilot projects), or connect with the Transportation Research Board Committee on Extreme Weather and Climate Change Adaptation or the American Association of State Highway and Transportation Officials Committee on Transportation System Security and Resilience.
Dive into a vulnerability or risk assessment without knowing how you'll use it. This is a common pitfall of many agencies. An early and important step in any climate resilience effort is to assess climate change risks to infrastructure and operations and develop climate risk data that can be a) integrated into asset management systems and other ongoing decision-making processes and b) used to identify and prioritize resilience investment needs and support funding applications such as for PROTECT grants. These assessments don't necessarily have to be time-consuming or costly undertakings—there are a wide range of approaches. The most successful will be thoughtfully designed to feed into existing planning and decision processes.

For example, ICF developed a flood risk assessment for Michigan DOT and SEMCOG that they are using to inform project prioritization as part of their annual Call for Projects process. Maryland DOT State Highway Administration is also using multiple risk and vulnerability assessments in asset management and long range planning decisions.

Let perfect be the enemy of good. There are uncertainties associated with climate change, but that is true of almost any risk that DOTs and MPOs manage. Climate science is a robust field of research and there is a plethora of excellent existing resources from credible sources that you can use to understand and bound the risk.
Go it alone. As mentioned above, there is a huge community of practice who has been working on climate resilience for years, including DOTs, MPOs, consultants, federal agencies, and academics. Reach out to your peers to learn what has worked (and not worked) for them.
Be overwhelmed. Climate change resilience is a big topic. Use the existing resources to find simple starting points, organize your thinking, and begin chipping away with early wins.
For more than a decade, ICF has worked with transportation agencies around the country to better understand the impacts of climate change, integrate climate resilience into their day-to-day planning and decision-making processes, and identify priority resilience needs. We work directly with state DOTs and MPOs to conduct risk assessments and integrate resilience into agency processes, and with FHWA to develop national level guidance and disseminate best practices.
Just as the needs and challenges of transportation systems vary across the country, so too will the impacts of climate change. It will be important for state DOTs to understand their climate risks and adopt resilience strategies tailored to their unique context. Communication will be key to socializing the results across different offices and departments so that everyone is on the same page regarding climate risks facing the agency and what everyone's role is in helping to address those risks. Because as recent extreme weather events have shown, climate change isn't just a future concern: it's happening now.
New climate data reveals warmer, wetter future for the U.S.
In this report, our climate scientists project some Americans could experience 42-61 additional days with temperatures above 95 F by midcentury.