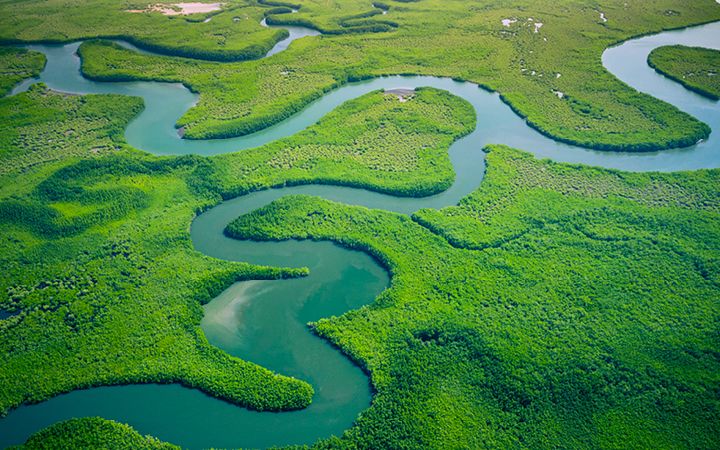 Sign up to receive exclusive Climate insights
Sign up to receive exclusive Climate insights
Sign up to receive exclusive Climate insights
Want to hear more from our experts? Get the Climate newsletter.
Want to hear more from our experts? Get the Climate newsletter.
Want to hear more from our experts? Get the Climate newsletter.
Subscribe now
After the fire: Restoring natural resources for community resiliency
Natural resources are much more than a cosmetic concern for communities recovering from wildfires.
Bald, fire-charred hillsides. The conspicuous absence of wildlife. Entire neighborhoods gone. These are just some of the long-term, visible impacts of wildfire that remain with a community long after essential services are restored and residents return to daily life.
In the wake of the California fires, we find many communities asking how they can return their natural resources to pre-fire conditions. This may seem like just a cosmetic concern, but restoring natural resources plays an important role in community resilience efforts. It can help mitigate further damage, encourage economic health, influence property values, and spur revenue from recreational and tourism activities — among many other things.
And long-term recovery isn't the only concern. In a place like California, where winter rains quickly follow fire season, restoring native vegetation is critical to preventing mudslides and further damage. Earlier this year, dozens of people were killed — and hundreds were injured — when mudslides flowed through the hills of Southern California.
The restoration process begins with an ecological assessment
This is a detailed look at the area to determine what the fire has damaged and how we can best rebuild to encourage native biological resources to return to the area. Traditionally, this meant sending a team of experts into the impacted area to study the landscape and take meticulous notes and photographs to support determinations regarding the fire restoration process. Drone technology has emerged as a more efficient way to collect data on large swaths of land. Frequently, after a fire, it may not be safe or even possible for a team on foot to reach all areas requiring evaluation for a complete landscape assessment. Drones, on the other hand, can get into hard-to-reach areas quickly, collecting more data, measurements, and images than a person ever could. But it is what you do with the collected data that really matters.
Technology alone is not the answer. Combining the human and technology approaches for a more comprehensive solution saves communities time and resources. Using drones gives you a composite base map and topographic profile of an entire area that is georeferenced and integrates directly with geographic information systems (GIS) software. A team of experts who are well versed in California Environmental Quality Act (CEQA) and National Environmental Policy Act (NEPA) regulations can then take the data to identify and classify habitat features throughout the project area. Ideally, this data doesn't just exist behind the scenes but is available to everyone working on the project, enabling them to effectively view the collected data and quality control analysis results, encouraging collaboration. Finally, the team should use this data and crowdsourced information, combined with what they know of past and potential future natural disasters, to design a plan that encourages native plant and animal species to return and enhances their protection for sustainable growth over time
The role of preventative measures
The process of restoring habitats and natural resources serves as a good opportunity to incorporate preventative measures such as a wildfire development boarder – a buffer area between livable spaces and wilderness – or the use of less fire-prone vegetation. Leaders constantly have to weigh the many needs of their community to determine what takes priority. Post disaster, when a community is just starting to recover, fire prevention is not always the most pressing need. That said, there are some preventative measures you can take without negatively impacting your ability to address other community needs.
Public outreach to members of your community engages the community to help prevent the start and spread of wildfires. Wildfires do not stop at property lines so it is important that residents and business owners understand how creating defensible space around their properties and managing vegetation can help protect their property as well as the larger community.
Vegetation management done consistently helps to mitigate fire risk by removing hazardous fuels such as dried vegetation. Doing this around structures, fire roads, and evacuation routes creates a buffer to protect your community should a fire come near.
Reduce structure ignitability by promoting and enforcing building codes that take into account building materials as well as construction and engineering standards.
We know from years of experience that combining a detailed ecological assessment with effective habitat restoration is a proven technique in reducing future wildfire damage to a community. As my colleague, senior associate John Markham said recently, "Living in a community impacted by the recent fires makes me want to double down on a prevention and conservation strategy."
In an ideal world, all communities would take the time to do an ecological assessment and build a long-term plan for restoration. Doing this takes money that many communities do not have readily available. There are many resources available for local, state and federal grants. For example, the State of California has a variety of grant programs available for restoration projects. Grants like these provide you with the opportunity to reimagine your community and restore it — not just to its pre-fire state but to improve it so that maybe the next natural disaster will not be as devastating.
When executed properly, the restoration of natural resources can mitigate impacts from future natural disasters, return your community's pre-fire beauty, and encourage the economic vitality that comes when a community has spaces that encourage recreation and tourism activities. If you want to learn more about our approach to ecological assessment and restoration or our use of drones to expedite this process, I encourage you to reach out.
New climate data reveals warmer, wetter future for the U.S.
In this report, our climate scientists project some Americans could experience 42-61 additional days with temperatures above 95 F by midcentury.