Our team of over 200 recovery experts have been working on the island since 2018, putting our personal and professional passions into helping communities become more resilient—and better prepared for natural disasters. 
We are proud to work with federal and local officials to ensure Puerto Rico's recovery is done right, done fast, and done in the best interest of impacted citizens.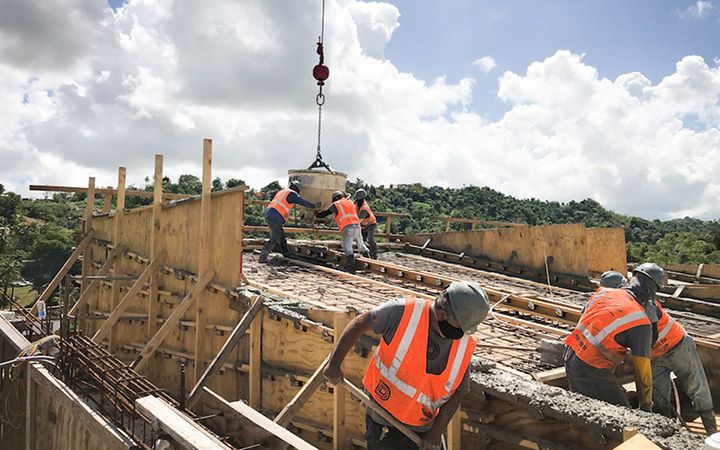 $31.5B in 6 years
ICF has delivered the fastest, largest obligation in FEMA history.
Central Office for Recovery, Reconstruction, and Resilience (COR3)
We assist local municipalities, state agencies, and private non-profits to obtain Federal Emergency Management Agency (FEMA) recovery funds.
We do this by conducting site inspections, developing damage descriptions, and preparing recovery statements of work and cost estimates. Once projects have been approved and FEMA has obligated funds, we provide technical assistance and review reimbursement and advance funding requests.
ICF was recognized by FEMA and the Government of Puerto Rico for providing compliant VAYGO (Verify As You Go) audited files. The compliant disbursement of $5.6 billion in five years is also the largest amount disbursed in FEMA history.
$7.1B
FEMA funds disbursed
54,600+
sites identified for inspection
After his home was destroyed by Hurricane Maria, Ramon Montes receives the keys to the new house he was awarded through the R3 program.
Department of Housing: Single-Family Repair, Reconstruction or Relocation (R3) Program
The Puerto Rico Department of Housing (PRDOH) allocated over $2.9 billion in Community Development Block Grant for Disaster Recovery (CDBG-DR) funding to repair or rebuild damaged homes. We guide applicants in the eastern half of Puerto Rico through the entire grant process—from intake and eligibility reviews, to completing initial damage assessments and applicant documentation, through construction—to support PRDOH in getting citizens into safe homes.
ICF is the first and only program team to have over 2,000 home constructions completed.
9,400+
applications received
5,200+
eligibility letters sent to applicants
5,100+
damage assessments completed
2,700+
task orders issued
2,000+
home constructions completed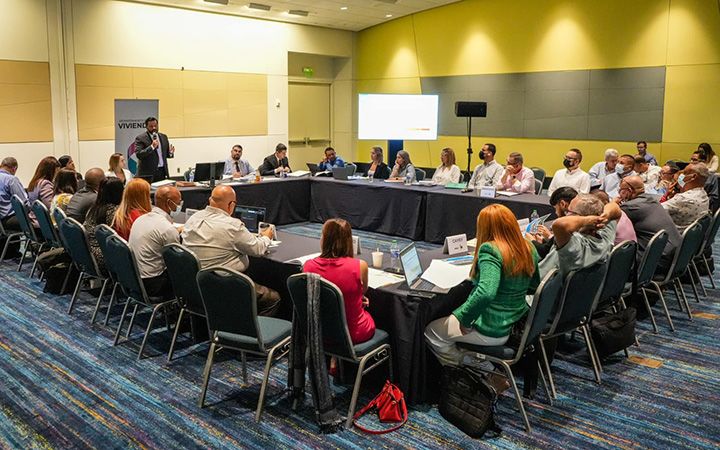 PRDOH Secretary, William Rodriguez, addresses ICF's Region 2 Mayors during a joint CRP CDBG-DR progress meeting.
125+
projects to receive $275+ million. 
Department of Housing: City Revitalization Program (CRP)
CRP allows the 78 municipalities to propose, develop, and construct recovery projects aimed at reinvigorating downtown areas, urban centers, and key community corridors. These projects promote the redevelopment, re-greening, and restoration of lost natural resources—and further incentivize private investments in restored urban areas. Using CDBG-DR funds can be complicated.  Our team of engineers, architects, planners, and various compliance experts work alongside staff and contractors in 30 municipalities to help turn their recovery project needs and ideas into compliant construction projects that will provide a public, economic, or housing benefit to citizens.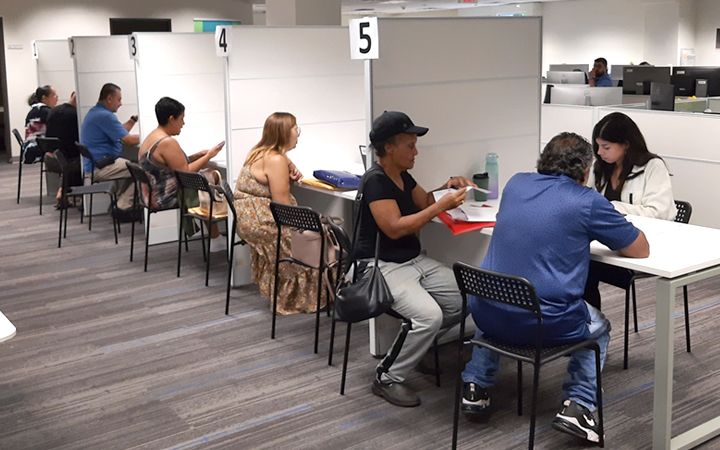 Department of Housing: Community Energy and Water Resilience Installations Household (CEWRI-HH) Program
The CEWRI Program provides support to households seeking renewable energy solutions. The program will enhance energy efficiency and provide solar power and storage for owner-occupied homes, contributing to Puerto Rico's overall resilience.
As one of the program managers, ICF plays a crucial role in assisting up to 7,500 applicants in obtaining either full grants or incentives (partial grants) to install rooftop solar panels and battery backup systems. We oversee five intake centers in San Juan, Vega Alta, Arecibo, Aguadilla, and Mayaguez.
The first round of CEWRI-HH, known as the Nueva Energia Program, provides assistance to low and moderate-income-qualified households. This phase commenced in late March 2023 with 1,500 tickets issued within our region. CEWRI-HH Round 2, the Incentivo Solar Program, launched in August 2023 to serve 3,000 additional applicants within our region. The program team is actively working to advance applicant cases through the program steps to an award—after which an installation can occur.
Department of Housing: Single-Family Homeowner Program Blue Roof Repair Program (BRR) and Single-Family Housing Mitigation (SF-MIT)
ICF is responsible for program implementation, outreach, case management, contract administration, control, and compliance oversight of the different tasks performed by the PRDOH's vendors under contract to implementation of the BRR and SF-MIT programs.
The CDBG-DR-funded BRR program provides solutions for owner-occupied units that have remaining damage from hurricanes Irma and María while the SF-MIT program provides more resilient homes for Puerto Ricans.
Our local team, consisting of over 90% local Puerto Ricans, many of whom were personally impacted by Hurricanes Maria and Irma, is paired with disaster recovery experts who have been on the ground for nearly every major disaster in recent U.S. history. Together, they are and have developing industry-leading systems and processes. 
We are invested in transferring knowledge to Puerto Ricans, so that recovery is a Puerto Rican-led effort. We provide our team with opportunities to advance their careers, firmly believing that professional growth should be attainable and inclusive for all. Many of our first local hires have progressed in their careers and are now in leadership and management positions. 
Accelerating disaster recovery
Drone technology helps teams quickly, safely, and accurately assess damaged areas. In 2–4 hours, a drone inspects what could otherwise take 2–4 days.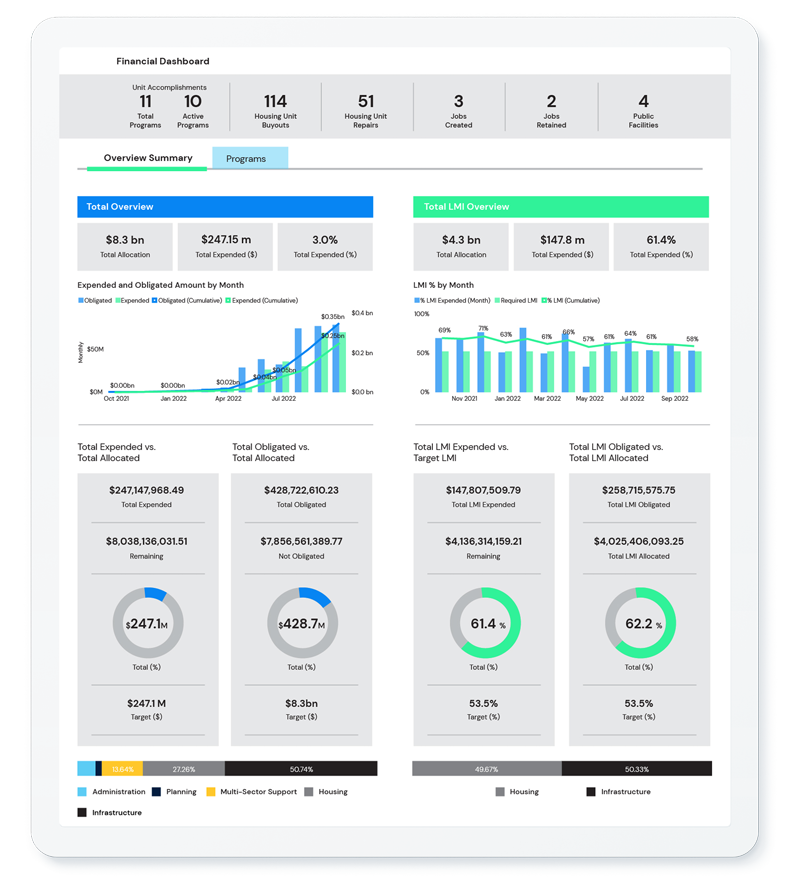 Taking the complexity out of grants management
Our comprehensive
grants management software tools
—CATALUS, grantTRAX, and disasTRAX—provide configurable grants management solutions that streamline case, grant, financial, and project management needs.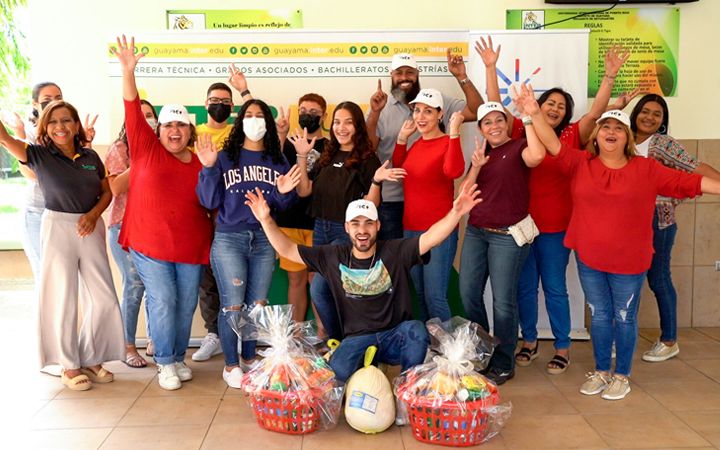 We partnered with the Puerto Rico Community Foundation to purchase and install a solar energy infrastructure and storage system at the Community Health Center of Patillas—one of the towns most devastated by Hurricane María—to ensure continuous emergency room operation. We also purchased medical equipment needed to diagnose and treat patients.
After Hurricane Fiona hit the island in 2022, our local staff came together to provide Thanksgiving meals to 450 people impacted by floods. In partnership with Giving Life, this contribution came from a combination of employee donations (supplemented by a 100% company match) and an additional $1,000 donation from the company.