Supporting recovery efforts in Texas
Damage caused by Hurricane Harvey continues to impact citizens across the Lone Star State. ICF has been on the ground since January 2019 partnering with state and local officials to help get residents back on their feet and on the path to recovery and rebuilding.
Related services and industries
We're proud to support the Lone Star State across the entire disaster lifecycle. Keep reading to learn about some of the ways we're helping Texas communities.
"Disaster management projects can be incredibly complex. And they're never easy. For many ICF employees, it's the most important work we'll ever do in our careers. Our teams in Texas are working around the clock to make sure the work is done right and done as quickly as possible. We put our personal and professional integrity and passion into the work we do every day."
-Andrew LaVanway, Senior Vice President, ICF
Addressing critical infrastructure needs
We partnered with the Texas General Land Office (GLO) to implement the Local Infrastructure Program, a subrecipient-administered program designed to assist in repairing, replacing, and fortifying infrastructure for impacted communities in Texas.
Challenge
Design a large-scale infrastructure program to help 30 HUD-Designated Most Impacted and Distressed Areas and an additional 48 eligible impacted counties, while considering how each region was impacted differently.
Solution
A regional approach to restoring impacted infrastructure has been vital. Our team helps design programs that address each region's unique situation. We also provide subject matter expertise and trainings to regional GLO Grant Managers and subrecipients, assist with developing applications and technical tools, and help oversee program implementation.
Key results
We reviewed 168 infrastructure applications for a total of over $359 million—all completed within the state's deadline. We are now managing construction work to help oversee development of the approved projects.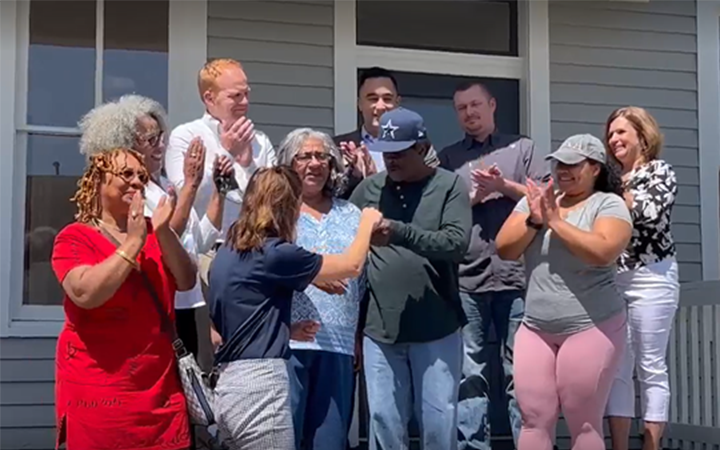 Housing project management
Damage caused by Hurricane Harvey continues to impact Texas citizens. We've been on the ground since January 2019, partnering with state and local officials to enable home reconstruction or rehabilitation for those affected by Hurricane Harvey. We provide a range of housing regulatory, project implementation, and program oversight assistance for more than $1.8B in housing rebuilding assistance. The programs we support include the Homeowner Assistance Program, Local Buyout and Acquisition Program, and Homeowner Assistance and Reimbursement Program.
Challenge
Communicate among multiple vendors, builders, and stakeholders across a vast geographic area to identify issues and bottlenecks, implement solutions, and ensure program policy is being applied consistently.
Solution
We developed and facilitate quarterly all-hands meetings that include state staff, builders, and implementation vendors to present programmatic policy changes, new tools, and updates. This forum allows stakeholders to discuss challenges and solutions in real time. These sessions also help identify opportunities for process improvement, which has led to increased overall efficiency and more Texas residents returning to their homes faster.
Key Results
(as of July 2022)
5,048
Homeowner Assistance Program Construction Completions
354
Homeowner Assistance and Reimbursement Program Applications Approved
274
Homeowner applications for buyout assistance reviewed
Planning and mitigation
We help Texas GLO implement and oversee over $10 billion in Community Development Block Grant–Disaster Recovery (CDBG-DR) and Mitigation (CDBG-MIT) programs. Within seven weeks we helped the state roll out the Resilient Communities Program (RCP), which provides local governments the opportunity and funding to update their comprehensive plans, land use plans, zoning ordinances, and building codes.
Challenge
Encourage program participation among communities that are reluctant to prioritize planning and resilience activities. While mitigation activities provide valuable protection from future disasters and reduce risk of damage, many communities hesitate to invest in mitigation activities because they don't understand the long-term benefits.
Solution
Our team developed and shared messaging to help communities understand the critical nature of mitigation planning and encourage them to prioritize these activities. We also provided customized planning tools, including a GIS mapping tool, to empower the most vulnerable communities to make data-driven decisions, and a program that helps communities update their hazard mitigation plans.
Key contributions
Created a resilience assessment tool that helps identify regulations and plans that should be updated to ensure structures withstand future disasters.
Developed an application process to provide funding that helps local governments develop, update, and provide cost share for their local hazard mitigation plans.
Created a program that gives local governments the opportunity and funding to update their comprehensive plans, land use plans, zoning ordinances, and building codes.
Financial management
Tracking, managing, and reconciling financial data is no easy task, especially when projects involve hundreds of different stakeholders and vendors. We led the effort to help Texas GLO improve a cumbersome reconciliation process and improve oversight of their budgets.
Challenge
Reconcile all GLO Harvey CDBG-DR expenditures, purchase orders, invoices, and contracts for vendors across various systems.
Solution
Using our team's grants management and analytics expertise, we developed and implemented a cloud-based platform to streamline the reconciliation and budget management process for financial and program data across 70 CDBG-DR programs totaling $10 billion. This includes a comprehensive grants management system that maintains real-time reconciliations of accounts across CDBG-DR expenditures, invoices, purchase orders, and contracts. These tools and systems enable staff to see financial conditions and monitor the progress of their programs in real time.
Key results
(as of May 2022)
$10 billion
in program funding managed
9,800
vendor invoices and subrecipient payment requests reviewed
17,200+
invoice records created
6,100+
purchase order accounting lines reviewed
"We are proud to bring our decades' long experience in disaster management to Texas. We've made extraordinary progress working with state and local officials and other contractors on recovery programs. Our priority is always to work in the best interest of impacted citizens."
-Andrew LaVanway, Senior Vice President, ICF
Outreach, intake, and application support
We supported the City of Houston's CDBG-DR program, managing the outreach and intake portions. We made sure residents knew about the program, met with a case manager as needed, and were able to initiate an application for relief funds.
We also supported three of Harris County's eight CDBG-DR programs: the Homeowners Assistance Program, the Buyout and Acquisition Program, and the Reimbursement Program. Of those, we were directly responsible for outreach, intake, and the initial application submission process. We did not determine applicant eligibility or run the case management system.
Challenge
Allocate billions of dollars in funding to help Houston area residents rebuild after Hurricane Harvey.
Solution
Open housing assistance centers and leverage community outreach and media campaign services in digital, paid search, paid social, print, and radio to maximize program participation.
Key results in Houston and Harris County
(as of December 2019)
13,000+
number of Hurricane Harvey survivors we've connected with.
33,400+
number of calls handled by call centers
16,000+
number of attendees at 160+ mobile team events
181,000+
number of doors knocked
3,075+
number of applications for relief funds we have submitted to the City for review