Supporting recovery efforts in Texas
Damage caused by Hurricane Harvey continues to impact citizens across the Lone Star State. ICF has been on the ground since January 2019 partnering with state and local officials to help get residents back on their feet and on the path to recovery and rebuilding.
"We are proud to bring our decades' long experience in disaster management to Texas. We've made extraordinary progress working with state and local officials and other contractors on recovery programs. Our priority is always to work in the best interest of impacted citizens."
-Andrew LaVanway, Senior Vice President, ICF
Texas General Land Office
We provide a broad range of project management and financial services to help the GLO administer recovery funds. This includes developing standard procedures for administering Texas' housing assistance and local buyout/acquisition and infrastructure programs and helping create efficient financial processes. We also provide a wide array of technical assistance to support GLO staff, subrecipients, and vendors.
Key metrics with the GLO
(as of October 2021)
$170M
in buyout applications reviewed
17,551
invoice records created
$350M
in infrastructure applications reviewed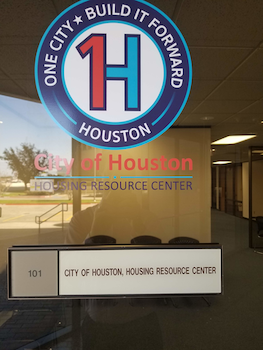 City of Houston
We support the City's Community Development Block Grant—Disaster Recovery (CDBG-DR) program, managing the outreach and intake portions. We make sure residents know about the program, meet with a case manager as needed, and are able to initiate an application for relief funds.
Key metrics in Houston
(as of December 2019)
12,800
Number of visits to intake centers by applicants
33,400+
Number of calls handled by call centers
16,000+
Number of attendees at 160+ mobile team events
181,000+
Number of doors knocked
3,075+
Number of applications for relief funds we have submitted to the City for review
Harris County has 8 CDBG-DR programs. We only support 3 of them: the Homeowners Assistance Program, the Buyout and Acquisition Program and the Reimbursement Program. Of those, we are directly responsible for outreach, intake and the initial application submission process. We do not determine applicant eligibility or run the case management system.
Harris County's CDBG-DR Program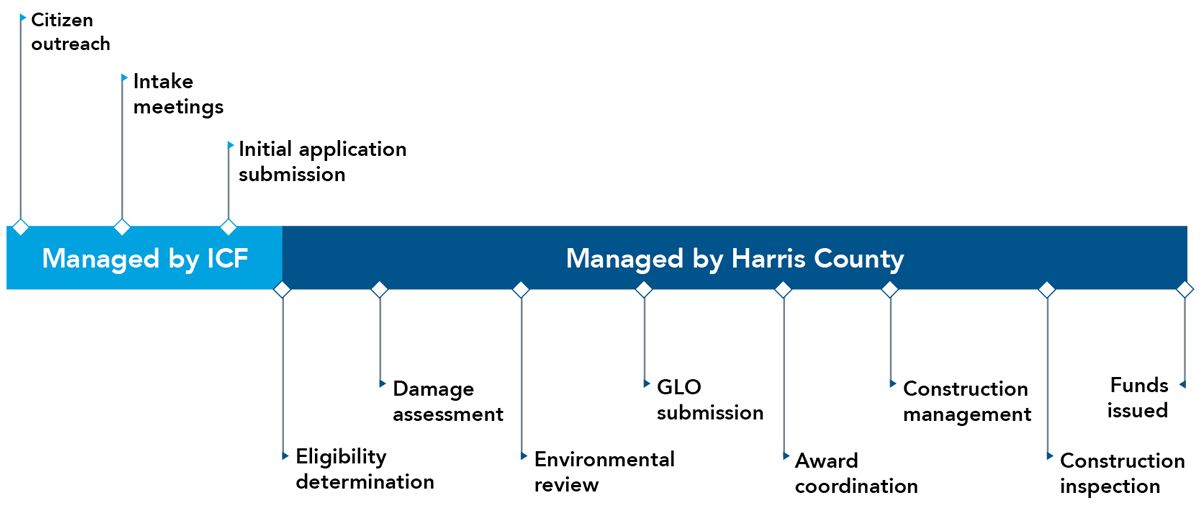 Key metrics in Harris County
(as of December 2019)
17,220+
Number of Texans we've reached out to about the CDBG-DR program. Hundreds more are being engaged with daily.
13,000+
Number of Hurricane Harvey survivors we've connected with via calls, in person meetings, events, and more.
8,400+
Number of households where we have initiated intake. This rate has increased 600% since November 2019.
5,500+
Number of phone calls we've made to Harris County residents letting them know about the recovery program
1250+
Number of applications in varying stages of completion.
870+
Number of applications for relief funds we have submitted to the County for review.
10
Number of fixed intake centers and mobile intake teams we set up in just 45 days.
100+
Number of Texans we've hired, many of whom were impacted by Hurricane Harvey.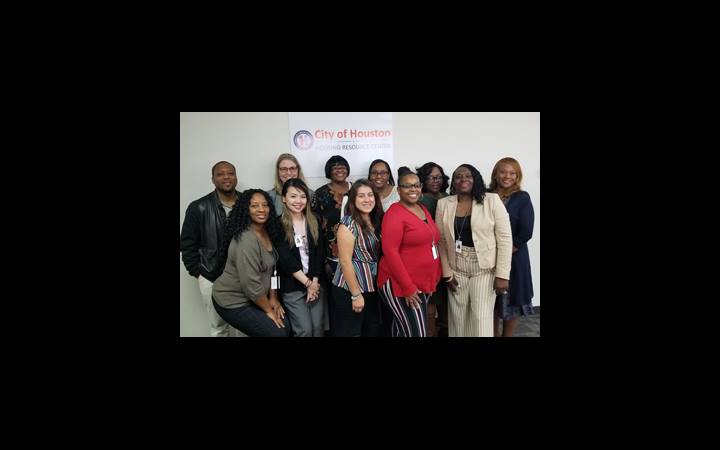 "Disaster management projects can be incredibly complex. And they're never easy. For many ICF employees, it's the most important work we'll ever do in our careers. Our teams in Texas are working around the clock to make sure the work is done right and done as quickly as possible. We put our personal and professional integrity and passion into the work we do every day."
-Andrew LaVanway, Senior Vice President, ICF
Related industries, services and projects