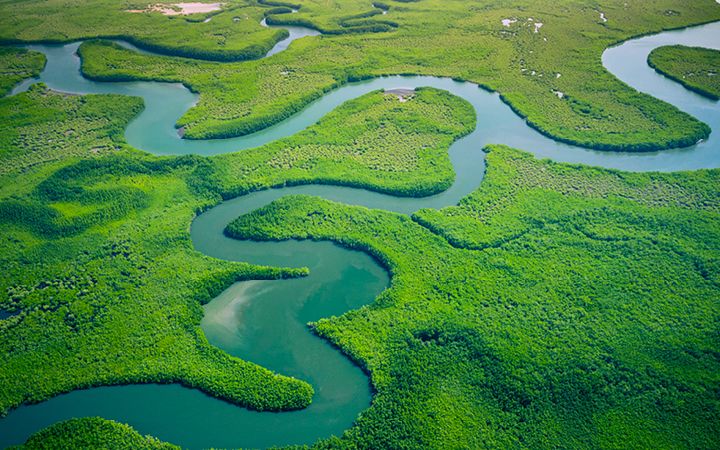 Sign up to receive exclusive Climate insights
Sign up to receive exclusive Climate insights
Sign up to receive exclusive Climate insights
Want to hear more from our experts? Get the Climate newsletter.
Want to hear more from our experts? Get the Climate newsletter.
Want to hear more from our experts? Get the Climate newsletter.
Subscribe now
4 actions to help disadvantaged communities become more resilient
Across the U.S., climate change has intensified destructive disasters that impact some communities more than others. Disproportionate impacts make it far harder for these communities to recover due to increased suffering, loss, and damage. To reduce heightened risks and strengthen resilience for disadvantaged communities, state and local governments can leverage new federal funding sources.
As one of the most significant threats of the 21st century, climate change is fueling extreme weather that's causing population displacement, trauma, temperature stress, vector-borne diseases, cardiovascular/respiratory illnesses, and serious mental health impacts—all of which have been experienced more severely in disadvantaged communities.
Reducing vulnerability is one of the most effective ways to reduce disaster risk. To address climate change impacts, a resilience plan can help disadvantaged communities move forward, not fall back, after disasters. New federal policies and funding create a pivotal moment to strengthen resilience in disadvantaged communities as climate impacts intensify.
Equity in resilience funding sources
While several federal agencies have funding to build climate resilience in disadvantaged communities, some agencies and programs have more funding than others. State and local governments should prioritize three federal programs that offer the biggest opportunity to integrate equity into resilience plans.
FEMA's Building Resilient Infrastructure and Communities program
FEMA's Building Resilient Infrastructure and Communities (BRIC) program offers state and local governments funding to build resilience, also known as hazard mitigation, before disasters strike.
To be eligible for funding, applicants must have adopted a FEMA-approved hazard mitigation plan. Priorities include system-based mitigation and Justice40 initiatives. Cost reimbursable is split 75% federal and 25% local.
HUD's Community Development Block Grant Disaster Recovery (CDBG-DR)
The U.S. Department of Housing and Urban Development (HUD) Community Development Block Grant Disaster Recovery (CDBG-DR) funds offer some of the most flexible federal money provided to states and municipalities after major disasters. Congress appropriates, depending on the magnitude of disaster events, a specific amount of disaster recovery funding for HUD to allocate to specific grantees for recovery from specific events or general events in specified years. The block grant structure lets grantees design recovery programs across various areas including housing, economic development, infrastructure, resilience, and community planning.
Grants can be used to cover local match (non-federal share) to other federal recovery and resilience grants. For example, a HUD CDBG-DR grant can be used to cover a state's 25% share of a FEMA BRIC project, provided there is a tieback to the original disaster event, and all applicable rules and requirements are met.
HUD continues to advance its Justice40 goals by expanding awareness of the availability of disaster recovery assistance, advancing equitable distribution of assistance, and targeting assistance to residents of disadvantaged communities. HUD remains focused on disadvantaged and low- and moderate-income populations and integrating resilience and environmental justice principles into its CDBG-DR program.
Bipartisan Infrastructure Law and the Inflation Reduction Act
The Bipartisan Infrastructure Act (BIL) offers numerous opportunities for states, tribes, and local governments to invest in equitable, climate-smart infrastructure. These programs are administered across the federal government from the Environmental Protection Agency to the Department of Energy to the Department of Transportation and more.
The Inflation Reduction Act (IRA)
The Inflation Reduction Act (IRA) established two new grant programs in particular—Environmental and Climate Justice Block Grants program and the Neighborhood Access and Equity Grant program—that are designed to support climate adaptation in disadvantaged communities. Plus, significant supplemental funding, provided by BIL, is anticipated in near-future FEMA BRIC funding cycles.
In addition to all the new funding, the federal government has made it easier—and in some cases required—for state and local governments to build climate resilience in disadvantaged communities and to encourage coordination across federal efforts to achieve alignment of goals and financial efficiencies. For example, the Biden administration's Justice40 initiative stipulates that at least 40% of the overall benefits from relevant federal investments in climate and clean energy should be directed to disadvantaged communities.
4 actions to strengthen equity in resilience
With all this new federal funding, here are four areas that state and local governments can prioritize to help build climate resilience in vulnerable communities.
1. Understand the unique risks to disadvantaged communities.
Climate change is impacting nearly every region of the United States. However, different regions will experience different hazards. Understanding a region's unique climate hazards—from extreme heat to flooding to drought and more—is the first step in addressing resilience.
The risks to disadvantaged communities are particularly complex and multi-dimensional. Families in these communities may not have access to resources to protect themselves against climate hazards. For example, having air conditioning during an extreme heat wave can mean the difference between life and death. During the Pacific Northwest heatwave in 2021 that killed hundreds of people, homeowners were twice as likely as renters to have air conditioning, and households with annual incomes at or above $100,000 are twice as likely to have air conditioning as those whose annual income is less than $30,000. White people are also more likely to have air conditioning than are people of color.
Our climate modeling of the unique hazards in the Pacific Northwest indicate heat waves are likely to increase. By mid-century, Portland could expect daily high temperatures of 100°F on average about 3–4 times per year, 105°F about once per year, and 115°F about every 25 years. Knowing this risk, communities in the Pacific Northwest should focus on reducing exposure to heat events, especially among vulnerable populations, and adapting to warmer temperatures.
State and local governments can leverage climate risk analytics platforms, such as ICF's ClimateSight, to understand the unique risks facing disadvantaged communities and help them adapt to future climate threats.
2. Engage vulnerable communities—early and often.
A key factor to increasing equity in resilience projects is strengthening the role of communities in planning and project development.
Through policies and practices, FEMA, HUD, EPA, and a host of other agencies are directing funding to federally recognized tribes and community-based organizations. This effort elevates community voices and ensures that they have a say in what actions are taken and how those actions fit within the community's goals for a better future. Engagement with underrepresented populations can be enabled through community leaders and grassroots organizations that are experienced and rooted in these communities.
When creating a resilience/adaptation plan, every effort should be made to include underserved communities at all stages of planning and implementation to ensure their input is reflected in the final plan.
In North Charleston, South Carolina, community members are predominantly minorities, low income, and elderly. They face particular health, economic, and resilience challenges, including frequent neighborhood flooding and poor housing conditions that are less resilient to extreme weather events. Recognizing the risks to vulnerable populations, U.S. EPA worked with the Lowcountry Alliance for Model Communities (LAMC) to organize a community resilience workshop, community resource fair, and an actionable implementation plan to address resilience challenges. By bringing together community members and leaders in North Charleston, they were able to expand community partnerships, and in turn, develop a feasible and actionable resilience strategy implementation plan to improve outcomes for the community.
3. Seek eligible funds through multiple funding sources.
Understanding the unique hazards to disadvantaged communities and engaging those communities in resilience planning is important, but state and local governments—and disadvantaged communities themselves—need funding to do it. Since federal agencies focus on different sectors, communities can target different funding sources for different projects. Within these funding opportunities, there is often a component that provides funding specifically for projects that reduce disaster risk and enhance resiliency in disadvantaged communities.
For example, actions to mitigate the risk of potential disasters (e.g., hurricanes) may qualify for FEMA funding, while actions to support affordable housing and community development may qualify for HUD or EPA funding. Actions to improve roads, highways, and transportation networks might qualify for USDOT funding.
While it can be difficult to pursue all these funding opportunities at once, there are ways to make these funding sources add up:
When pursuing funding, consider climate risk and vulnerability assessments at the building and community level as well as research on the effectiveness of resilience measures to drive decision-making and strengthen standards.
Ensure the integration of resilience and environmental justice principles in CDBG-DR funded activities.
Engage in planning activities to advance community resilience in areas impacted by disaster.
Concentrate rebuilding and resilience efforts on projects already identified in state or local hazard mitigation plans. You don't need to reinvent the wheel when it comes to determining how to reduce risk.
Coordinate the use of different funding streams to achieve similar policy goals, including utilizing planning materials funding through one grant to provide guidance for projects funded through other grants.
4. Take advantage of technical assistance.
In many cases, states will pursue federal funding and include disadvantaged communities in their resilience plans. Disadvantaged communities themselves can also pursue federal funding to build resilience. However, even the act of applying for federal funding can pose significant challenges for already overburdened communities. More affluent communities may have the experience, staff, and resources to apply for funding that disadvantaged communities often don't. This disparity can be even more extreme when it comes to the design and implementation of resilience plans.
FEMA provides two resources to help agencies and organizations: direct technical assistance (DTA) to support BRIC projects and proposals; and, within BRIC, capability and capacity building (CCB) funds. Both support similar activities.
DTA activities include:

Climate risk assessments.
Community engagement.
Partnership building.
Mitigation and climate adaptation planning.
CCB activities include:

Hazard mitigation planning and planning-related activities.
Project scoping.
Partnerships.
Building codes.
Like project proposals, gaining approval for technical assistance and capacity building funding is not guaranteed and involves meeting eligibility criteria. It may take a year to apply and use DTA, if you are eligible. To be eligible, communities must have: a higher CDC Social Vulnerability Index (SVI); show a compelling need; have multiple major disaster declarations within the past five years; and have limited funds. Despite these constraints, a strong community engagement process must also be underway.
Similar to FEMA, agencies such as HUD, EPA, DOT, and others are also providing funds for DTA activities. Each agency's DTA objectives are suited to their sector and have different processes for requesting TA but have common core elements: multi-sectoral and multi-hazard analysis; climate resiliency design and planning; strong community engagement and collaboration; community- and nature-based solutions; and how to navigate federal funding.
The federal government has made significant strides in dedicating funding for climate resilience and crafting policies that help ensure that funding benefits vulnerable communities. However, federal funding can be complex. State and local governments should consider the guidance outlined here to help maximize the available funding for vulnerable communities that need it most.


New climate data reveals warmer, wetter future for the U.S.
In this report, our climate scientists project some Americans could experience 42-61 additional days with temperatures above 95 F by midcentury.