How will the 2020 Olympics in Tokyo affect Japan's aviation market and economy?
Hosting the Olympics requires planning, sufficient capacity, correct deployment, and infrastructure. But will this work guarantee a boost to the host city's aviation industry and economy?
The International Olympic Committee is very satisfied with progress towards Tokyo 2020, according to Japanese organizers. If everything continues to run smoothly, can Japan be sure that the Olympic and Paralympic Games will bring an increase in air traffic, tourism, and an economic boom—especially as the country battles a mature economy and an aging population?
Recent history tells us that, unfortunately, the answer is not likely to be a clear and resounding 'yes!' Most hosting cities see a drop in the number of overseas visitors during the Olympics. Can Japan buck this trend? And are there contingencies in place to benefit the aviation and tourism markets, along with the local economy?
Aviation market
Japan is not short on ambition when it comes to the Olympics—or its aviation market. Although mature, Japan's aviation market is one of the world's largest. It may not share the same sustained growth as some countries but, since 2012, it has seen an increase in passenger numbers every year, and the market has grown by about 30%. It is soon expected to reach 200 million origin/destination (O&D) passengers, up from just over 140 million in 2014.
An increased focus on tourism fuels a large part of this growth. Japan's government has recognized the potential opportunities presented by inbound visitors. In 2011, the country attracted just 6 million foreign tourists–less than the Czech Republic. Since then, tourism has grown to 31 million, and the government is targeting 60 million visitors by 2030. Events such as the Olympics (along with the recent Rugby World Cup) are among a number of initiatives to help achieve this target.
The Olympic impact on air travel
How can we expect the Olympics to impact Japan's aviation market? Looking back at passenger demand across Beijing in 2008, London in 2012, and Rio de Janeiro in 2016, there's evidence to suggest that, instead of booming, aviation markets tend to suffer during the period of the Games.
The dip is caused by the phenomenon of "displacement," where overseas tourists stay away from a host city's major event due to fears of disruption, expense, and overcrowding. Prior to the 2012 Olympics, the UK anticipated a decrease in visitors to London and the UK generally while the Games were in progress. Data reveals that this forecast was correct. Britain saw a 5% year-over-year decrease in visitor numbers during August 2012.
In 2008, year-over-year growth for Beijing's air traffic fell from a 4-5% average to less than 1% in August, while London's traffic growth fell from 1-3% to negative figures from July to October during its Olympics. For Rio de Janeiro—which was grappling with an economic recession—the Olympics did provide a temporary uplift to the aviation market, with 12% growth in August (see Figure 1 below for year-over-year change by month).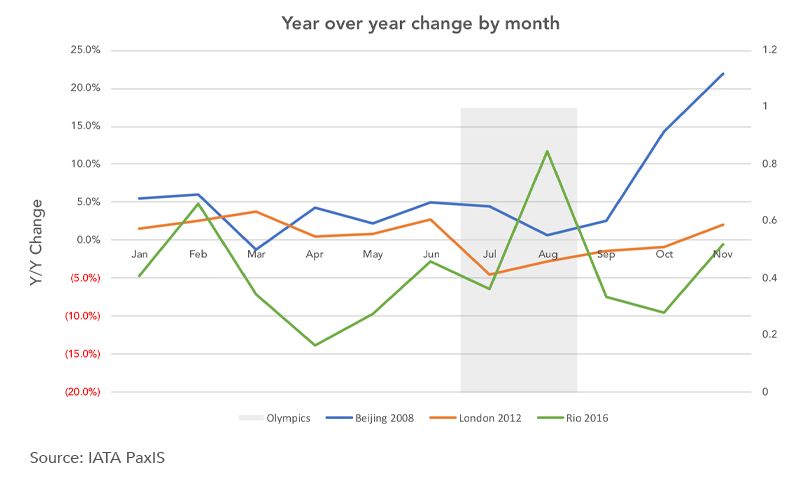 Why is it that the promise of the Games doesn't routinely improve the aviation market for the host? There are several contributing factors, such as:
An increased leisure demand pushes up the prices of fares and hotels, which then deters business demand until after the event.
People from the host country stay at home to enjoy the once-in-a-lifetime opportunity to watch the Games.
Visitors not interested in the Olympics may stay away due to fears of congestion, higher prices, and security incidents.
Benefits of the Olympics
If the Olympics in the past haven't increased air traffic at the time for the host country, could they do so subsequently? Evidence suggests that this is likely—and there are also economic benefits.
TV coverage leading up to the Games can bring an increased interest from other countries wishing to visit in the future—to see firsthand the countryside, urban life, culture, cuisine, climate, sport, and lifestyle of the host country. Winning the Olympics can often result in a welcome facelift for the infrastructure of the host city, as well as better roads, rail, and airports, which can prompt an increase in both overseas and domestic tourism.
Already, we can see upgrades and enhancements of facilities in Japan in readiness for the Games. This includes thousands of extra hotel rooms, new stadia, arenas, associated crowd-pulling events, and restaurants. Such facilities help attract future tourists.
Currently, there are concerns in Tokyo about a shortage of more than 10,000 hotel rooms. Japan has been stepping up its efforts to resolve such problems so it can enjoy the extra spending that visitors will bring. Projections expect that spending will far exceed the record ¥4.51 trillion ($41.5 billion USD) by foreign visitors in 2018.
Recent Olympics featured similar economic benefits:
Over the 12 months following its Games, Brazil received 6.6 million overseas tourists, which represents a 4.8% increase over the previous year. The country derived a total of $6.2 billion USD in revenue from tourism in 2016, which equates to an increase of 6.2% from a year earlier.
Sydney gained an extra 2.1 million overseas visitors by 2004, equating to about a $4 billion USD increase for tourism.
Nearly 2.9 million people visited Britain in June 2013, a 12 percent increase over the year of the London Olympics, according to data from the Office for National Statistics. In addition, in June 2013, visitors were spending more than in June 2012; tourism generated $2.39 billion USD, up 13% on the previous year—taking the total spend for the first half of 2013 to a record $11.3 billion USD.
Improvements in infrastructure and showcasing Japanese innovation may bring real benefits for enhancing tourism and growth in exports long after the closing ceremony is over:
Smart security to protect visitors and locals is now installed at Kansai International Airport. Airports and train stations are also rolling it out across Japan to make travel quicker and more efficient.
Showstopping robotic helpers welcome tourists and direct visitors in their own languages. Plus, the launch of driverless taxis will establish Japan as an important player in production technologies.
Hydrogen-based technology is an impending highlight in the Athletes' Village at the Olympics. These facilities use 'clean energy' from fuel cells that mix hydrogen with oxygen in the air to produce power and heat water.
Japan is also developing sustainable aviation biofuel for flights during the Games. Global aviation has a vast environmental footprint, and Japan wants to show that this can be substantially reduced. A consortium has been launched featuring some 46 organizations working to realize this objective, including Boeing, ANA, Japan Airlines, Nippon Cargo Airlines, Japan's government, and the University of Tokyo.
Japan may spend some $50 billion USD on infrastructure, but the Games will spur the imminent and tangible actions that Japan needs to meet its ambitious target of 60 million visitors by 2030.
Japan's Olympic legacy
"While, in the short-term, the Olympics might not impact a city's aviation market, there are still long-term benefits associated with hosting the events."
The Olympics are an excellent opportunity to display a country's unique identity and potential exports to the world. They have the power to attract the next wave of tourists, lured by the positivity and vibrancy of the event. The Japanese government hopes to boost the number of foreign visitors from 28.7 million in 2018 to 40 million in 2020 for the Games.
For the 2020 Olympics in Tokyo, we're seeing investments in security, self-service technology, technological innovation, terminal development, and airspace coordination. However, the most critical aspect that Japan has realized in time for 2020 is building an Olympic legacy—one where it can lead the world in technological development and champion sustainability and clean energy.
We expect that the Olympics are likely to have a neutral or adverse effect on Japan's aviation market in the short term. But, the long-term benefits of developing the right infrastructure and showcasing a country to the next generation of passengers will likely drive the outcomes Japan seeks.