Customer Experience Transformation: A member-first mindset to unlock lifetime value
A member's health journey is top of mind. Healthcare payers and partners should consider the evergreen metric of Customer Lifetime Value (CLV). Industry leaders can focus on Customer Experience Transformation (CXT) and put member needs at the heart of their strategic planning and operations to optimize and improve their membership's CLV.
Members expect healthcare experiences to emulate the level of service and ease of other experiences from the world of retail and beyond. Since 2019, healthcare industry disruptors such as Amazon, Apple, Google, and Walmart took
significant steps to improve the efficiency and accessibility of healthcare
. The pace of change is unprecedented. According to
Forbes research
, customer experience is a discipline driving growth and revenue at companies across the globe. As such, Customer Experience Transformation (CXT) spending is expected to reach $640 billion in 2022.
And payers are responding—with 81% saying the pace of digital transformation for their organization is accelerating. To best allocate funds for this transformation and drive benefit for the organization, start with a deep understanding of your member experience. Carefully evaluate digital front doors, apps, and other "silver bullet" transformations as part of larger member-first efforts to drive transformation. Customer Lifetime Value (CLV) acts as a guiding metric to benchmark, plan, and measure progress.
Transformation: Reaching beyond the digital front door
Increasingly, payers shift focus from internal processes and point solutions to the larger picture of member experience. Delivering exceptional experiences requires front-office and back-office transformation—and bringing customers in the "front door" doesn't guarantee they will stick around.
We define CXT as transforming your values, structures, operations, technology, and culture to obsessively focus on meeting the needs of your customers. These members interact across myriad touchpoints outside of the website or other digital channels along their healthcare journey. The key is to identify and understand the critical moments in the member's journey to raise awareness of offerings and pre-emptively answer questions to guide your member to choose health plans, programs, health networks, and benefits that best serve them. So, where can you start?
Unlocking the benefits of understanding your member
The member journey is critical, and CXT can be an overwhelming and large investment if thought about as one continuous program. Instead, we recommend using CLV as a metric to aid in understanding and tracking investment in CXT.
How is CLV calculated? Calculating a customer's lifetime value includes several factors across plans and/or states.
All payers may have slightly different approaches and inputs. We highly recommend customized processes and organization-wide buy-in to set this equation. However, the following are some key criteria to consider as you formulate CLV:
Average acquisition costs
Average customer profit
Member retention rate
Average lifetime in years
ICF's global marketing services agency focuses on helping your organization find opportunity in disruption.
Go to ICF Next
According to
Customer Experience Predictions Report 2022 by Talkdesk
, measuring return on investment (ROI) for CXT is a growing pressure that is stronger than ever. As illustrated in the marketing investment ROI example, CLV can be used as a benchmark to calculate return on marketing spend, informing future marketing investments. Associating value to members helps direct investment in their experience and measure return from that work.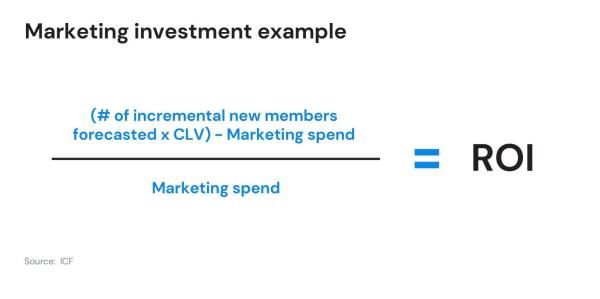 Ignite customer experience transformation
With CLV in hand, we help our clients map their position on an experience transformation roadmap and target their first programmatic changes. Different brands have varying impetuses and different CLV metrics, which require different start points. Some example roadmap ignition points include planning reviews for high CLV areas, upcoming product launches, and customer and employee retention challenges.
The approach drives clear ROI. Helping a client follow this path, we developed and executed a member-first-inspired media strategy grounded in data analytics and digital-buying technology. The result was a 6:1 return on investment and an 11% increase in year-over-year enrollment. Another project created a CXT framework to allow diverse teams to move at the pace needed for implementing member programs, regardless of size and complexity, yielding $2 million in cost avoidance.
Driving these results requires custom solutions, but to start we recommend:
Take stock of current events that may be driving need (i.e., shift in strategy, brand, mission, or purpose).
Capture honest answers to "fuzzy" questions (i.e., Is the strategy member first?).
Assess accountability for member experience—often, it's distributed, leading to dependencies across teams and business units, and the need for strong cross-functional approaches to enable an end-to-end strategy or plan.