Digital modernization report: Top trends shaping government in 2023
From big data to zombie apps to staffing challenges, our latest research reveals opportunities for agency leaders to get ahead.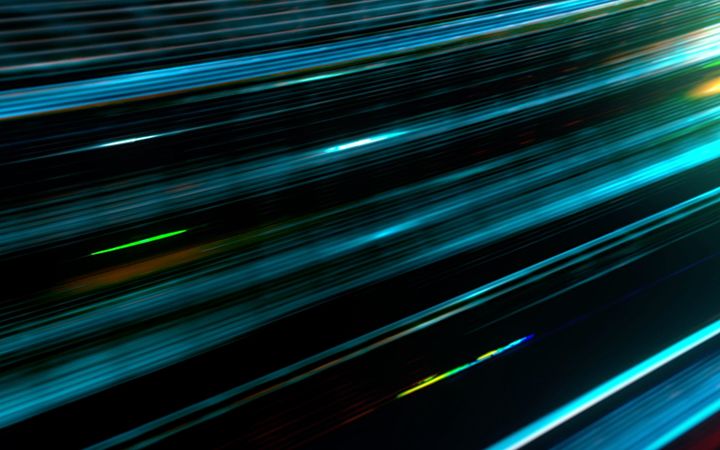 Sign up for Federal Technology and Data insights
Sign up for Federal Technology and Data insights
Sign up for Federal Technology and Data insights
Get our newsletter for exclusive articles, research, and more.
Get our newsletter for exclusive articles, research, and more.
Get our newsletter for exclusive articles, research, and more.
Subscribe now
Strengthening the CDC's public health surveillance system
Modernizing BioSense, the CDC's cloud-based syndromic surveillance platform, improves U.S. emergency preparedness.
Results at a glance
5,800
facilities reporting
75%
of U.S. EDs participate
ICF re-architected BioSense, the CDC's cloud-based digital platform at the epicenter of National Syndromic Surveillance Program (NSSP) operations. Part of the national emergency preparedness system, BioSense increases the ability of local, state, and national health officials to monitor and respond to the harmful health effects of exposure to disease, addiction, and hazardous conditions.
BioSense's improved platform design strengthens system resiliency and availability, accelerates data throughput, and extends security controls essential to advance collaboration between partners in the CDC's community of practice. This allows for rapid input from healthcare settings and offers standardized reporting tools and processing—keeping vital public health data at the fingertips of state and federal responders and policymakers.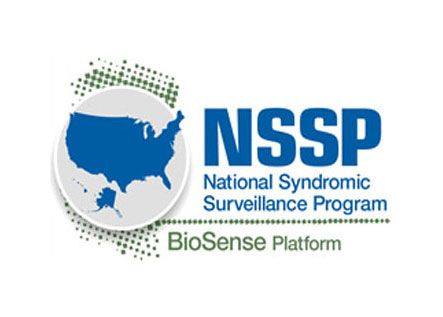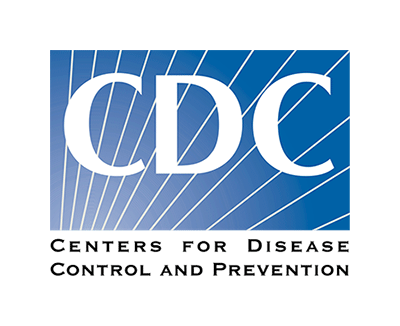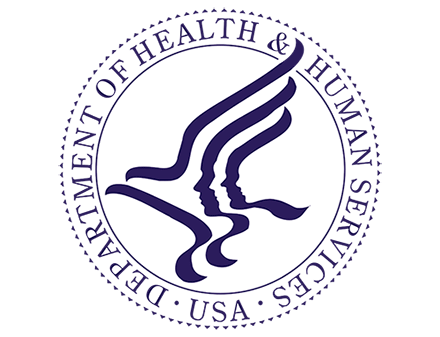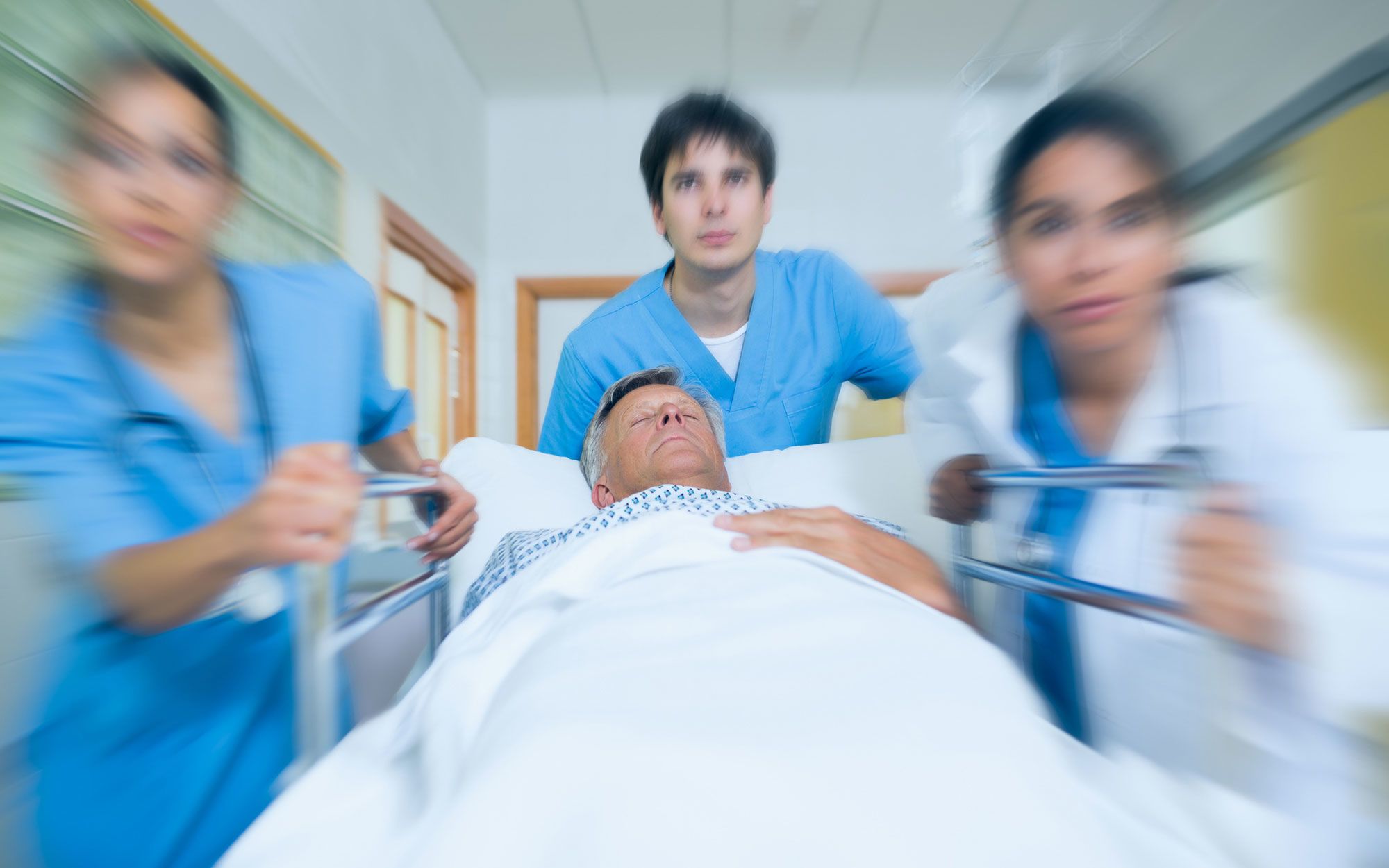 In an increasingly interconnected world, understanding how disease spreads, addiction crises occur, and hazardous conditions affect populations when it's happening is crucial for protecting public health.
Access to health data and analysis tools through the NSSP's BioSense platform helps support early detection and action plans. But in recent years, as technology advanced and public health emergencies like the opioid crisis evolved, pressure on America's syndromic surveillance system increased.
There was an urgent demand for a more modern IT infrastructure, as well as analytics and visualization tools, to support the establishment of a community of practice that covered: grantees, states, and jurisdictions reporting data in BioSense; federal agencies, CDC programs, partner organizations, and academic institutions; and hospitals, health care professionals, and public health practitioners who use local syndromic surveillance.
The CDC Center for Surveillance, Epidemiology, and Laboratory Services (CSEL) and the Division of Health Informatics and Surveillance (DHIS) needed to make it easier to for healthcare providers to support public health through the NSSP and BioSense while navigating key considerations, including:
Partnerships, trust, and ethics
"ICF is proud to partner with the National Syndromic Surveillance Program to advance its mission to improve nationwide situational awareness and enhance responsiveness to hazardous events and disease outbreaks."
Brooke E. Rivera, MPH, MBA, Public Health IT Program Director, ICF
Related services and industries
To face these challenges and optimize the performance of the National Syndromic Surveillance Program, the CDC and DHIS teamed up with ICF public health and digital transformation experts.
Our team provided surveillance expertise, information management and technology services, and data management and analytics support for multiple aspects of BioSense, including helping to produce standardized system requirements and program design concepts for revisions to the platform. After launching these enhancements, demand for greater access and further enhancements to BioSense required ICF to expand the scale and scope of the platform.
By improving the quality of its surveillance data, upgrading the technology of the platform, and expanding its coverage, the BioSense team was able to build nationwide situational awareness capabilities with federal, state, and local partners.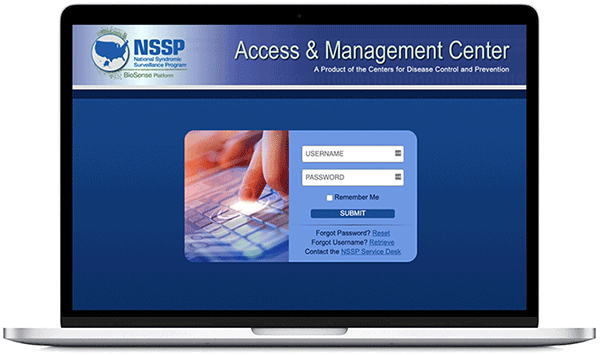 Leveraging data management, disease surveillance, and health informatics expertise
While partnering with the CDC, ICF drew on more than four decades of experience working with leaders in government agencies to adopt new health informatics strategies and systems that improve the acquisition, distribution, analysis, and use of data for the benefit of public health. This deep industry knowledge supported the design of an innovative solution for digital transformation, data collection, and IT modernization that helps evolve the entire syndromic surveillance system.
To better understand the role of BioSense in the National Syndromic Surveillance Program, take a look at this infographic from the CDC: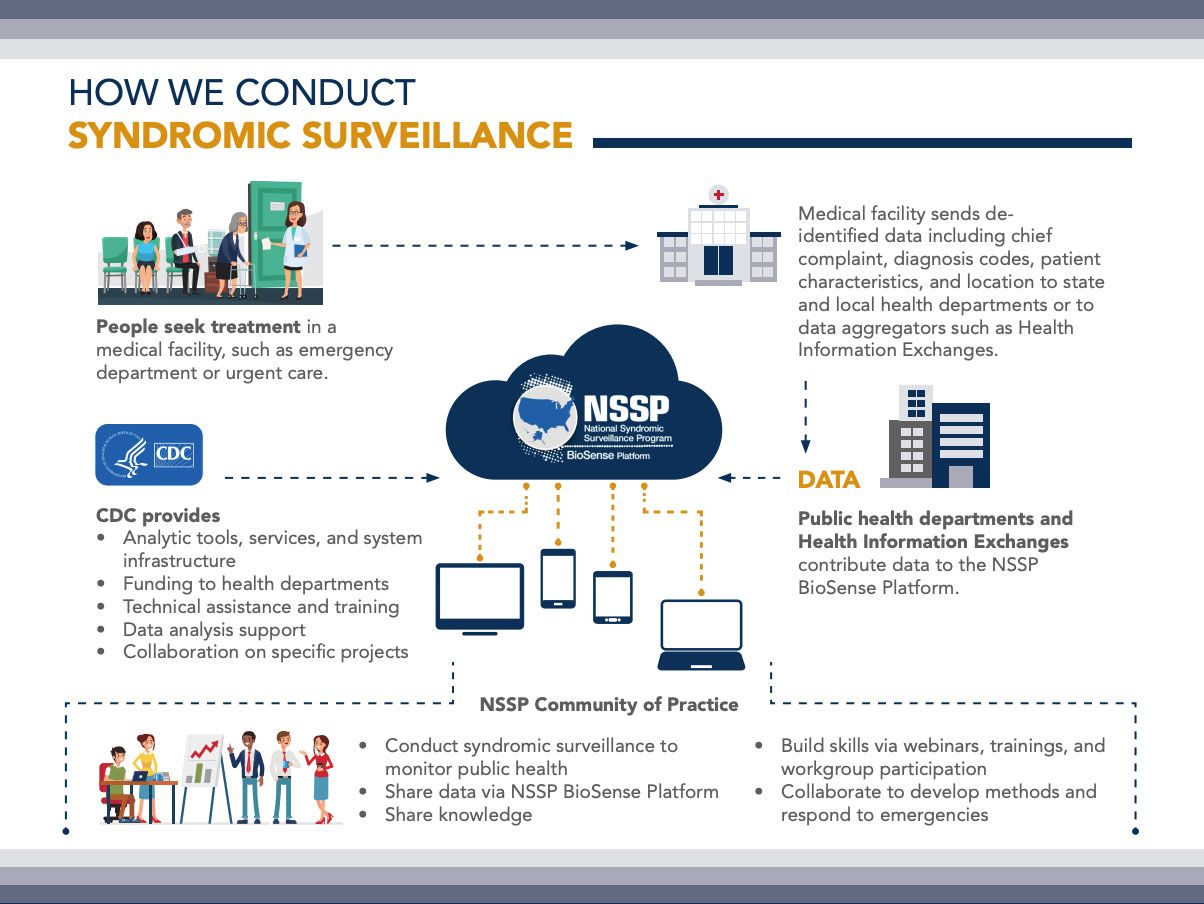 IT modernization for more secure and streamlined data and infrastructure

BioSense is a cloud-based platform, hosted on Amazon Web Services (AWS). ICF supported the design, implementation, and management of the expanded AWS platform servers and software; piloting of system enhancements, new data sources, and analytical solutions; the re-design of BioSense platform components; and provision of quality technical support and data management.
ICF piloted and implemented ESSENCE (Electronic Surveillance System for the Early Notification of Community-Based Epidemics) and SAS software to analyze state and local data, while continuing to manage the BioSense web application. Pilot results and feedback from the user community resulted in a phased implementation to install new tools on the BioSense platform, re-architect the data-processing workflow, and transition jurisdictions to the new tools and services.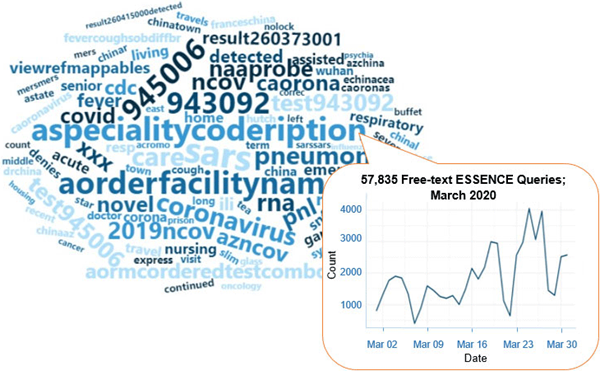 In their April 2020 newsletter, NSSP stated that, "a key feature of NSSP–ESSENCE is its ability to use free-text definitions across different fields to generate custom queries. The syndromic surveillance community can use this feature to develop and refine category definitions and to identify and respond to public health events that may not be apparent in established categorical definitions."
Agile project management
Proactive administration that incorporated changing priorities and flexed for program growth helped to achieve both short- and long-term goals critical to the successful emergence of BioSense as an important syndromic and public health surveillance platform. Providing frequent communications to inform CDC and the community of the status of the BioSense platform, fostered transparency and close collaboration between stakeholders. Smart planning, scheduling, and application of Agile methods helped streamline project management and ensured efficient and effective use of resources.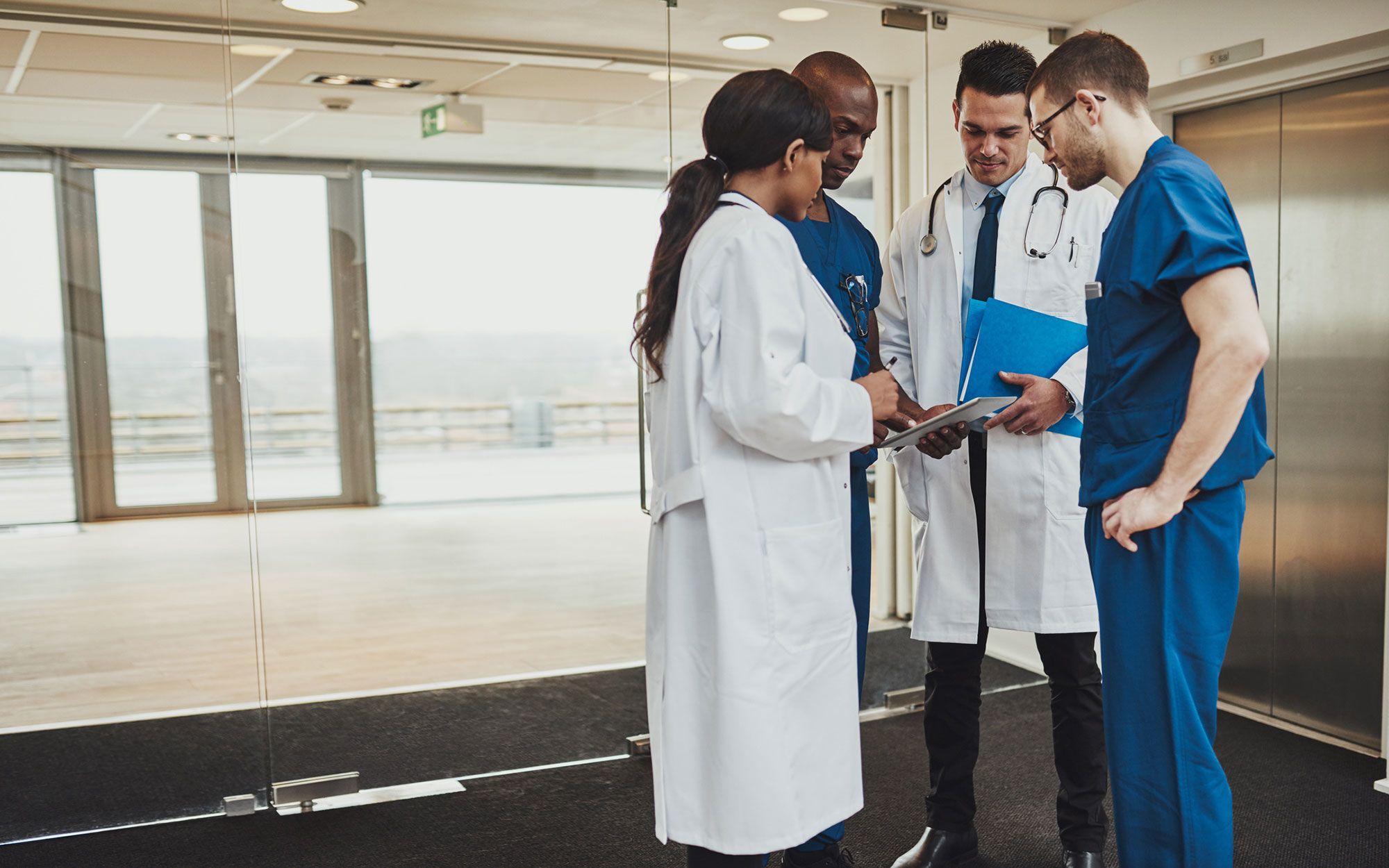 The expansion and modernization of the BioSense platform increases the ability of health officials at local, state, and national levels to monitor and respond to harmful health effects of exposure to disease or hazardous conditions. The CDC's National Syndromic Surveillance Program is
well-positioned
for early detection and monitoring of priority public health concerns on a national scale.
Over 5,800 health care facilities nationwide contribute data
Data is available within 24 hours of patient visits
Over 75% of emergency department visits are reported
6-8 million electronic health messages are processed daily
"Over the past few years, ICF has helped CDC significantly increase the national coverage of data providers and the number of jurisdictions and users that are supported by BioSense."
Terence McKittrick, Senior Vice President, ICF
Driving collaboration at all levels
In partnership with surveillance experts from the state of Illinois and across CDC Centers, we won the prestigious CDC Manuscript of the Year for the groundbreaking study: Syndromic Surveillance for E-Cigarette, or Vaping, Product-Use-Associated Lung Injury (EVALI)—acknowledging our work as the best manuscript on original research published in a reputable, peer-reviewed journal.
Syndromic surveillance informs health professionals of growing public health threats, but its success relies on the input of data from the field. In this study, our epidemiologists developed novel text-mining methods to analyze emergency department data as a complement to case reporting in order to evaluate outbreaks in e-cigarette, or vaping, product use-associated lung injury in real-time—methods that were immediately applied to the COVID-19 response.
The input of patient encounter information must also be a part of the natural workflow of healthcare practitioners for BioSense to work as intended. At the same time, the output of information must serve the needs of federal, state, and local public health agencies.
The NSSP relies on BioSense for data collection and reporting in 47 states and Washington, D.C., as pictured in the CDC's map below. The updates to the BioSense platform are making it easier than ever for vital public health data to be collected and reported.
Participation in the National Syndromic Surveillance Program by state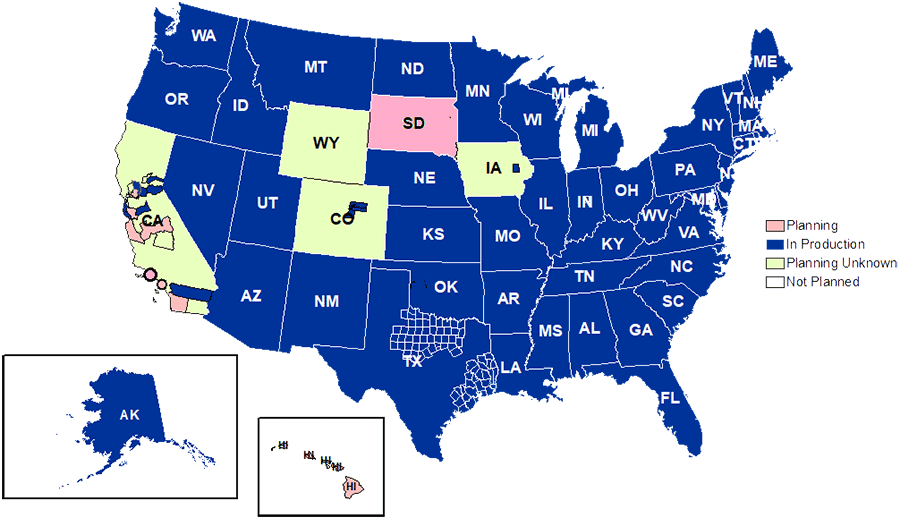 Can laboratory data enhance NSSP efforts on the frontlines of the U.S. opioid crisis?
ICF data scientists developed methodologies for exploring the integration of laboratory records to investigate the general burden of opioid use, non-fatal opioid overdose rates, pain management compliance testing, and co-occurrence. These models are now being considered for integration in BioSense to support real-time monitoring and response to the opioid crisis.
By detecting trends and aberrations in opioid-related patient visits, local practitioners are armed with actionable public health insights within 24 hours, while the aggregated dataset creates an integrated syndromic surveillance picture for broader situational awareness over time and across regions.
Talk to our experts today