BioSense: A platform for actionable public health insights
ICF re-architected BioSense, the digital platform at the epicenter of the
National Syndromic Surveillance Program's (NSSP)
operations. The improved design strengthens system resiliency and availability, accelerates data throughput and extends security controls essential to advance collaboration between partners. This allows for rapid input from healthcare settings and offers standardized reporting tools and processing—keeping vital public health data at the fingertips of state and federal responders and policymakers.
Client
Centers for Disease Control and Prevention (CDC), Center for Surveillance, Epidemiology, and Laboratory Services (CSELS), Division of Health Informatics and Surveillance (DHIS)
Challenge
Make it easier for healthcare providers to support public health through standardization of vocabulary and message format.
Solution
Revamp the BioSense platform to enhance efficiency, representativeness, and collaboration. Model the integration of other data sources, such as lab data.
Impact
NSSP is well-positioned for early detection and monitoring of priority public health concerns on a national scale. In addition, preliminary findings suggest that syndromic surveillance can be enriched by integrating data sources beyond the patient encounter.
Driving collaboration at all levels
Syndromic surveillance informs health professionals of growing public health threats, but its success relies on the input of data from the field. The input of patient encounter information must be a part of the natural workflow of healthcare practitioners for BioSense to work as intended. At the same time, the output of information must serve the needs of federal, state, and local public health agencies. Currently, the NSSP relies on BioSense for data collection and reporting in 47 states and Washington, D.C., as pictured in the map below.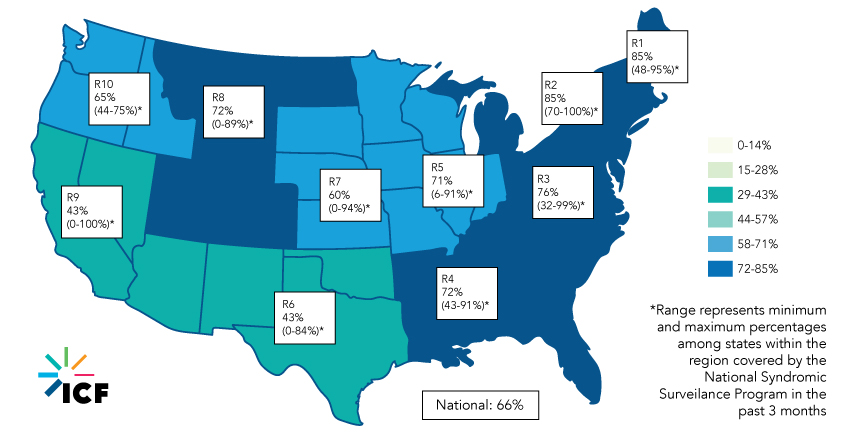 Though not 100% of emergency departments participate, the updates to the platform are making it easier than ever for this vital data to be collected and reported.
The Opioid Crisis in Numbers
According to federal data:
More than 130 people die every day from opioid-related drug overdoses in the U.S.
In 2017, the number of overdose deaths involving opioids was six times higher than in 1999.
More than 2/3 of overdose deaths involve an opioid.
Can laboratory data enhance NSSP efforts on the frontlines of the U.S. Opioid Crisis?
ICF data scientists developed methodologies to explore the integration of laboratory records to investigate the general burden of opioid use, nonfatal opioid overdose rates, pain management compliance testing, and co-occurrence. These models are now being considered for integration to support real-time monitoring and response to the Opioid Crisis. By detecting trends and aberrations in opioid-related patient visits, local practitioners are armed with actionable public health insights within 24 to 48 hours, while the aggregated dataset creates an integrated syndromic surveillance picture for broader situational awareness over time and across regions.
"ICF is proud to partner with the National Syndromic Surveillance Program to advance its mission to improve nationwide situational awareness and enhance responsiveness to hazardous events and disease outbreaks to protect America's health, safety, and security."
-Brooke E. Rivera, MPH, MBA, Public Health IT Program Director at ICF
Meet the project leads
Brooke Rivera
Director, Project Management
Max Worlund
Senior Manager, IT Systems