Unearthing health risks: The Behavioral Risk Factor Surveillance System
ICF supports the largest ongoing public health surveillance survey in the U.S.
ICF has spent three decades working with more than half of U.S. states and territories to ensure that systematic public health data is collected with integrity, rigor, and representativeness. States rely on this survey data to make vital decisions about public health for their residents. As the largest of its kind in the country, the Behavioral Risk Factor Surveillance System (BRFSS) is an industry-leading example of innovative health research.
Challenge
Provide states with actionable information for public health planning, implementation, and evaluation.
Solution
Design and implement the survey using deep expertise in data collection and sampling protocols, combined with methodological acumen to pilot new approaches.
Impact
The BRFSS remains the largest health risk behavior database in the world—and the only nationwide health risk data in the United States. Its continued sustainability comes from purposeful incremental innovations introduced at the federal and state level.
30+
years supporting state participation in the survey
1.5M +
interviews to gather critical health-related information
31
states and territories and over a dozen districts supported
Setting the bar for health-related surveys
"For over three decades, ICF has collaborated with the CDC and state health departments to provide representative health behavior data that informs critical public health programs and polices. We are proud of our BRFSS legacy shaping this flagship health surveillance program."

— Thomas Brassell, Portfolio Director, Survey Research
Since its establishment in 1984, the BRFSS has been the country's leading system of health-related telephone surveys to gather state information about the health conditions, risk behaviors, and access to preventative care. As such, it has grown into a profoundly important tool for developing and designing public health efforts. The survey continues to mature and expand over time—setting the global standard for this form of health research.
Ensuring accuracy and compliance across states
ICF helps implement rolling data collection within and across states that meet the standardization protocol requirements of the U.S. Centers for Disease Control and Prevention (CDC). We offer the flexibility to tailor our approach to meet the complex health planning needs of each locale and the agility to adapt in response to emerging or urgent health issues. Our deep expertise and thought leadership in the CDC BRFSS data collection and sampling protocols—intersected with a state-level understanding of population, region, and health priorities—uniquely position ICF to manage such a complex undertaking.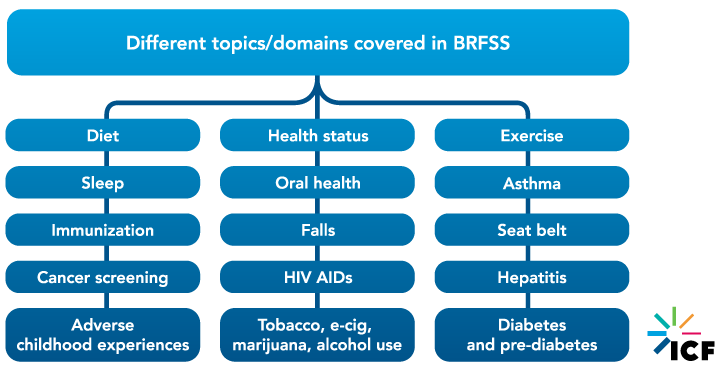 Constantly innovating and optimizing
Each year, we strive to enhance the success of the BRFSS. We pilot new technology, sampling, and analytic innovations in parallel to standardized data collection to assess effectiveness—without compromising ongoing surveillance efforts. As we evolve the data collection approach, ICF makes certain to maintain the reliability, validity, and representativeness of the information gathered. This allows us to optimize the research process while sustaining what we know works.
Jamie Dayton, Senior Vice President, Survey Research
Thomas Brassell, Portfolio Director, Survey Research
Samantha Vincent, Project Manager, Survey Research
Randy ZuWallack, Senior Methodologist and Statistician Consultant