Our Appian-powered low-code solution helps financial institutions combat fraud and improve the health of the global financial system.
Every day, millions of transactions involving billions of dollars in assets are conducted across the global financial system. In the U.S., the Federal Reserve and other agencies regulate these exchanges. And the nation's 60,000+ financial examiners provide oversight for these transactions that fuel the U.S. economy.
As the Appian 2021 Trusted Delivery Partner in the Public Sector, we're known for our consistent delivery of complex implementations built on the Appian low-code platform.
Our Financial Examination Platform—powered by Appian's enterprise automation suite—is no exception. It provides a comprehensive solution that transforms financial examiners' efficiency and effectiveness with the planning, management, and reporting tools they need to help combat fraud and improve the health of the global financial system.
"We're providing examiners with a comprehensive solution that integrates the complex systems and processes they must navigate, helping transform the efficiency and effectiveness of the critical tasks they are entrusted with."
– JC Chidiac, ICF senior vice president and digital modernization lead
Our team demonstrated the solution at ATARC's (Advanced Technology Academic Research Center) 2022 Hyperautomation Hackathon event, which brings together government and industry leaders around automating workflows and processes to improve the citizen and employee experience.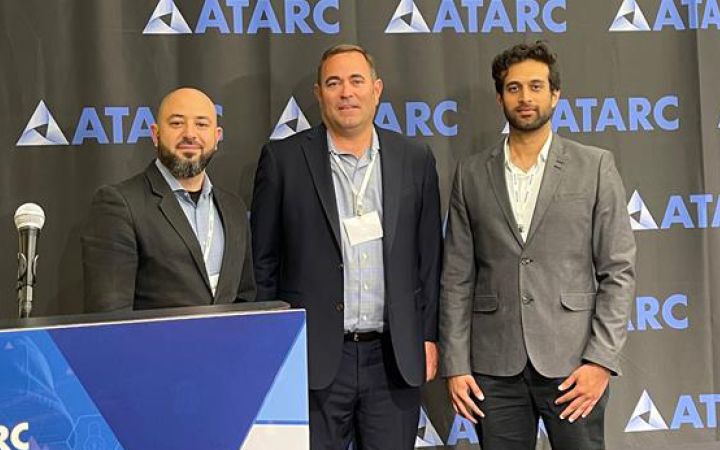 ICF's Ed Ramadan and Ashwin Gapchup with ATARC president Tom Suder
And we took home the winning prize for our innovative solution.
Nigel Allicock, acquisitions analyst for the Federal Emergency Management Agency and hackathon judge, shares, "The proposed solution was innovative and extremely intuitive. The agile nature of the platform will undoubtedly be of great value! It is abundantly obvious that the ICF team put tons of hard work and effort into this project with the needs of the user community as the key driving factor."
Natalie Carey, Appian senior director, federal civilian practice adds, "ICF continues to demonstrate their capabilities to leverage the power of Appian to meet government mission needs. Their hackathon submission showcases their ability to harness Appian's strength in orchestrating highly complex mission-critical workflows while improving employee and customer experience."