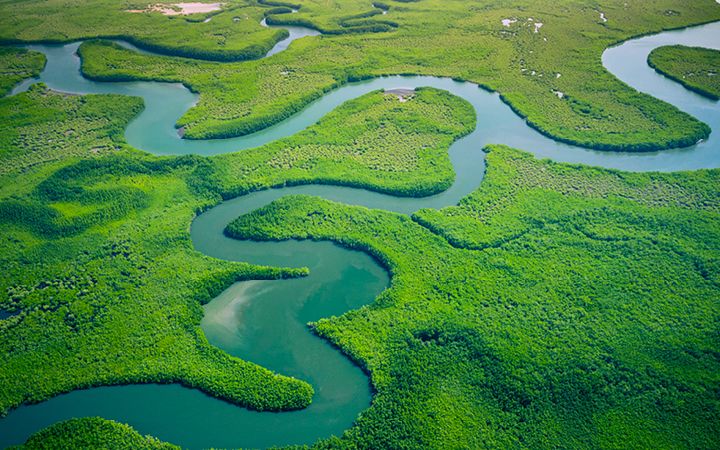 Sign up to receive exclusive Climate insights
Sign up to receive exclusive Climate insights
Sign up to receive exclusive Climate insights
Want to hear more from our experts? Get the Climate newsletter.
Want to hear more from our experts? Get the Climate newsletter.
Want to hear more from our experts? Get the Climate newsletter.
Subscribe now
How airports in India contribute to aviation's sustainability goals
Aviation has become an essential part of our society, driving economic, social, and cultural development worldwide. In India, the industry contributes around 1.5% of the country's GDP and supports eight million jobs. India is one of the fastest growing aviation markets globally and is likely to become the third-largest market by 2030.
While aviation is responsible for only 1% of India's emissions today, the environmental impact could skyrocket if no action is taken. Carbon emissions from Indian airlines have increased by 64% in 2019 since 2012. Given the expected growth in passenger traffic, it is essential for India to develop a roadmap to decarbonize the aviation sector and decouple economic growth and environmental degradation.
Carbon reduction goals
Recognizing the climate impact of air travel, the International Air Transport Association (IATA) has set three goals to mitigate the emissions from the industry as shown below. These can provide a helpful reference point for the Indian aviation industry to reduce its carbon footprint.
Explore insights on how to drive low-emission transitions and build resilience against the effects of climate change.
Go to Climate Center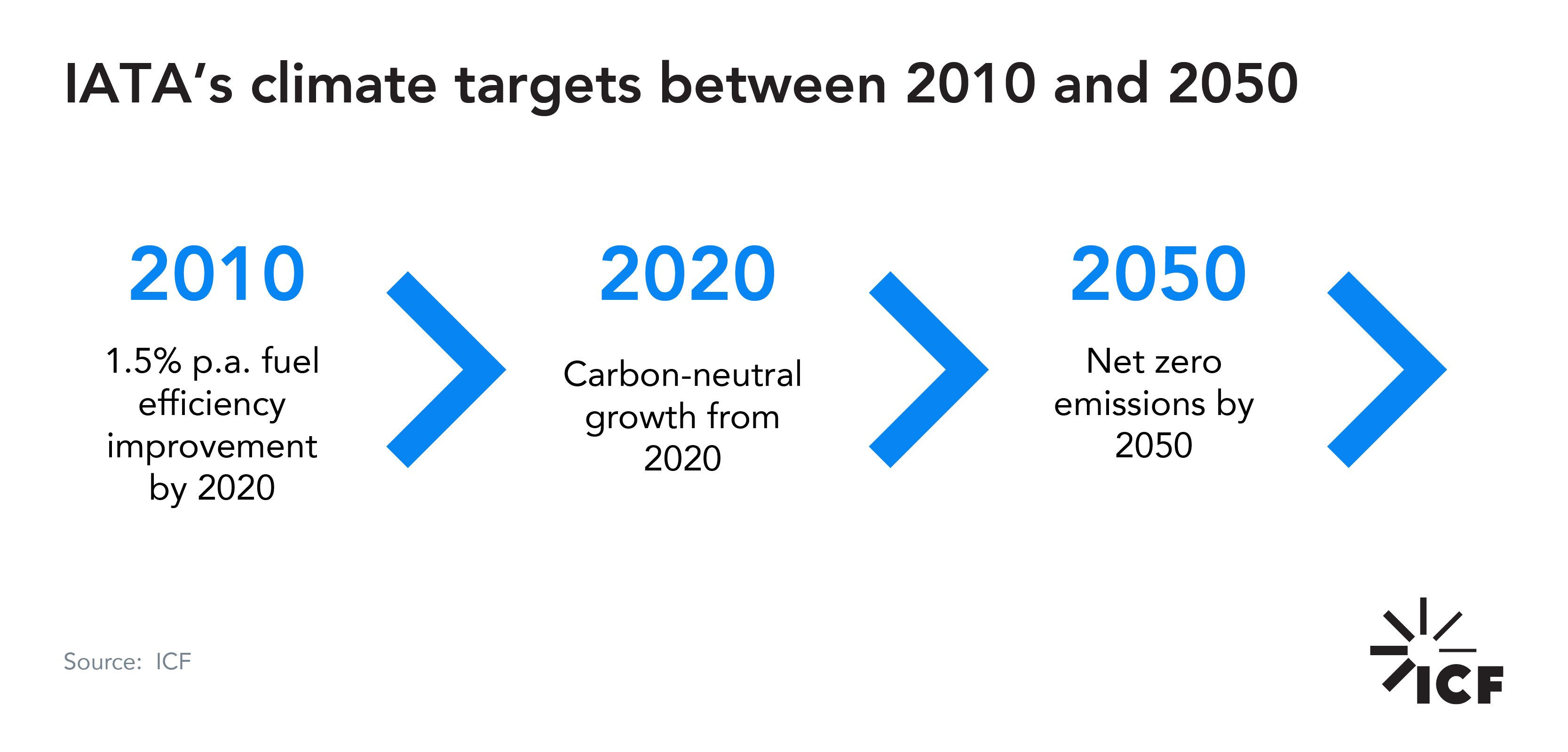 There are several ways in which airlines and airports in India can achieve these climate goals:
Fleet renewal: Airlines have continued to replace their aircraft with more fuel-efficient models. Ten new aircraft types have entered into service in the last decade and each new generation of aircraft is 15%-20% more fuel efficient than the previous. Almost 50% of India's in-service fleet is A320neo and airlines have an order book for over 850 A320neo and 737MAX aircraft.
Technology: Although in early stages of research and development, new technology aircraft with electric, hydrogen, or hybrid engines can substantially reduce CO2 emissions. Airbus is expected to launch hydrogen powered aircraft as early as 2035 under the ZEROe project.
Sustainable Aviation Fuel (SAF): SAF can reduce carbon emissions by well over 90%. The industry has made a lot of progress in proving the operational safety and reliability, with over 350,000 flights operated using SAF since 2011. However, only a handful of flights have been completed in India. In fact, India is well placed to develop a SAF industry given the wide availability of feedstocks and low cost of renewable energy.
Operational and infrastructure improvements: A wide range of measures can be implemented by airlines, airports, and air traffic management to reduce CO2 emissions. Optimizing the use of runways and airspace, adopting fuel and weight saving measures, and building greener airports can have a significant impact. Delhi Airport has installed Fixed Electric Ground Power (FEGP) at all its stands in Terminal 3. FEGP can reduce airline emissions by up to 40% and also reduces noise on the apron.
In addition to the above, the industry relies on carbon offsets as an interim solution to fill emission gaps. Foreign carriers have been purchasing offsets from a number of projects within India. For example, easyJet has invested in distribution of fuel-efficient and improved cook stoves in rural India. Airlines and airports in India can also contribute to similar projects within the country—not only to balance out their own carbon footprint but also to contribute to India's economic and environmental growth.
The role of airports
Airports contribute a small proportion of aviation's share of emissions but play an important role in sustainable growth as they are the key infrastructure that controls passenger movement. Airports have an impact across multiple environmental areas such as climate, energy, air quality, water, biodiversity, and noise.
Of the direct airport emissions (Scope 1 and 2, as shown below), electricity consumption is the primary source. Better insulation, energy efficiency, and green energy sources for electricity, heating, and cooling can help airport operators address their carbon footprint.
However, the largest share of an airport's carbon footprint is from indirect emissions (Scope 3). Examples include aircraft emissions, passenger and staff travel to the airport, and third-party operational vehicles. Over 80% of airport journeys in India are made by private cars or taxis. There is an opportunity for airports to engage with governments and improve public transport for airport passengers, thereby reducing congestion and pollution.
While airports cannot directly control Scope 3 emissions, they can influence airlines with incentive programs and supply infrastructure, such as ground power and electric charging stations to reduce emissions. Some airports in Europe have levied environmental charges to promote the use of quieter and newer aircraft by airlines.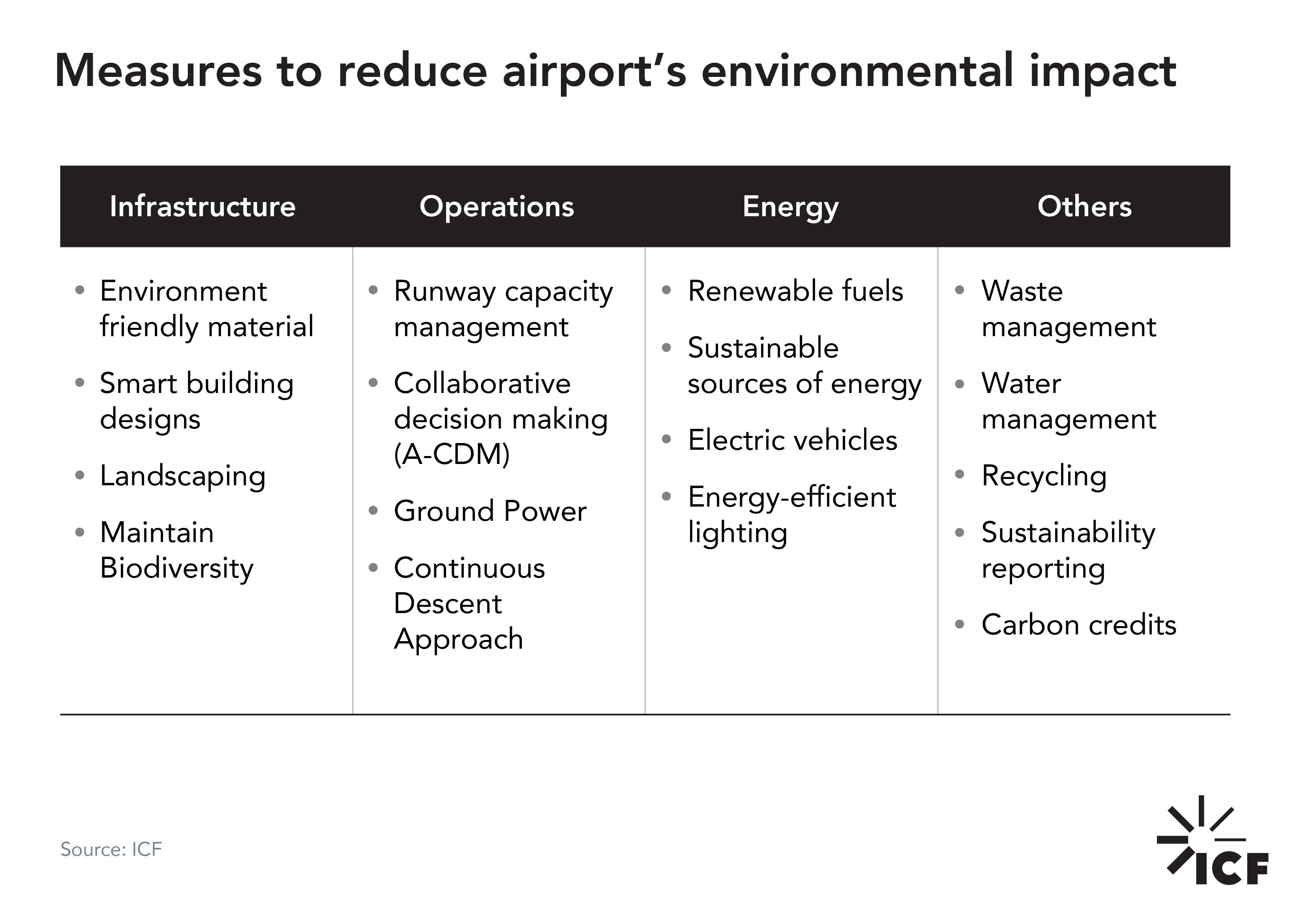 Industry response
While Indian airports have been active in mitigating the environmental impacts of direct airport operations, the industry is still in the early stages.
Airports Council International (ACI) launched the Airport Carbon Accreditation program in 2009 to provide airports with a common framework to manage and reduce their CO2 emissions. It is the only institutionally endorsed, global carbon management certification program for airports. There are currently 348 airports enrolled in the program representing 4.2 billion passengers per year. However, within India, only eight of over 100 airports have signed up for the program.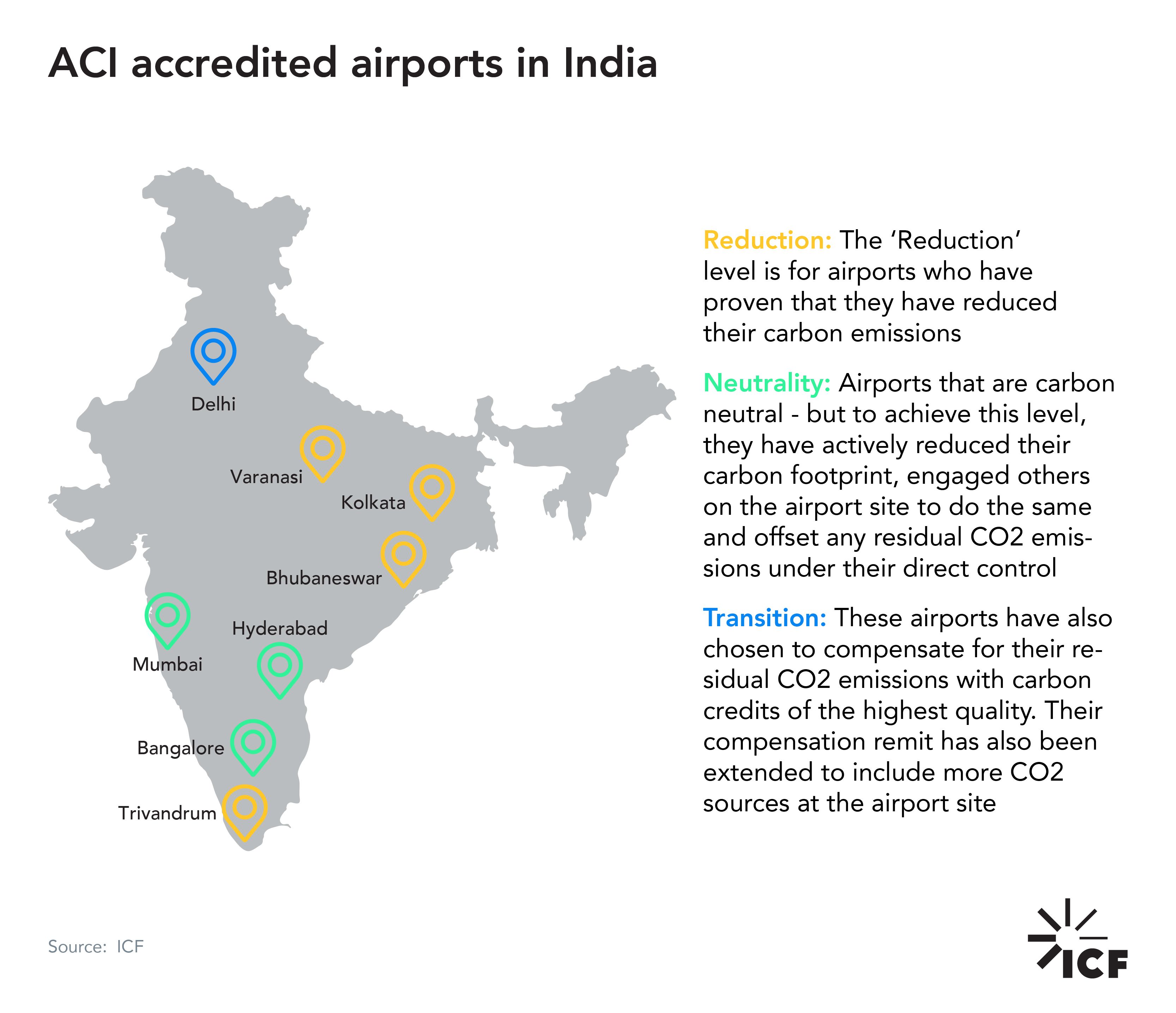 Delhi's IGI airport is the first airport in Asia-Pacific to be Level 4+ (Transition) accredited under ACI's Airport Carbon Accreditation program. The airport has adopted several initiatives such as renewable energy, green airport infrastructure, electric vehicles, and waste and water treatment plants. They also introduced TaxiBot, a semi-robotic vehicle used as a means of taxiing the plane to the runway. TaxiBot has helped reduce around 530 tons of carbon emissions and saved airlines over 200,000 liters of fuel at IGI.
Similarly, Cochin International Airport has taken measures to become self-sufficient by installing a solar plant which generates adequate electricity for daily operations. The airport became the world's first fully solar powered airport in 2015.
As part of India's Vision 2040, India is expected to have 190-200 operating airports. The government and airport stakeholders should use this opportunity to incorporate sustainability right from the initial planning stage. For example, the new Noida International Airport will have a carbon neutral terminal and LEED Gold standard certification. The airport is also considering battery-operated taxi pods for last-mile connectivity of passengers. Reducing direct emissions is far easier and more economical for new build airports as aging infrastructure is expensive to replace.
Success in sustainability
The topic of sustainability has been overlooked for a long time. But as the world's resources deplete and demand grows, it is increasingly important to incorporate sustainability into core business strategy.
Success in sustainability cannot be achieved without support from governments and regulators. In 2019, India came out with a National Green Aviation Policy as the first step in outlining the country's vision for sustainable growth. However, the country needs to continue to promote the implementation of green initiatives. The EU is well-advanced in this area with a recently launched "Fit for 55" legislative package to achieve its goal of net zero emissions by 2050. The U.S. administration is also working towards a similar goal; the Federal Aviation Administration began a program in 2009 with the goal of making sustainability a core objective in airport planning. It has issued grants of over $20M to 47 airports for developing comprehensive sustainability planning documents covering the three pillars of sustainability (i.e., social, environment and economic).
The aviation industry has come a long way, with a flight now producing half as much as CO2 as 30 years ago. But there is still more to achieve and we need to continue this long-haul journey of economic growth while minimizing the impact on climate change. The focus on sustainability is growing globally and it is time for Indian stakeholders to join the movement and put us on the path to a sustainable future.
New climate data reveals warmer, wetter future for the U.S.
In this report, our climate scientists project some Americans could experience 42-61 additional days with temperatures above 95 F by midcentury.