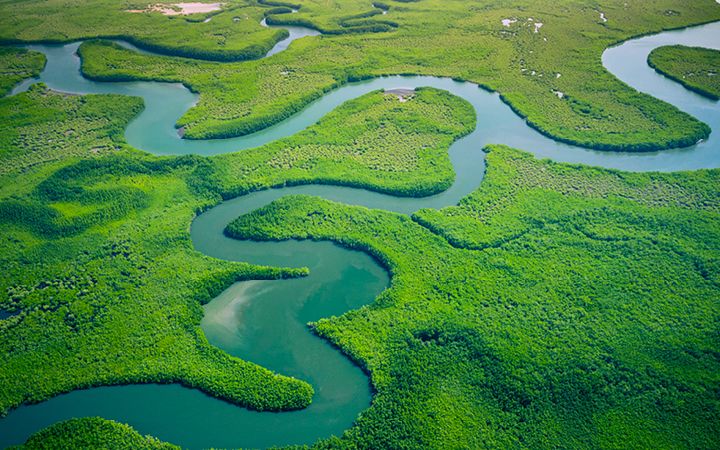 Sign up to receive exclusive Climate insights
Sign up to receive exclusive Climate insights
Sign up to receive exclusive Climate insights
Want to hear more from our experts? Get the Climate newsletter.
Want to hear more from our experts? Get the Climate newsletter.
Want to hear more from our experts? Get the Climate newsletter.
Subscribe now
Editor's note: Molly is the lead author of the international climate resilience chapter in the forthcoming fifth U.S. national climate assessment.
Shortly after I began my career in the 1990s, the United Nations released the first Intergovernmental Panel on Climate Change (IPCC) report warning of emerging worldwide climate impacts. Two decades later, events like severe wildfires, droughts, floods, extreme heat, and hurricanes have increased significantly. They've also become much more deadly, especially for people living in developing countries. The UN Secretary General is even calling the current state of climate change a "code red for humanity."
Today's climate events impact nearly every region but the worst impacts are felt in developing nations that are the least prepared to weather them. The Global Climate Risk Index released earlier this year names Mozambique, Myanmar, and Haiti as some of the nations most impacted by climate change. These countries are caught in a cycle of perpetual recovery from climate events: a cycle that exhausts resources and provides little opportunity to invest in the long-term resilience needed to protect their economies and communities from climate change.
Much of the conversation at COP26 is around how to help developing countries continue adapting to the changing climate. While it's important to know how much it will cost for developing countries to become more resilient to extreme weather and other climate impacts, an equally important question is which climate adaptation investments deliver the greatest impact—especially for the most vulnerable.
Here are three areas developed countries should prioritize when investing in climate adaptation: leveraging climate data, engaging local partners, and supporting equitable solutions.
Leveraging climate data
International development professionals have traditionally used historic data and trends to inform current and future projects. If a region historically experienced one drought every 100 years, traditional logic said it's reasonable to prepare for a future with the same frequency and duration of droughts. However, in a changing climate, that same region may experience droughts more frequently in the future, requiring a more robust climate adaptation approach to protect the lives and livelihoods of those at risk. Put another way, the past is no longer a good predictor of the future.
Analyzing past climate trends and accounting for uncertain seasonal forecasts can help us understand what the future holds. This data can be tailored to help local governing bodies plan budgets, staffing, and investment cycles around potential seasonal changes, as well as to better account for risk in longer-term investment planning.
In Morocco, the Millennium Challenge Corporation's work to help local farmers and other agriculture leaders map climate risks like droughts, water scarcity, and flooding revealed pathways to building resilience and adaptation into the country's water and agricultural resources. In this example, regional climate projections and climate assessments helped improve food and water security as well as elevated local awareness of potential climate risks.
Engaging local partners
The best, most sustainable development work is led by local leaders. Developed countries that build climate adaptation programs that empower local governments and civil society leaders are more likely to achieve results that are sustainable long after the programs end. Building in-country capacity for talent, tools, and technology can also help ensure aid goes to the right places.
In Ghana, the U.S. Agency for International Development (USAID) partnered with the Government of Ghana to build climate resilience into energy infrastructure planning. Climate considerations were incorporated into every element of the program, from staff training to power grid upgrades. The partnership resulted in a plan that could reduce carbon emissions and save roughly $300 million while also empowering the Government of Ghana with the tools to implement the plan over several years.
Further, creating training and technical assistance programs that foster in-country expertise and build resilience into infrastructure can help developing nations make more holistic investment decisions by taking into account all the considerations for service delivery and cost. Developed countries can help individual developing nations consider how to deliver services reliably in the face of climate impacts—and account for the true costs of critical infrastructure upgrades and upkeep.
Supporting equitable solutions
Women, coastal, and rural populations—and indigenous people—are some of the most vulnerable groups in developing countries and often bear the brunt of climate impacts. Despite carrying this burden, they are often the people on the front lines of climate adaptation. For example, the UN estimates that women make up 43% of agricultural labor in developing countries. They play an important role in agricultural adaptation to help ensure crops remain resilient during periods of severe drought. Therefore, building equity into climate adaptation programs is both humane and the most effective approach.
It's evident that intensifying impacts of climate change present a clear danger to developing countries. Aid agencies, like USAID and MCC, have implemented best-in-class climate adaptation programs that can serve as examples for future investments in developing countries. As developed countries invest in developing countries to help them adapt to climate change, I hope that the conversation about how to invest in climate adaptation will be just as important as the conversation about how much money is invested.
Visit the ICF Climate Center's COP26 hub to read other insights around COP26 and check back for updates from our team attending the conference.
Explore insights on how to drive low-emission transitions and build resilience against the effects of climate change.
Go to Climate Center
New climate data reveals warmer, wetter future for the U.S.
In this report, our climate scientists project some Americans could experience 42-61 additional days with temperatures above 95 F by midcentury.