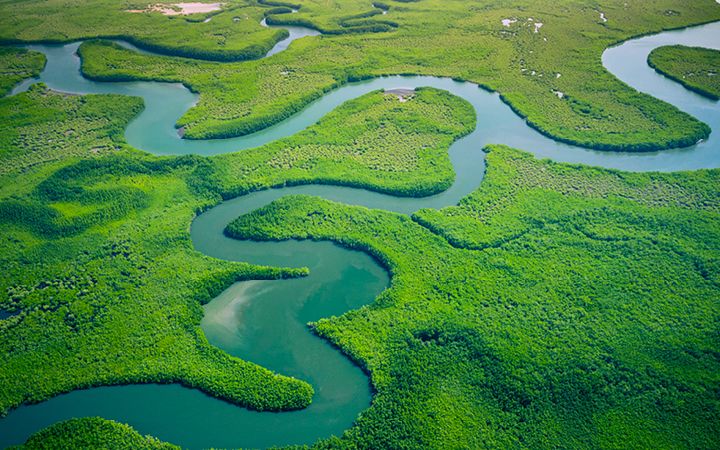 Sign up to receive exclusive Climate insights
Sign up to receive exclusive Climate insights
Sign up to receive exclusive Climate insights
Want to hear more from our experts? Get the Climate newsletter.
Want to hear more from our experts? Get the Climate newsletter.
Want to hear more from our experts? Get the Climate newsletter.
Subscribe now
Six trends commercial utility programs need to watch in 2021
Energy efficiency is the focal point for thriving sustainable communities—linking jobs, economic growth, and indoor and outdoor air quality. And utilities are the glue holding it all together: built to respond to crises reliably, safely, and securely so commercial and industrial customers can carry on with their operations under any circumstance.
As we continue to face the threats of both climate change and the COVID-19 pandemic, significant strides are necessary to close the economic gaps created by these crises and to foster continued growth for the future. As Bill Gates stated in an August article, "In the next decade or two, the economic damage caused by climate change will likely be as bad as having a COVID-sized pandemic every ten years."
With a new year, a new U.S. presidential administration, and several new COVID-19 vaccines, bringing the energy and non-energy benefits of energy efficiency to the business community will once again be in the recovery spotlight. The energy industry itself is also in a key transformative stage and, like their business customers, utilities are adapting and adjusting to keep up with a changing landscape.
Here are six key trends utilities should watch for this year in commercial energy efficiency programs, from the tried-and-true to the unexpected and innovative.
1. Connectedness and community
Utilities are pillars of their communities. With that position comes great opportunity and responsibility to influence business decision makers in their clean energy and social responsibility commitments. The time is now for utilities to deepen their partnerships with businesses, organizations, and government entities to craft solutions for a strong and fast economic recovery and a connected, safe, and inclusive community.
What to watch:
Cross-collaboration – Utilities are essential players bridging economic gaps and workforce development opportunities, but they know the stakes are high and they cannot do it alone. We will see utilities influence and leverage workforce development groups and government-funded programs with renewed vigor in the coming year. In fact, they've already begun by bringing opportunities to small business customers through the Cares Act,

providing energy assessments to industrial customers through the Department of Energy's

Industrial Assessment Center, and connecting agriculture and small business programs in rural areas to the U.S. Department of Agriculture's Renewable Energy System Grant and Loan Guarantee program for energy efficiency and renewable energy projects.
Business customers as humans – Business-to-business marketing has transitioned to sophisticated digital acquisition, analytics, and fulfilment, and utilities are rapidly following suit. The expectation of business customers wanting to feel connected, recognized, and personally assisted by their utility has never been higher. We saw this human-centered shift take hold in recent years, with utilities like PECO leading the way. Utilities that have not yet embraced this concept risk losing the satisfaction and trust of their customers—impacts with far-reaching consequences. The utilities best poised for the new year are already combining digital analytics, highly targeted creative messaging, and dynamic campaign management to shape an ecosystem of marketing technology tools to serve business customers in a personalized and productive way. Yet, the significantly changed business landscape means what utilities thought they knew about their business customers has also changed. We expect to see a renewed prioritization of customer journey mapping, database health scans, and use of predictive analytics in 2021. By using data and technology as a tool, utilities will be assured their messaging and materials hit the right tone, look, and offering when connecting with their customers in a post-COVID-19 climate.
2. Economy and jobs
Utilities serve as a catalyst for customers and communities to have a sense of normalcy and help rebuild the economy. Energy efficiency is a proven path to build resilient businesses and economic growth. We expect 2021 will see an increase in utility programs seeking to advance skills for both the existing and upcoming workforce of building operators, particularly ones that leverage high school career training programs, technical schools, and community colleges and universities.
What to watch:
Job creation - In September 2020, Public Service Electric & Gas Company (PSE&G), the largest utility in New Jersey, committed to creating 3,200 direct jobs and 1,100 indirect jobs through a landmark Clean Energy Future proposal of $1 billion over three years. Other large companies are also pledging commitment to boosting the economy in New Jersey. In October 2020, an informal New Jersey CEO Coalition pledged to hire or train more than 30,000 residents by 2030 and spend an additional $250 million on procurement with state-based, diverse companies by 2025. The group is challenging their peers in the business community to produce an additional 40,000 jobs and $250 million in local purchasing.
Workforce development – Incentives from utilities to building operators for certification and training programs is nothing new. Utilities have been doing it for years to supplement retro-commissioning and strategic energy management programs, such as the Building Operators Training program we implemented with BGE. However, a recent ACEEE report, Training the Workforce for High Performance Buildings, identified a continued gap in skills for the building operations workforce and it has utilities rethinking their role in workforce development. NYSERDA launched an on-the-job training program providing financial incentives to eligible energy efficiency and clean technology businesses to hire and provide training for new employees. More utilities should look to add incentives for training and skills development, along with forming coalitions with regional and state labor and workforce development groups.
3. Diversity and inclusion
In 2020 we saw a heightened focus on integrating diversity and inclusion (D&I) into all aspects of workforce. After globalization of the Black Lives Matter movement, there was a significant uptick of job posts for D&I roles within companies. Within the energy industry, many utilities have already set target allocations for spend towards diverse business enterprises including women-, minority-, veteran- and disabled-owned businesses through either Tier 1 (direct with utilities) or Tier 2 (through subcontracts) spend. But now D&I is not just about setting targets; rather, it's about more conversation, solutioning, and action taking place. Building a workforce of people from traditionally underrepresented groups in the clean energy workforce will become an integral part of energy efficiency programs.
What to watch:
Training of diverse contractors - In 2020 ComEd launched its Diverse Energy Efficiency Service Provider (EESP) Incubator Program. This program trains diverse contractors on its energy efficiency portfolio, assists with certification, and provides back office training and education on project financing. The goal is to enable diverse contractors to join ComEd's network of service providers and support them in marketing and growing their business. ComEd initially recruited 20 cohort members who attended in-person (and then virtual) workshops, and a new cohort will begin in 2021.
Early intervention with primary and secondary education students - To build a diverse workforce in the energy industry, the building blocks must be established early in the education journey. That means immersion in student populations, particularly those cultural communities that have limited access to resources, financial assistance, and career guidance. The District of Columbia Sustainable Energy Utility Energy Efficiency Workforce Development program is a leader in this effort through outreach conducted with community, city, local university, and vocational school events. Ameren Illinois launched a paid summer internship program that targeted women, people of color, and citizens returning from incarceration. Ameren Illinois provides funding of the internship positions and also hosts job shadow opportunities for those interested in exploring careers in the industry.
4. Health and wellness
Protecting employee and patron health and safety is more critical—and complicated—than ever before. Innovation, technology, creative design, and reconfiguration of workplace footprints are imperative to the well-being and security of employees and a must-do for sustained business operation and growth. Energy efficiency programs must continue to support efforts around wellness and safety of building occupants, particularly where utilities can help customers meet requirements for health and safety mandates. Technology is and will continue to be a focal point in cultivating safe and healthy buildings.
What to watch:
Air quality optimization - Incorporation of air quality optimization in HVAC systems, particularly aged and inefficient HVAC systems, can be more affordable through program incentives and rebates. C&I program teams can expect to see an increase in projects related to cutting-edge energy efficient ventilation systems, such as heat recovery ventilators (HRV). HRVs take air normally exhausted from a building and instead extract and transfer the energy to pre-condition incoming outdoor air to improve indoor air quality in a building. This reduces the amount of energy needed directly from the grid to condition the incoming fresh air.
Retro-commissioning to offset particle filtration - While MERV-13 filters can remove virus particles and other particles in the air, they also increase pressure and other losses in ventilation systems leading to a moderate increase in energy. Recommissioning of HVAC systems and updating building controls can offset this energy increase by identifying sources of energy waste. Therefore, greater focus will be put on retro-commissioning programs that offer incentives for studies and implementation of measures for "building tune-up" measures, such as Baltimore Gas & Electric's Building Tune-Up Program or ComEd's Retro-Commissioning program.
5. Resiliency and preparedness
Utilities are built on the foundation of resiliency (the ability to adapt to changing conditions to recover from events more rapidly) and preparedness (an action or event that has prepared a business to be in a state of readiness), but those words have deeper meaning for businesses today. We expect business customers will look to utilities for more support in the coming year as they adjust building operations and protocols.
What to watch:
Cloud-based automation controls - Effective remote Building Automation Systems (BAS) transcend site-level implementation to unlock portfolio-scale opportunities. According to the co-Founder and CEO of Facilio, Inc., leveraging cloud-based and portfolio-wide operations of BAS, when undertaken successfully, can be one of the most consequential ways to empower leaner operations and access significant savings in operational expenses, along with creating a more resilient operations within a facility. Remote operations technology can play a crucial role in empowering smaller onsite workforces and help businesses meet social distancing guidelines while maintaining safe and efficient building operations. Utilities will continue to promote and provide financial incentives for this technology not just for energy savings, but for remote building operation and control.
Preparing for new technologies – Pharmacies and hospitals are preparing to stock large doses of COVID-19 vaccines, which means procuring ultra-low-temperature freezers required to ensure the integrity of the vaccine doses. Pharmacies have a choice to select a more economical freezer or higher priced ENERGY STAR-labeled freezers. While many utility programs are preparing to receive applications for the more efficient freezer options, some programs are looking to offer prescriptive incentives that could further expedite and streamline incentive approvals. Helping pharmacies prepare to receive and distribute vaccine doses is a space where utilities will continue to play an important role.
Design thinking workshops – Design thinking seeks to understand customers, challenge assumptions, and redefine problems to identify alternative strategies not always apparent, particularly those around approaches to a more resilient practice and operation. This approach prioritizes designs that rely on human-centered solutioning by using prototypes and testing that help utilities and their customers identify gaps in approaches to resilient behavior and strategies. We held about three times as many Spark Labs design thinking workshops with utility clients in 2020 as compared to 2019. Topics incorporated themes around resiliency of utility customers and included participants from utilities, industry associations, organizations, and state agencies. We expect these workshops will become an important tool in 2021 to keep businesses prepared for the next unforeseen disruption.
6. Policy and practice
President-Elect Joe Biden's administration has committed to a clean energy revolution, stating on his website: "On the first day of Biden's administration, according to the Intergovernmental Panel on Climate Change, there will only be 9 years left to stop the worst consequences of climate change. Biden will act on climate immediately and ambitiously because there's no time to waste." Key elements of the clean energy revolution include putting the country on a path to achieving net zero emissions by 2050 and making historic investments in clean energy and innovation. Commercial and industrial demand side management programs across the country will be pivotal in achieving these aggressive and important goals.
What to watch:
School energy efficiency - California recently passed Assembly Bill 841 directing energy efficiency funding to improve ventilation in public schools for safe re-opening in 2021 to reduce the risk of both COVID-19 and wildfire smoke. The legislation calls for a School Energy Efficiency Stimulus Program, requiring California utilities to fund the program as part of their energy efficiency portfolios. This will drive significant opportunity for California schools to make additional investments in energy efficiency and optimization of building systems.
State resource standards - In October 2020 the Arizona Corporation Commission extended and expanded its energy efficiency resource standard (EERS). This requires utilities to achieve a 33% reduction in peak demand by 2030 and to attain an annual MWh savings target of 1.3% to ensure that a minimum level of investment is maintained in cost-effective energy efficiency programs. These new targets will aid in directing resources to improvements in businesses and schools and will focus specifically on businesses suffering economically because of the pandemic.
Clean energy requirements - In April 2020, Virginia Governor Ralph Northam signed Virginia's Clean Energy Act (VCEA) requiring 100% clean energy requirements for the state's largest utilities and a large expansion of building energy efficiency. Energy Innovation and Rocky Mountain Institute (RMI) used their Virginia Energy Policy Simulator to quantify the emissions reductions impact of VCEA. RMI and Energy Innovation state that additional policies in addition to VCEA will transition the state to a low-carbon economy while generating significant economic and health benefits: "Strong efficiency standards (potentially state standards on new equipment sales, a utility rebate program, or a statewide energy efficiency resource standard) further improve the efficiency of newly sold building equipment." RMI and Energy Innovation will complete a similar assessment of polices in 20 U.S. states. Commercial and industrial utility program implementers should track assessment results to ensure program designs, measures, and incentives reflect the clean energy goals outlined in each state's policy.
Future focused
The full implications of the pandemic remain unknown. Some trends will come and go, others no one can predict. What we do know is that energy efficiency is among the most important and timely lifelines for economic recovery. Further, the business community and the buildings they call home will assume deeper meaning—providing critical connected activities as we reacclimate to togetherness in a post-COVID-19 world.
Alliance among all constituents in the energy industry will be obligatory, and any disparity in partisanship, culture, race, practice, or creed must be expunged in our country's effort to revive. We hope these examples will serve as catalysts for other regions, utilities, and legislative bodies to initiate similar tactics. Several areas that are still in a rudimentary stage hold tremendous promise for amplifying a strong economy, skilled workforce, inclusive spirit, and clean, safe, and secure environment. It is incumbent on everyone in the industry to ensure that progress is ongoing and that we stay diligent in monitoring these outcomes. To this end, we will continue to monitor and report out on these themes and tactics over the course of 2021.
Explore insights on how to drive low-emission transitions and build resilience against the effects of climate change.
Go to Climate Center
New climate data reveals warmer, wetter future for the U.S.
In this report, our climate scientists project some Americans could experience 42-61 additional days with temperatures above 95 F by midcentury.