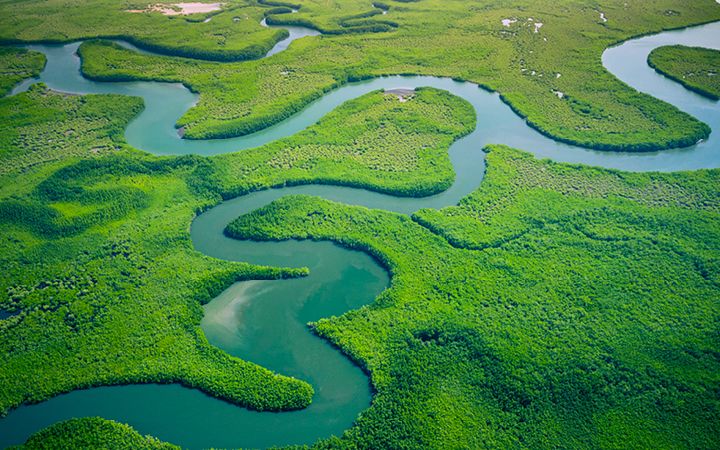 Sign up to receive exclusive Climate insights
Sign up to receive exclusive Climate insights
Sign up to receive exclusive Climate insights
Want to hear more from our experts? Get the Climate newsletter.
Want to hear more from our experts? Get the Climate newsletter.
Want to hear more from our experts? Get the Climate newsletter.
Subscribe now
Celebrating the next generation of climate and energy leaders
Decarbonization expert Deb Harris and energy efficiency expert Elena Vera honored as Consulting Magazine's Rising Stars of the Profession
The success of our people drives our success as a company. As the industries we support change, we make sure our employees' careers evolve as well. We take pride in developing the next generation of leaders—including these two talented consulting professionals from our energy, environment, and infrastructure group.
Consulting Magazine named Deb Harris a rising star and Elena Vera one to watch—both for excellence in the energy industry as outstanding consultants under the age of 35.
Deb came to ICF straight from graduate school, and for the past 13 years has become a well-known energy industry expert, leading teams that develop climate action and energy plans, greenhouse gas inventories, and decarbonization scenarios analyses.
She's a senior fellow with the ICF Climate Center, where she provides compelling research and objective perspectives on a wide range of climate-related topics to help advance climate conversations and accelerate climate action. Most recently, Deb has led work to support clients such as the Pennsylvania Department of Environmental Protection for its 2021 Climate Action Plan and the development of "Pathways to Carbon-Neutral NYC: Modernize, Reimagine, Reach"—the most comprehensive scenario analysis to date of energy supply and demand as part of an ambitious effort to get New York City to net-zero emissions by 2050. She was also among the team of experts who created CO2Sight, our proprietary strategic planning and analytics platform that Deb and her team have leveraged to help government entities and utilities adapt to changing market dynamics and plan for a cleaner future.
"One of my career highlights so far has been launching CO2Sight. It was a culmination of our teams' decades of expertise working with utilities and public stakeholders to understand where they are—versus where they're going. It was inspiring to tap into the work I've done to help influence its creation." — Deb Harris
Elena joined ICF in 2014, after making a professional shift from a paralegal role at a federal government agency to a new career path in utility consulting.
Since then, she's become a premier consultative program manager, developing and implementing successful strategies for both gas and electric utility clients to help reduce customer energy consumption. From smart home and home automation programs to customer engagement initiatives and youth-focused offerings, Elena has brought numerous, leading-edge energy conservation programs to the market. And the impact of her work is both broad and meaningful. She's not only helping utility clients manage demand and meet regulatory requirements—her work is also benefiting utility customers and the environment.
"I love seeing how the projects I work on have an almost immediate impact in the community. When I launched a youth engagement initiative in 2020 to help our client's customers manage both kids and work at home, families immediately used that resource to help ease the burden of their new way of life during the pandemic." —

Elena Vera
New climate data reveals warmer, wetter future for the U.S.
In this report, our climate scientists project some Americans could experience 42-61 additional days with temperatures above 95 F by midcentury.