Meet Amira Hossain—the M&A expert who will help land our next big acquisition
Former Fortune 500 M&A expert to lead ICF through our new chapter of growth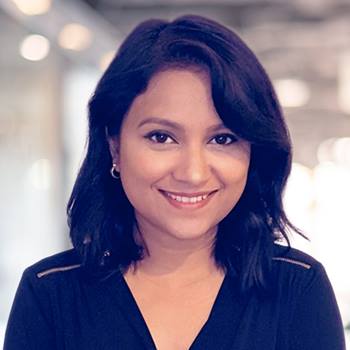 As our new head of corporate development, Amira Hossain will be a driving force behind ICF's inorganic growth strategy and an integral contributor to continuing our successful track record of 10-15% annual growth.
When asked how she landed on M&A as a career, "My journey, like those of many, has taken many twists and turns. I started out wanting to be a development economist," she admits. A first-generation American, her father was an agricultural scientist working for USAID/USDA, and her mother a lifetime banker. So, naturally, Amira started her career working in microfinance at a rural office of Grameen Bank in Bangladesh.
"M&A is all about driving value in a tangible and strategic way. You have to understand the big picture, build trust and negotiate with leaders from different paths, and find ways to bring it together."
That's where she got her first exposure to the intricacies of the global financial system and drivers behind sustainable growth. It also began her search for her true passion: working together.
Amira is motivated by the impact she makes, so part of what thrills her is the knowledge that she is helping organizations progress in a meaningful way. With her experiences from management consulting, investment banking, and M&A advisory at the Big Four, Amira found herself handling transaction after transaction (now over 50) for global Fortune 500 companies.
ICF has stayed two steps ahead of the curve by offering clients a synergistic combination of market expertise and core capabilities to meet their ever-changing needs. "We're always looking for new ways to enhance the capabilities we have, the services we offer, and the clients we serve," says Amira.
"I look forward to continuing this momentum. Closing a deal is a very rewarding experience, especially when the deal is transformational from a growth perspective."
Much of this is accomplished through acquisitions, which, combined with organic growth, helped us double in size every five years for the past two decades.
Earlier this year, Amira demonstrated her M&A chops, jumping head-first into the closing and integration of our latest acquisition: a leading provider of cloud-based platform services to the U.S. federal government, at a critical time when agencies are redefining their missions through the lens of technology.
This brought us to the next level of IT modernization, combining ICF's strategic consulting, analytics and deep domain expertise with ITG's industry-leading digital capabilities to help agencies architect and develop the technology platforms they need, at scale, and at speed.
The acquisition also exemplifies how we're making big investments to expand and evolve our portfolio to stay ahead of client needs—a key component to our long-term growth strategy.
Hear Amira's take on our M&A strategy and experience managing this integration.
You really have to roll up your sleeves to drive synergies and integrate a new organization. The key, says Amira, is "allowing everyone involved to share a common vision of success, collaborate, and embed discipline. Strategic and cultural fit matter, not to mention a strong team," which she clearly led.
This all brings us back to our values—and Amira's. "Working with integrity, challenging assumptions, and bringing passion are all integral to how I approach my work."