Design Sprints
Need a groundbreaking solution for a tricky challenge? Design Sprints transform problems into prototypes in just days. Our workshops teach design thinking practices and drive cultural change, so you can innovate at record speed. It's fast-paced, collaborative, and inspiring. It's the future of work.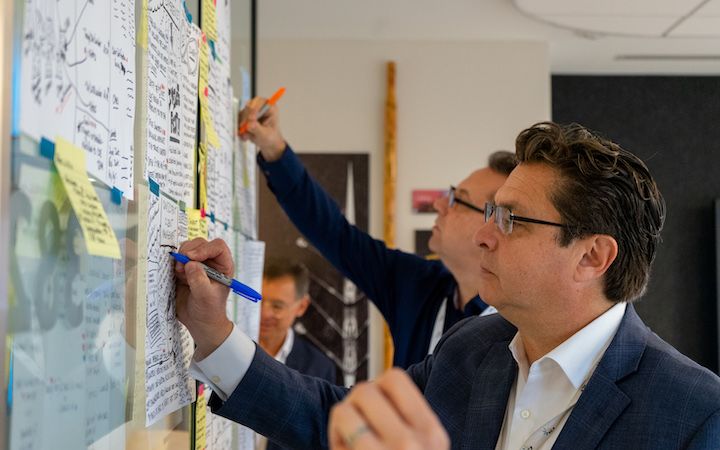 What is a design sprint?
Built on Google's Design Sprint toolkit, we bring together diverse experts to solve big problems of all kinds—for companies, federal agencies, and nonprofits. A Design Sprint is like a highly-regimented workshop, immersing your team in innovation for one week. Whether you are solving big challenges, kicking off new products, or improving existing ones, you'll work collaboratively to move from a complex problem to a viable prototype in just a few inspiring days.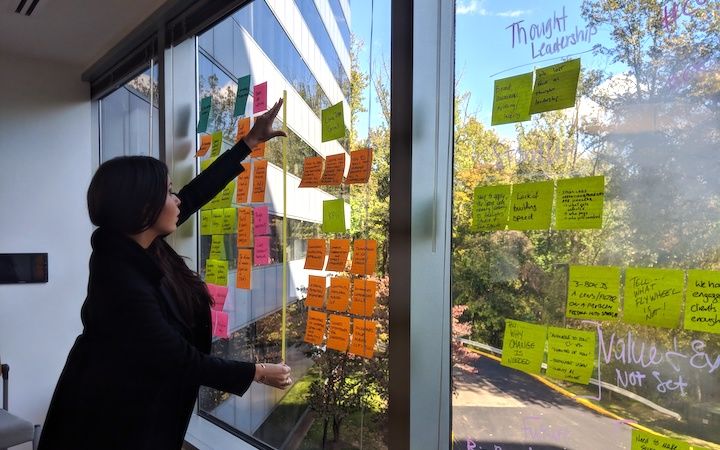 How we work
Design thinking is how we operate—internally and with our clients. We have built a culture around an iterative and design-centric mindset. We train our consultants with the Spark Labs toolkit, encompassing a variety of workshops and Design Sprint experiences. This allows the diverse experts within ICF to come together and work on your challenge.
No matter where you are in your project journey, Spark Labs drives rapid progress through co-creation. This approach allows us to engage and leverage the right expertise and decision-makers when kicking off new projects, driving long-term success.
Our services Workshops and design sprints
Create powerful solutions fast.
We run workshops that unite diverse stakeholders behind a common goal. It's our premier method to jump-start projects towards success. Innovation management
Build strategic creativity into your DNA.
We help organizations develop a design-centric mindset to heighten their strategic capacity for cultural transformation and innovation. Hackathons and boot camps
Engage entire groups for maximum input.
We partner with major institutions around the world to deliver multi-team boot camps at industry conferences, universities, and more.
Examples of design sprint projects
Service and product design
The Design Sprint was born to do CX. Whether it's an e-commerce flow or integrating new in-store sales experiences, digital tools allow you to rapidly prototype.
Process optimization
You can build visual maps of new steps, ideas, and technologies anywhere inside a process, creating a concept for all stakeholders to react to.
Organizational design
You can explore flashpoints in change management using variations of org charts—all with designed roles and responsibilities.
Program design
Before building a model or larger customer experience, you can test different features and incentives to understand the impact on engagement.
Brand strategy
You can explore different directions and, using feedback, select the most impactful identity. It's a powerful way to do research.
And more...
The Design Sprint is infinitely applicable with minor, yet genius, tweaks.
Our success stories
Education
We helped reimagine the application experience for online universities.
Energy
We designed a digital strategy that will help one utility improve customer engagement.
Aviation
We supported one of the world's largest airports as they enhanced their mission-critical processes.
Talk to us
Want to learn what design thinking can do for your organization? Enter your contact information and an expert from our team will get in touch.
Learn more about business innovation