Diversity and inclusion at ICF
We are a purpose driven company with a strong culture and underlying values that prize diversity, opportunity, equality and respect. At ICF, we are not all the same. And that has always been our greatest strength.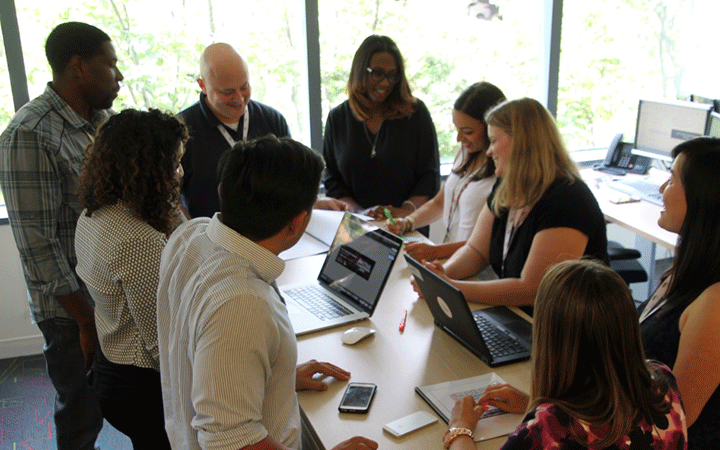 What we believe
We are at our best when every member of our team feels respected, included, and heard—when everyone can show up as themselves and do their best work every day. Our purpose statement and values correspond directly with how we view the world as people, not just employees.
Words from our leaders
"We are a mission-driven company filled with people who care deeply about improving lives and making the world a better place. We encourage an environment that celebrates diversity and those important moments when new voices are heard and heeded."
John Wasson
President and CEO
"We are more successful when people of different backgrounds, experiences, and points of view come together to find solutions. We actively create opportunities for open, honest discourse and ensure we are driving tangible actions that embrace, celebrate, and grow diversity."
Caryn McGarry
Chief Human Resources Officer
"Our commitment to inclusion requires continuous growth, and we learn from our experiences and each other. We challenge assumptions, cultivate networks, and deepen our impact to our communities—using the same innovative mindset we apply when helping our clients solve their toughest challenges."
Demola Sholagbade
VP of Diversity and Inclusion
Where we focus
Inclusive culture and community building
Ensuring everyone feels comfortable, safe, informed and respected
Education
Building inclusion acumen through training
Recruiting
Creating a diverse talent pool of qualified candidates
Career growth
Promoting the success and advance of diverse groups
Accountability and transparency
Continually measuring and monitoring progress
Our Employee Community Networks connect us by common characteristics, interests, and goals. More than just a place for networking and support, they foster our professional development, community outreach, and business impact.
Asian Employees Community Network
Black Employees Community Network
Diverse Abilities Employees Community Network
First Nations and Indigenous Peoples Employees Community Network
Hispanic and Latinx Employees Community Network
LGBTQIA+ Employees Community Network
Women Employees Community Network
Black employees

"I hope members will ultimately feel like they can bring their entire self to the work they lead and support at ICF. In doing so, I believe ICF will truly be able to benefit by all of the diverse skills, talents, and capabilities of all staff."

—Kary James, Senior Managing Director, Child Welfare and Education

Diverse abilities employees

"I believe that building awareness and education is one of the first steps in enabling change. And there is so much that we can learn from one another to help establish and sustain an ICF culture where everyone and is valued and can thrive authentically in the workplace."

—Brandee Hicks, Research Science Manager

First nations and indigenous peoples employees

"The ECNs are an excellent forum to celebrate the diversity among our ICF family, and provide important, safe learning environments for us to grow and learn from each other. It's our collective appreciation of our differences that contributes to a deeper, more meaningful understanding of ourselves and our clients."

—T. M. Bull Bennett, Senior Hazard Mitigation Specialist, Disaster Management

Hispanic and Latinx employees

"ICF does a lot of interesting, meaningful work that makes a positive difference, one project at a time. I hope that members feel supported and motivated to do more great work that is rewarding on many levels."

LGBTQIA+ employees

"If we continue creating the support channels and resources necessary for LGBTQIA+ employees to excel in their professional lives, the positive impact will ripple throughout ICF."

—Jason Cleavenger, Lead Community Development Specialist

Women employees

"Our ECN is a collaborative platform, where women at ICF can network, exchange their intersectoral knowledge, share their experiences and ideas, and encourage each other."

—Shivali Dwivedi, Senior Energy Analyst
39%
of our executive leaders are women or minorities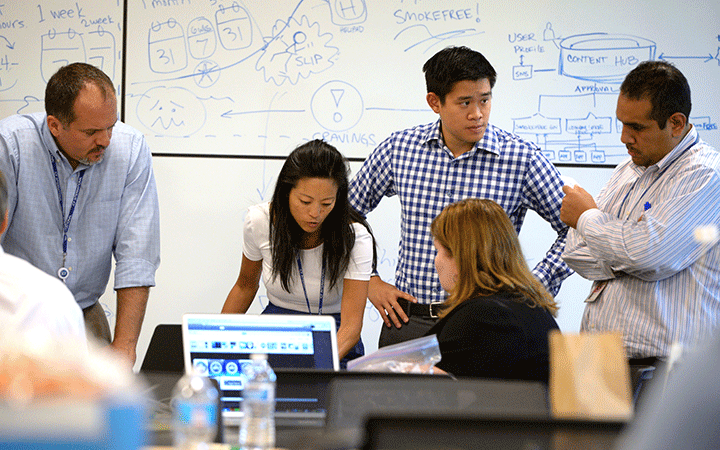 Our commitment to pay equity
We've achieved pay equity across women and minorities. Every year, we examine the compensation employees receive and make adjustments to ensure that we maintain pay equity.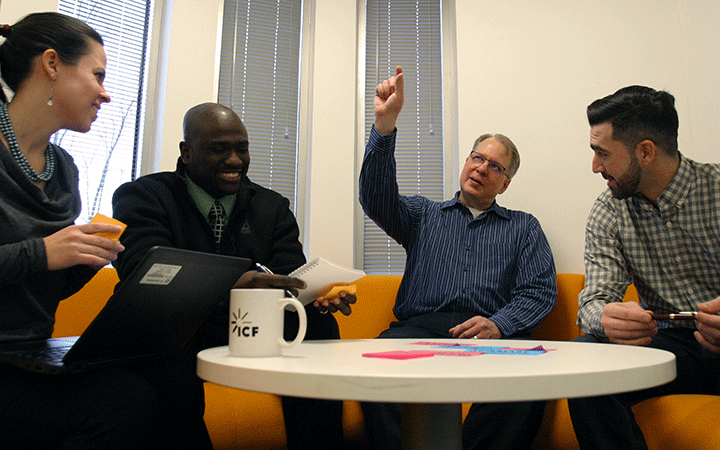 Our commitment to our partners
We constantly seek inclusive opportunities to collaborate with experts, suppliers, contractors, and technology partners with diverse perspectives—and who are just as driven as we are to make a difference.