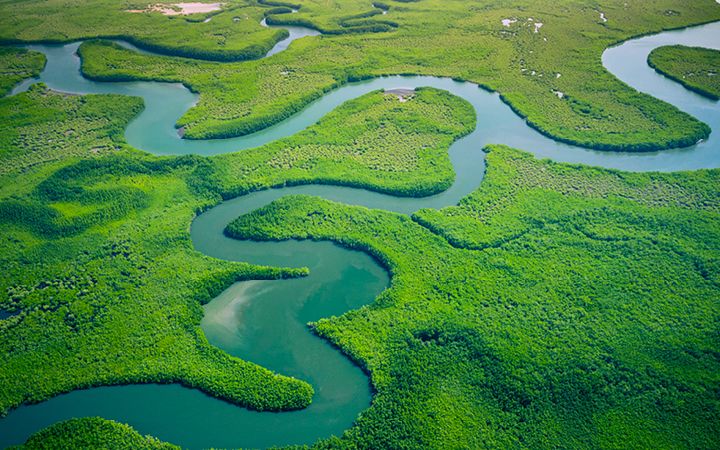 Sign up to receive exclusive Climate insights
Sign up to receive exclusive Climate insights
Sign up to receive exclusive Climate insights
Want to hear more from our experts? Get the Climate newsletter.
Want to hear more from our experts? Get the Climate newsletter.
Want to hear more from our experts? Get the Climate newsletter.
Subscribe now
Local, state, and federal partnerships build more resilient communities
Federal funding helps a city implement a nature-based solution to increase resilience against flooding and protect the community from future climate change impacts.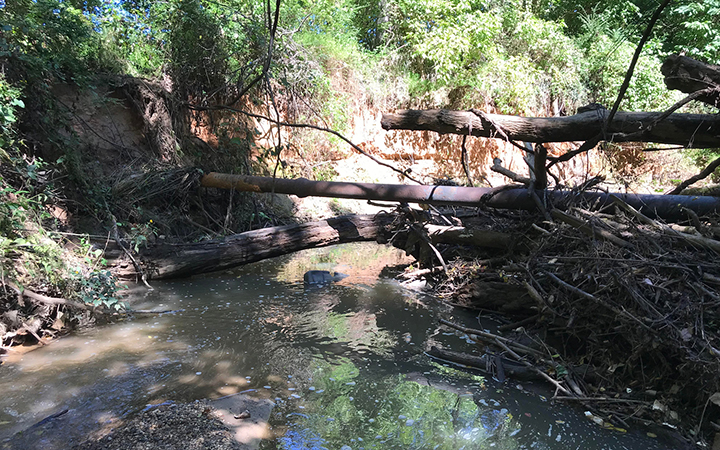 Frequent, severe rain events resulting in flooding and severe erosion are some of the impacts of climate change faced by the City of Gastonia in North Carolina. These natural events directly jeopardize the sewer lines and the power infrastructure for this inland community, where one in five residents live in poverty. And the future impacts may be more intense and severe with an expected 60% more days experiencing three inches or more of precipitation.
The city wanted to pursue several disaster mitigation strategies, including stabilizing the erosion of the banks of Duharts Creek and realigning critical sewer infrastructure to mitigate any future loss of service to the community. But they needed access to critical funding.
Drawing on our disaster mitigation expertise, we collaborated with our partner KCI Technologies and helped the city apply for a Federal Emergency Management Agency (FEMA) Building Resilient Infrastructure and Communities (BRIC) grant. BRIC provides proactive investments on an annual basis to better prepare communities and help them remain resilient against floods, hurricanes, or wildfires.
The city is ready to put their plan to mitigate flood risk into action after having their $5.9 million BRIC application selected for award by FEMA. The Duharts Creek project uses nature-based solutions to stabilize and rehabilitate the bank along 8,000 feet of the creek. This includes removing and replanting high-risk trees and intensive revegetation with more appropriate native plants. With severe erosion occurring around sewer pipes and electric utility infrastructure along the creek, the consequence of loss would include disruption of wastewater service to 25,000+ people and loss of electrical service to nearly 10,000 people—including many who are disproportionally impacted by natural disasters.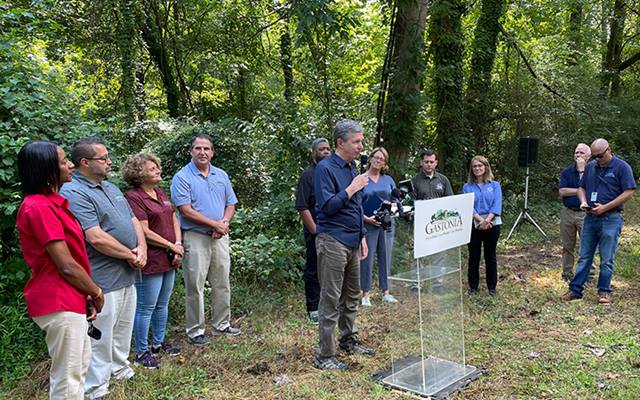 The Duharts Creek project was recently showcased at an on-site press event in Gastonia, demonstrating what communities can accomplish with BRIC funding. Where federal officials also shared that $3.1 billion in additional federal funding would be available in the coming year through the BRIC program.
"Funding for the Gastonia project and others in North Carolina will help reduce risk to homes and other property and improve public safety, making our communities more resilient."
FEMA Administrator Deanne Criswell, North Carolina Governor Roy Cooper, and White House officials joined Mayor Walker E. Reid, III for a tour—and our experts Ned Fernandez and Greer Beaty were on hand to show our pride in this work.
"The impacts of climate change on weather patterns makes hazards that communities face more complex. I'm proud of our dedication to addressing this complexity around the Duharts Creek to ensure the city has a more resilient future with equitable outcomes."
It's exciting to see federal, state, and local agencies come together to drive real change and protect vulnerable populations. The Duharts Creek project serves as an example of how we help local communities use federal funding to increase their climate resiliency.
New climate data reveals warmer, wetter future for the U.S.
In this report, our climate scientists project some Americans could experience 42-61 additional days with temperatures above 95 F by midcentury.