Award recognizes the most influential leaders in government contracting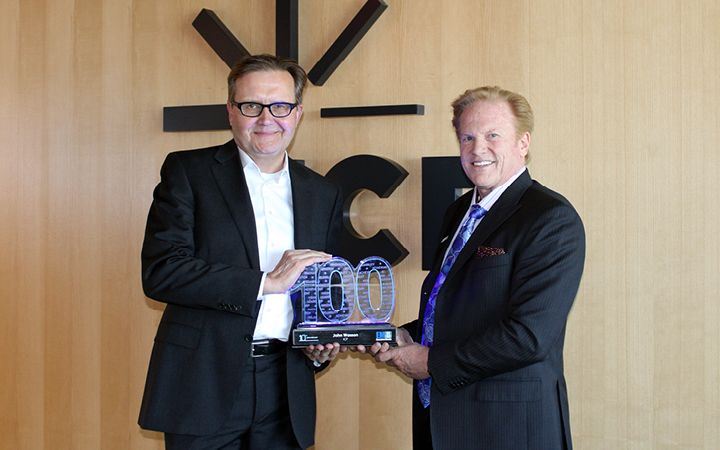 Third time's a charm. But even more charming is the continued selection of our chair and CEO John Wasson for the Wash100 award by Executive Mosaic. Since becoming CEO in 2019, John has been recognized often for his leadership and efforts to drive growth while maintaining our strong purposeful culture. This year, his pivotal role in advancing our technology capabilities to better help our clients approach new challenges with greater speed and efficiency earned him his third Wash100 award.
Dedication to innovation
At ICF, we bridge the gap between new ideas and practical approaches to help clients solve some of the biggest problems of our time. And constant innovation to keep up with a fast-changing world has always been part of John's vision.
While our roots have been in consulting, we've been aggressively expanding our technology and digital modernization capabilities. Through a unique combination of domain expertise plus technology, digital solutions, and advanced analytics, we help deliver practical programs with strong impact. Technology has increasingly become the lens through which we bring our deep domain expertise to bear—and we've been expanding our capabilities in digital modernization, cloud migration, data analytics, and IT infrastructure.
"It's an incredibly exciting time with tremendous opportunity and growth for ICF. Through our domain expertise and technical capabilities, we are working on the leading issues of the day and fulfilling our purpose to build a more prosperous and resilient world for all."
Acceleration through acquisitions
Our growth strategy has included a strategic acquisition lever. Since 2006, we've added 20+ companies that enable continued organic growth, offer new capabilities, and bring access to new markets. Recently, we've acquired several leading firms to quickly build our technology capabilities in areas that complement our longstanding domain expertise. Over the last three years, we've acquired four leading digital modernization providers to the U.S. federal government—ITG, ESAC, Creative Systems & Consulting, and Semantic Bits—adding new technologists to our team.
"John drives consistency and successfully works to complement organic growth with acquisitions while strengthening ICF's position in key growth markets."
Technology-forward focus
Earlier this year, John doubled-down on our tech-forward strategy by standing up a new group, led by our chief technology executive Mark Lee, that's focused on increasing our technology capabilities and continuing the strong growth momentum of our U.S. federal digital modernization business. The group also includes our new company-wide chief technology officer organization to further drive technology growth and innovation across all our markets.
Impact through growth
As the world faces unprecedented challenges, John's vision and leadership advances our ability to meet the moment. It empowers us to deepen our impact through the use of advanced technology and deep domain expertise across key areas like public health, social programs, climate, energy, infrastructure, and more. And keeps us all grounded in our purpose to build a more prosperous and resilient world for all.
"As the world faces unprecedented challenges, we continue to challenge the status quo to deliver positive change for clients, communities, and organizations."
In addition to his Wash100 award, John was also selected to the 2022 Virginia 500, which recognizes the most powerful and influential leaders in business, government, and education across the commonwealth.