Leveraging data and tech to drive the clean energy transition
Himali Parmar is tapping into our diverse, collaborative culture to help clients identify the best locations for clean energy projects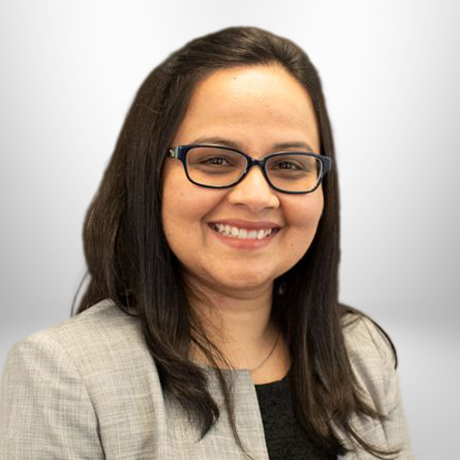 Himali Parmar co-leads our power sector practice, where for 20+ years she's helped energy asset developers estimate the right capacity and location on the grid for renewables and other energy sources.
When she started in the field, few had heard of "interconnection"—the process by which new energy resources get hooked up to the power grid. But with today's push toward renewables, it's a regular news topic. She says, "It's rewarding to see that what was considered 'geeky' a few years ago is now trending. It's very exciting!"
Himali is also the brains behind our new proprietary data and analytics platform for siting these highly regulated and expensive clean energy projects, EnergyInsite.
"ICF is playing a huge role in driving the clean energy transition, which is very complex. We're bringing our market expertise to bear in new ways by using tech as an enabler to address our client's greatest challenges."
Transmission is key to the clean energy transition
For an entity, say a wind developer, to inject power into the nation's grid, it must have an interconnection agreement. These agreements are contracted by independent system operators and transmission-owning utilities who serve as the licensors of the power grid. Himali says, "One of the biggest risks for the nation to achieve its decarbonization goals is interconnection and grid capacity."
Himali's 120-person team works with renewable and battery energy storage developers to find grid capacity that is economically viable before an interconnection agreement is entered into and a project is developed. This involves conducting research then running and analyzing complex engineering models to assess project viability upfront and inform decision-making. These models consider many questions. Where is the current infrastructure? Where are the existing power plants on the grid? Where are there overloaded sections? Where are new projects being built? Does retirement of the existing carbon-emitting power free up some grid capacity? Where on the grid are excess renewables available? And more.
"Managing the grid is like managing transportation infrastructure. If you build a new housing development in your community, you need to determine if the roadways will be able to handle the additional traffic. If not, then decide what do you need to do to make sure they can in the most reliable and economical way."
Improving the evaluation process for siting projects
Himali saw the need to streamline this complex modeling process and put it into energy developers' hands. She shares, "We were seeing a lot of failed projects where developers focused on identifying inexpensive land then found out too late that other factors, such as proximity to the grid, made them cost prohibitive to build." As the grid has increasingly become oversubscribed, developers need to consider more than land costs, but also proximity to consumers and users and other critical factors such as environmental permitting, interconnection, grid capacity, pricing for adding an energy source to the grid, Inflation Reduction Act and other tax incentives, and many more.
That's why Himali is leading our efforts to provide them with just the tool they need with EnergyInsite—a one-stop, GIS-enabled technology platform where developers can input and view all critical factors that would lead to project success, then screen for viable land parcels for development.
One of the things Himali enjoys most about supporting energy interconnectivity is the multifaceted aspect of her work. Himali shares, "I'm able to work with a wide variety of clients and stakeholders on all sides of the energy equation—lenders, developers, policymakers, utilities, system operators, and more. And across many geographies where the energy markets vary greatly, even when working with the same client."
Embracing our culture of collaboration and belonging
Himali cites ICF's culture as a key factor in her success. "The social fabric at ICF is very different from other companies. We all work together to achieve a single purpose—to build a more prosperous and resilient world for all—and a sense of belonging permeates the organization."
She also appreciates the flexibility ICF has provided through different stages of her life and career—giving her the ability focus on growing her family, numerous mentorship opportunities, and the freedom to fly to feed her entrepreneurial spirit. She shares, "A good example is the launch of EnergyInsite. We saw a gap in the market, put together a business case, requested funding, then collaborated with our technologists to develop the platform. It was like Shark Tank!" Adding that she's committed to providing these same opportunities for growth to her team members, a great number of whom are in India.
"As a first-generation Indian immigrant, I've never felt like I've had any limitations at ICF. There is diversity at all levels—in backgrounds, life experiences, and perspectives—and incredible opportunities for growth, especially for women who hold key roles across the company. This has always resonated with me."