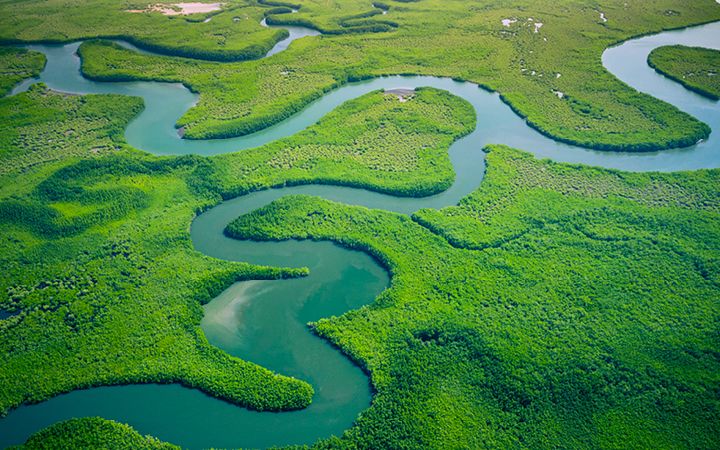 Sign up to receive exclusive Climate insights
Sign up to receive exclusive Climate insights
Sign up to receive exclusive Climate insights
Want to hear more from our experts? Get the Climate newsletter.
Want to hear more from our experts? Get the Climate newsletter.
Want to hear more from our experts? Get the Climate newsletter.
Subscribe now
The importance of personas in creating personalized behavior-based communications to drive change
As communicators in today's world, we face a huge challenge. Our audiences have more demands on their attention than ever before. There are now so many channels of communication and opportunities for audiences to tailor and edit the content they consume that poorly targeted messages are often lost in the noise.
Creating communications that effectively cut through that noise and engage in a personal and inspiring way can be difficult.
So, how can we produce personalized communications that speak directly to people and drive them to act in a positive way? One of the most useful ways to do this is through personas. But what are personas, and why are they so important?
What are personas?
Personas are a representation of a certain segment of the audience we are trying to reach with our messaging. They are a useful tool that helps communicators better visualize who they are talking to. They help us know who our audience is, and what really matters to them. They show us their hopes and fears, what they want and need, and the challenges they face in their lives. Crucially, personas often also tell us when, where, and how our audience prefers to receive communication.
Using personas to create highly personalized communications based on an understanding of how the target audience already behaves is a powerful way for anyone to then drive a change in that behavior. Personas make it easier to do this by creating an engaging, relatable identity that communicators can speak directly to in their comms, in a way that is far more accessible than by using raw sociodemographic data alone.
Why are personas so helpful?
The main benefit of using personas is that they distill and simplify all the results of your knowledge of your target audience. It makes this complex and detailed data easy to understand—even for people who were not there during the research stage.
Personas are also well suited to creatives, who can then use this more human view of their target audience as they develop their approaches. They allow us to speak from the point of view of our audience, rather than from our own as professional communicators. They help us shape narratives that will engage and inspire our audiences—stories that they will identify with and want to be a part of.
How do we create personas that are useful?
Breadth and depth of research are vital to creating effective personas. So, look first at who is already being targeted effectively; in the context of communications, that means those who are already being engaged and inspired to act by the messaging. Next, identify the new target audience and gather as much data on them as possible before creating your personas.
The most useful personas are based on the views of a large group of people, with widely varying views and behaviors. This is critical—too often, communicators create personas to use in their comms based on a small group of people (sometimes even just a few members of their own marketing department). The result is they get the same kind of personas: optimistic, open-minded, positive, and open to new ideas. Your real audience is likely to be far more complex, and their views more nuanced.
As an example of good practice, ICF's partners at Wide—the Strategic Societal Institute in Brussels—follow a methodology that begins by looking at global economic and social forces ("MegaTrends") at a macro level. These are the drivers that will shape the future, and Wide use them as the basis for looking at how citizens embrace societal change. Wide then engage panels of 1,000 people at a national level, confronting them with narratives about their future hopes and fears. Their wide-ranging responses then inform the personas. Wide identifies each person's motto, their life goal, aspirations, frustrations, the role of communication in their lives, and their touchpoints.
ICF's global marketing services agency focuses on helping your organization find opportunity in disruption.
Go to ICF Next
But why not just use traditional sociodemographic methods of analyzing target audiences to shape your approach—applying the characteristics of a particular population, such as age, gender, ethnicity, education level, or income, to get the same results? Increasingly, these methods aren't always effective as a tool to develop your messaging. The Gen Z audience is just one example of this: Often, we see communications that are being developed for "young people," but instead it is older people who engage with them. This mismatching of sociodemographic targets and communications is all too common.
"Often, we see communications that are being developed for 'young people,' but instead it is older people who engage with them."
In contrast, personas can help everyone from copywriters and designers to marketers and even government policymakers communicate more effectively through their direct insight. Personas are based more on the profound motivations of people, and so can be far more useful than sociodemographics for communicators. 
How personas can influence behavioral change
Personas offer a powerful way to quantify complex societal movements and trends, and to even predict them in a way that remains valid and useful for years to come. In this sense, they can be a powerful tool for shaping messages that rally people together around a particular cause. As just one example, take the four personas created by Wide. Each represents a different segment of Gen Z, a key audience for many climate communicators trying to encourage positive climate action.
"Personas offer a powerful way to quantify complex societal movements and trends, and to even predict them in a way that remains valid and useful for years to come."
These personas can be used to drive positive behaviors and to find new ways to communicate with people about the climate, through messaging based on a solid understanding of how the target audience already thinks and behaves. Often, messaging around climate change attempts to address the same people—those who are well-connected with these issues already. The purpose behind creating the four personas is to find ways to also raise awareness among those who are disconnected from positive, constructive, science-based messaging around climate change. 
Bridging these kinds of gaps is crucial. When we don't directly address those who feel disconnected from an issue such as climate change, they will seek out more extreme ideas such as conspiracy theories, and we lose them completely. Of Wide's four personas, these people ("The Abandoned") are the largest group. Their numbers are growing but they can be brought back by communication that speaks effectively to them.
Here are some quick tips for engaging those who are hardest to reach, which came out of recent research and Climate Connect workshop conducted by Wide and ICF, on how to engage "The Abandoned" on climate issues.
Don't just focus on climate issues. Talk about what matters in their lives and listen to them instead of trying to convince them on climate first.
Involve youth in decision-making in a meaningful way, through schools and NGOs. Take a local approach and focus on impact.
Don't use 'top down' communication. Avoid jargon, make them feel part of a community, and use language that focuses on benefits.
Choose a trustworthy messenger to communicate and own the message. Research micro-influencers and use them to build momentum behind your message.
Read more about climate personas in our helpful guide.
Using personas to reach new audiences
As communicators, we want to change minds and inspire action. To do this effectively, we also need to target new audiences who are often harder to reach. We can convince them to take positive action and to change their behaviors by using the specific language and the ideas that matter to them.
Personas are the perfect tool for doing this; people engage when they see themselves or a friend who matches one of the personas. In this way, personas put a human face to issues and ideas that can often seem remote and irrelevant to our own lives—and can be used to create powerful and compelling communication that encourages us to act.
New climate data reveals warmer, wetter future for the U.S.
In this report, our climate scientists project some Americans could experience 42-61 additional days with temperatures above 95 F by midcentury.