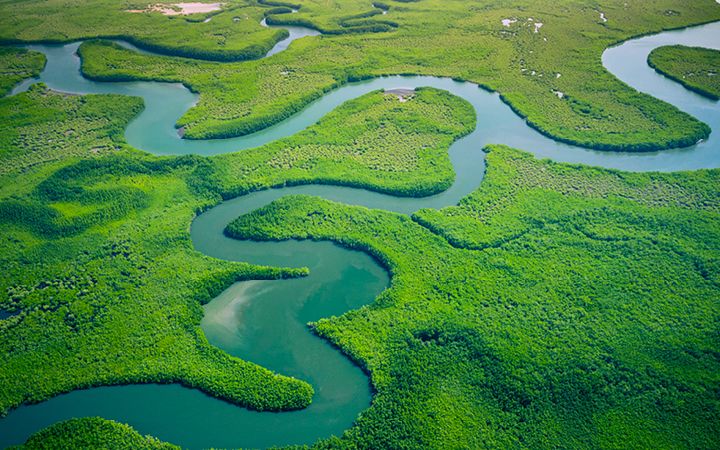 Sign up to receive exclusive Climate insights
Sign up to receive exclusive Climate insights
Sign up to receive exclusive Climate insights
Want to hear more from our experts? Get the Climate newsletter.
Want to hear more from our experts? Get the Climate newsletter.
Want to hear more from our experts? Get the Climate newsletter.
Subscribe now
How to leverage EPA's Climate Pollution Reduction Grants
In response to the Inflation Reduction Act of 2022, the U.S. Environmental Protection Agency launched the Climate Pollution Reduction Grants (CPRG) program. CPRG provides $250 million in noncompetitive planning funds and $4.6 billion in competitive implementation funds to support state and local climate action.
This program requires each state, metropolitan statistical area (MSA), or tribe to develop a Priority Climate Action Plan (PCAP) by March 1, 2024, and a Comprehensive Climate Action Plan (CCAP) in the summer of 2025 that covers a wider timeframe and range of sectors. The PCAP is a prerequisite for any jurisdiction that is looking to apply for a portion of the $4.6B in implementation funds.
A successful climate planning process that starts quickly, incorporates critical stakeholder feedback (including disadvantaged communities), and builds off best practices requires flexibility, an understanding of the region or states, and the knowledge of successful tools, methods, and approaches. Based on ICF's decades of experience in climate action planning, we recommend states, MSAs, and tribes consider the following key strategies for successful and impactful climate planning:
1. Establish guiding principles to inform the planning process.
Begin with a strong foundation of guiding principles, or the factors that influence how you plan and operate. Guiding principles should reflect local values, community priorities, challenges, and opportunities—and can be used to prioritize plan actions and strategies based on areas of greatest concern.
2. Utilize existing resources.
Consider existing climate plans within your jurisdiction or from elsewhere around the country for inspiration. No need to reinvent the wheel; over 30 states already have climate plans and dozens of cities, counties, and regions have also developed plans (for example, Fairfax County, VA and Pennsylvania). Ideas and information can be borrowed from these plans, though it is essential to fill any gaps and adjust elements to the current local context.
Look broadly when considering resources. Other focus areas, such as community development, workforce, or transportation long-range planning, can help to identify areas of overlap and potential collaboration among jurisdictional partners. This is a great opportunity to engage in multi-sector approaches, break down silos, and enable input from a wide range of stakeholder perspectives.
3. Build a foundation for near- and long-term plan implementation.
Plan development is not a one and done process. Instead, climate action plans must be revisited periodically to adapt to progress and changing external circumstances. Plans should include staff and work planning components not only for near- and long-term implementation but also for future updates and tracking and communicating progress. Plans, whether quickly put together or done in a more comprehensive approach, also provide a mechanism for commitment from different parties to priority actions.
4. Develop partnerships and collaborate with stakeholders with clear expectations, centered on Justice40 and other priorities.
Robust stakeholder engagement is key to the success of any planning process, and coordination and collaboration are primary goals of the CPRG. At the same time, there is a need to adhere to the timing and requirements of the CPRG process, which are initially swift. Therefore, stakeholder engagement needs to be designed intentionally around the submission deadlines for the PCAP and CCAP and the type of input needed for each plan, as well as ensure widespread inclusion and adherence to Justice40 requirements.
The primary outcomes of engagement—whether it is with a task force, community-based organizations, industry partners, coordinating agencies, or the general public—is to build a foundational understanding, understand priorities, seek feedback, and set the stage for the successful implementation of next steps. A phased approach can be useful to ensuring regular information-sharing and iterative feedback opportunities to continuously incorporate community and stakeholder input. Planners must also consider how different stakeholders may have different engagement needs and preferences, such as different languages, visual and written materials, in-person and virtual events, childcare, and compensation for time.
5. Use data and modeling to home in on actions and goals—and consider key tradeoffs.
Quantifying, costing, and assessing the benefits and co-benefits (e.g., air quality, public health, resilience) of greenhouse gas (GHG) reduction measures is an essential element of CPRG. Consider utilizing proven methods and tools such as ICF's CO2Sight platform, to explore how to effectively and transparently evaluate GHG reduction measures and move beyond pathways to create actionable and implementable plans to meet ambitious goals. This also provides an opportunity to consider the tradeoffs between attributes of different measures (e.g., transportation electrification may create new needs and opportunities to improve resilience) to both help with prioritization and contribute to the "storytelling" of the climate action plan's development, implementation, and impact.
Next steps for success
Keep these strategies in mind to get started on developing your PCAP and CCAP. Review the encouraged additional components in the CPRG guidance to develop a comprehensive approach for the initial application and planning process. Consider what additional staff and contractual support may be needed and how you will hire and procure support. Start to gather information to support GHG measure prioritization, quantification, benefit and co-benefit assessments, environmental justice and equity focused efforts, and stakeholder engagement and communications strategies.
Successful leveraging of CPRG funds will allow state, territory, tribal, and local governments to set the stage for transformative decarbonization efforts.
Explore insights on how to drive low-emission transitions and build resilience against the effects of climate change.
Go to Climate Center
New climate data reveals warmer, wetter future for the U.S.
In this report, our climate scientists project some Americans could experience 42-61 additional days with temperatures above 95 F by midcentury.