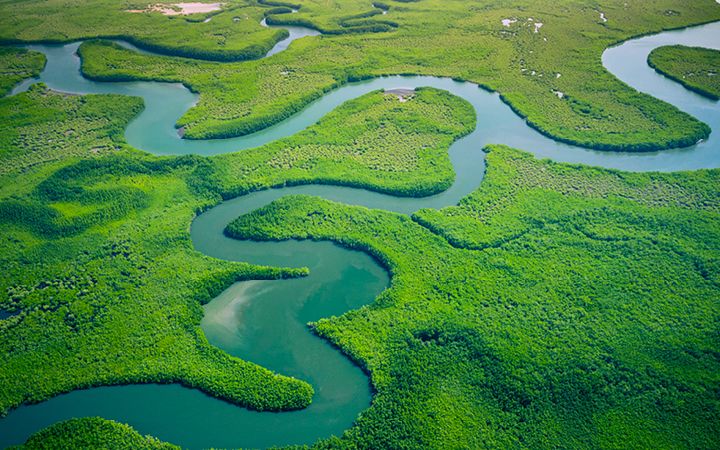 Sign up to receive exclusive Climate insights
Sign up to receive exclusive Climate insights
Sign up to receive exclusive Climate insights
Want to hear more from our experts? Get the Climate newsletter.
Want to hear more from our experts? Get the Climate newsletter.
Want to hear more from our experts? Get the Climate newsletter.
Subscribe now
How federal agencies can leverage climate funding for grant and rebate programs
The Infrastructure Investment and Jobs Act—also known as the Bipartisan Infrastructure Law—and the Inflation Reduction Act both include unprecedented funding for clean energy incentives and U.S. infrastructure systems. Federal agencies, including DOT, DOE, and EPA, suddenly have billions of dollars in new funding to address and adapt to climate change through a wide variety of programs.
Much of this money will flow from federal agencies to state and local governments through grants and rebates, a growing trend for federal programs. As agencies plan these new climate programs, they'll face a complex grant and rebate management process with pressure to deliver robust results while maintaining strong oversight of the funding. 
Based on our experience providing grant and rebate management support for numerous multi-billion-dollar programs in states and territories across the country (including Florida, Louisiana, New Jersey, California, Texas, and Puerto Rico), here are three insights that can help federal agencies manage large grant and rebate programs.
Build a robust application process
The application process is the foundation for a successful program. It ensures the selection process is efficient, effective, fair, and transparent.
To build a robust application process, it's crucial to carefully navigate the ins and outs of the grant management life cycle. Many grant programs struggle to document compliance with all grant management regulations and requirements at project closeout because they didn't consider closeout and reporting requirements from the earliest stages of the program. Integrating compliance into the application reduces the possibility of making awards to ineligible grantees and expedites the closeout of grants.
Consider pressure-testing your application scoring criteria to ensure that your programs will benefit the type of grantees that you wish to target. Are you trying to target smaller jurisdictions that have never received federal funding? Then don't include scoring criteria for prior experience. Do you want to avoid excluding larger jurisdictions? Then don't award points based on project benefit per capita since the same project cost will be diluted in a larger jurisdiction. By pressure-testing the selection of potential applicants and scoring their mock applications ahead of time, grant managers can ensure they're reaching the type of grantees they intend to reach.
Perhaps most important, there is no substitution for real-world experience implementing the application process for large programs. For example, our team has been "boots on the ground" in Texas since January 2019 in the wake of Hurricane Harvey, and during this time, we've learned, tested, and adjusted as necessary to help the Texas General Land Office (GLO) develop efficient application processes.
We've also helped the Texas GLO speed up the application and review process for infrastructure projects through the use of technology, at relatively low cost. Rather than using paper applications—which are unwieldy, easy to lose, and hard to manipulate for data reporting—we have created low-code/no-code solutions (often in less than 30 days), which accelerated the application review process from five applications a day to 20 applications a day.
Build equity into every step of the program
Equity can't be tacked on as an afterthought to the grants and rebates management process. In order to be successful, equity has to be integrated into all practices, policies, and procedures (e.g., application targets and prioritization criteria). Outreach to disadvantaged communities and inclusion throughout a program can help ensure equitable access to grants and rebates.
Often overlooked is the fact that even the act of applying for grants and rebates can pose significant challenges for already overburdened disadvantaged communities. More affluent communities may have the experience, staff, and resources to apply for funding that disadvantaged communities often don't. Providing additional guidance for disadvantaged communities, such as training and technical assistance, can help make the application process as smooth as possible.
Training and technical assistance can take many forms, with effective communication being the key to success. Increasing access to information about funding opportunities, in addition to making sure that individuals understand the information, is integral to equitable grants management. Targeted dissemination of information to disadvantaged communities helps narrow the gaps in program awareness and access.
Not only is it important to conduct outreach and offer technical assistance, all grant and rebate programs need to use clear and understandable language. Program documents and guidelines are a perfect place to integrate inclusive language and use specific equitable examples. Adding introduction and instructional text can help applicants navigate through the process.
One successful example can be found in California, where we're helping the California Department of Housing and Community Development (CA HCD) with awarding, tracking, reconciling, and monitoring COVID-19 relief funds. We developed a specialized equity training curriculum for CA HCD staff, grantees, and sub-recipients based on applying a shared understanding of equity—with a particular focus on marginalized populations and engagement with tribal nations—ensuring that funding is distributed in an equitable manner and making access to funding as easy as possible.
By committing to practices that promote accessibility for those within traditionally disadvantaged populations and geographies, you can enable the development of needs assessments specific to impacted groups based on quantitative analysis. Promoting equitable project delivery practices throughout the entire grant lifecycle allows you to best serve everyone in need, improving outcomes for all.
Leverage grants and rebates to transform markets
Federal agencies can amplify the impact of infrastructure funding by magnitudes by using grants and rebates to transform markets. Take, for example, the market transformation that's happening with cars and trucks. The growth of electric vehicle (EV) adoption has started a revolution in the market: for the first time, more than half of global car buyers looking to buy a car said they want to buy an EV.
To help fuel the transition from internal combustion vehicles to electric vehicles, a number of utility programs are focusing on residential customers by providing rebates on level 2 EV chargers for charging at home. Other efforts include installing public charging stations on public lands, such as parks and libraries, and providing incentives to do so. Rebates may reimburse the entire cost of the chargers or the cost of "make ready," which covers the infrastructure to prepare the sites where chargers will be installed in the ground.
Fleet electrification incentives are another way to transform the market as more government and private sector entities are considering holistic electrification deployment plans. These programs provide financial incentives, similar to grants and rebates, for converting internal combustion vehicle fleets to EV fleets. For example, Seattle City Light recognized that disadvantaged communities are often disproportionally affected by tailpipe emissions due to their location in cities and adjacent to highways. We're helping them develop and launch their fleet electrification program—targeted to commercial, government, and other non-residential fleet customers—with energy equity top of mind. With 116,000 commercial fleet vehicles across Seattle, a robust fleet electrification program will reduce emissions by an estimated 15% across the region by 2030.
Grants and rebates are powerful tools that can help transform markets to become more sustainable and climate resilient. Laying out a vision of what is possible through the grant money, as well as providing grantees with skilled advisors who can help guide and support throughout the entire grant process, will be key.
Federal agencies have a big opportunity to leverage new funding—from the Bipartisan Infrastructure Law and the Inflation Reduction Act—to create sustainable and climate resilient infrastructure through grants and rebates. Ultimately, their success will depend in large part on how they are designed and managed.
Explore insights on how to drive low-emission transitions and build resilience against the effects of climate change.
Go to Climate Center
New climate data reveals warmer, wetter future for the U.S.
In this report, our climate scientists project some Americans could experience 42-61 additional days with temperatures above 95 F by midcentury.