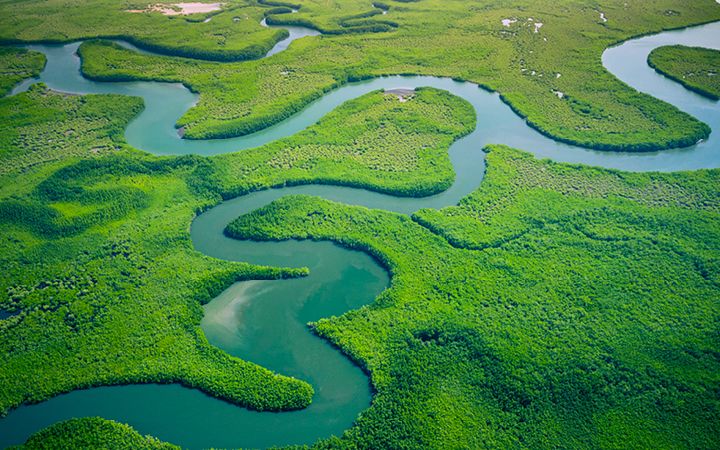 Sign up to receive exclusive Climate insights
Sign up to receive exclusive Climate insights
Sign up to receive exclusive Climate insights
Want to hear more from our experts? Get the Climate newsletter.
Want to hear more from our experts? Get the Climate newsletter.
Want to hear more from our experts? Get the Climate newsletter.
Subscribe now
How COP28 could supercharge clean energy finance for developing countries
How can donor nations close the energy gap in developing countries while making progress on their goals to reduce greenhouse gas emissions that fuel climate change?
Expanding access to clean energy saves lives, improves livelihoods, fuels economic growth, and reduces the emissions that are causing climate change. But access to any form of energy in developing countries—clean or otherwise—is extremely limited.
Data from the International Energy Agency, for example, indicates that the number of people with access to electricity in Sub-Saharan Africa doubled between 2000 and 2019. That increase was still less than half of the population, compared to the average of 90% for the global population.
Explore insights on how to drive low-emission transitions and build resilience against the effects of climate change.
Go to Climate Center
Clean energy financing can help close the significant energy gap across Africa and in many other developing countries worldwide, but many investments are still deemed too risky. COP28 presents an opportunity to rethink and accelerate financing and investment for the clean energy transition.
Here are three priorities donor nations should consider at COP28 that could help advance clean energy financing in the years to come.
1. Strengthen regulations, policies, and market signals
Developed and developing country governments alike can encourage private-sector investment by creating the right policies, regulations, and market signals. Relatively straightforward and proven policy measures—such as climate risk disclosure or key renewable energy and clean transport policies like renewable energy targets and auctions, feed-in-tariffs, and others—can be catalytic in promoting transformation.
Overcoming regulatory and policy barriers to investment and identifying preferred pathways for development through better planning also plays a key role. For example, integrated resource and resilience planning can help government authorities, energy planners, and developers reduce financial risk by determining technology suitability, prioritizing practical and cost-effective investments, identifying efficiencies, and taking future climate risks to infrastructure into account. Other advanced energy planning methods and tools are playing an increasingly valuable role in providing energy planners with robust, no-regrets options for determining the most practical and resilient power generation and transmission investments.
2. Expand clean energy financing mechanisms
Public financing—including all funding available through government appropriations, donor assistance, and multilateral funding sources—will not be enough to scale clean energy in developing countries. More incentives, new project pipelines, opportunities for private investment, innovative business models, and financial de-risking instruments (such as green bonds and blended finance) are needed to effectively mobilize those trillions of dollars in clean energy investment. Project preparation facilities, such as the Asian Development Bank's recently launched Accelerating Climate Transitions through Green Finance in Southeast Asia program, can play a pivotal role in sharing knowledge, scaling innovative ideas, and connecting private capital to bankable projects in clean energy, clean transport, climate-smart agriculture and forestry, and other sectors.
3. Engage local stakeholders
Access to global clean energy finance is often coordinated by national governments under the guidance of national policies and plans, including Nationally Determined Contributions (NDCs). However, cities and subnational governments are on the front lines of the energy transition. Local authorities make daily decisions on permitting, construction, and service delivery—and regularly work directly with utilities, NGOs, banks, community groups, and small businesses. Despite this, clean energy finance often does not flow to subnational actors, and there currently is an estimated multi-trillion U.S. dollar gap in urban climate finance.
When developing clean energy investment plans, it is critical to include the perspective, needs, and ideas of subnational entities to help close this gap. Local governments can engage the public to generate momentum, co-create solutions, and build ownership. This means including all voices along the path to a just transition, ensuring all people and communities can benefit in the low-carbon future. The World Resources Institute created the Principles for Locally Led Adaptation to help guide this process, while project preparation facilities like the World Bank's City Climate Finance Gap Fund are helping to overcome access barriers and build capacity for local climate action. Bilateral donors are also prioritizing commitments to working with local partners and accelerating local climate action, such as reflected in USAID's 2022-2030 Climate Strategy.
COP28 and beyond
Climate finance has been announced as one of the four cross-cutting themes of COP28, shining a spotlight on this important issue. Opportunities abound to rethink the current finance framework in order to deliver on ambitious climate goals. Investing in low-carbon, climate resilient energy, transport, agriculture, and other infrastructure and development actions—including through donor assistance funding—has the potential to expand access to clean energy for all.
New climate data reveals warmer, wetter future for the U.S.
In this report, our climate scientists project some Americans could experience 42-61 additional days with temperatures above 95 F by midcentury.