Insights for a sustainable, low-emissions future
ICF Climate Center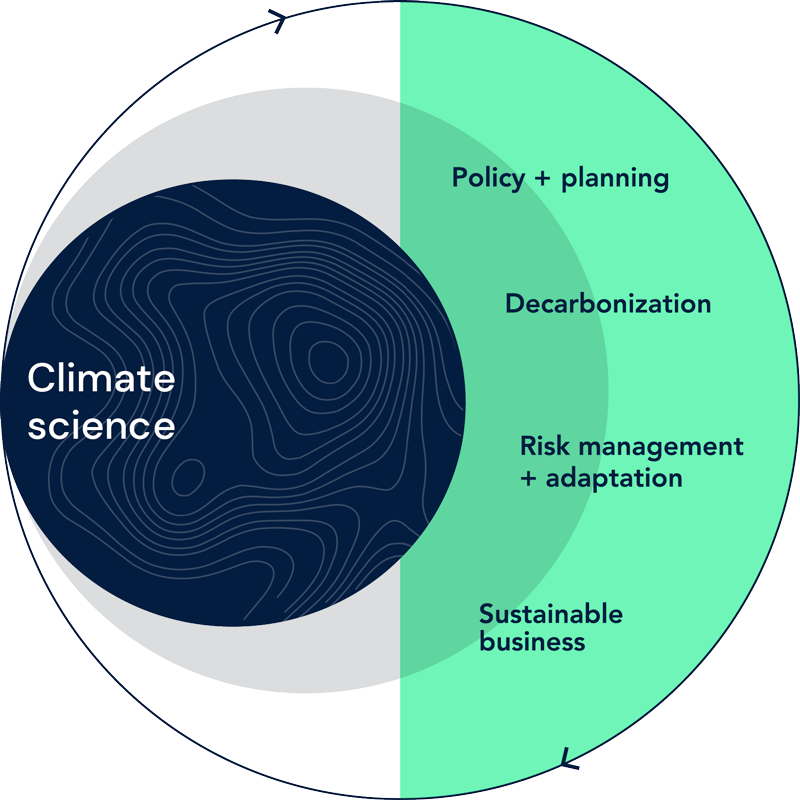 Advancing climate action
The ICF Climate Center offers compelling research and insights to help organizations find clear, practical pathways forward.
Driven by science, predictive analytics, and 40+ years of experience, our perspectives and adaptable frameworks promote the right action at the right time and guide strategic planning, operations and investments for years to come.
40+
years of experience in climate science, impacts, and adaptation
100+
countries supported with climate initiatives
2000+
climate, energy and environment experts worldwide
The evolution of corporate ESG issues
Read more
Climate policy and planning
Building climate resilience starts with a dialogue grounded in politics, technology, and trade.
Decarbonization
Reducing your carbon footprint requires a firm grasp of your current emissions, diverse requirements and aggressive goals. It also takes an understanding of the various paths you can take to get there.
CO₂Sight: Meeting your decarbonization and carbon emission commitments
With visual, predictive models and ICF expertise built in, our energy planning platform helps you develop actionable decarbonization goals.

Risk management and adaptation
How do you plan for an uncertain future? Climate adaptation helps identify cost-effective ways to address new and evolving threats while positioning your organization for economic growth.
Sustainable business solutions
Incorporating social and sustainable strategies into your business model can lead to long term value creation, build customer loyalty, drive resilience and revenue, and attract and retain the best talent.
Communications and stakeholder engagement
We know that climate action is about people. We're focused on the insights, creativity, and technology that move people and motivate them to take meaningful action. We design strategies and create engagement to invite people, communities, and organizations to be part of climate action.
About the ICF Climate Center
The ICF Climate Center offers compelling research and unique insights that help organizations establish clear, practical pathways forward through the combination of climate science and predictive analytics.
The ICF Climate Center builds upon the work of 1000+ climate, energy, and environment experts worldwide within ICF, one of the world's largest science-based climate consultancies. ICF works with business, government and nonprofit organizations to design and implement programs and policies that drive low-emission transitions and build resilience against the effects of climate change.
Partners and awards


30+ years supporting EnergyStar and related programs

Partner since 2011

10+ years Climate Change Business Journal Achievement Award Winners

Partner since 2010

ENR Top 40 of Top 200 Environmental Firms, 5th year in a row

Partner since 2010

Partner since 2009

CDP corporate pioneer against climate change, 3rd year in a row

Partner since 2009

Partner since 2010

EBJ Environmental Achievement Award, multiple years
Contact us
Talk to an expert about our climate services.
Pathways to a Carbon-Neutral New York City
Join us and experts from NYC, Con Edison and National Grid on June 30 to explore New York City's path to carbon neutrality by 2050.