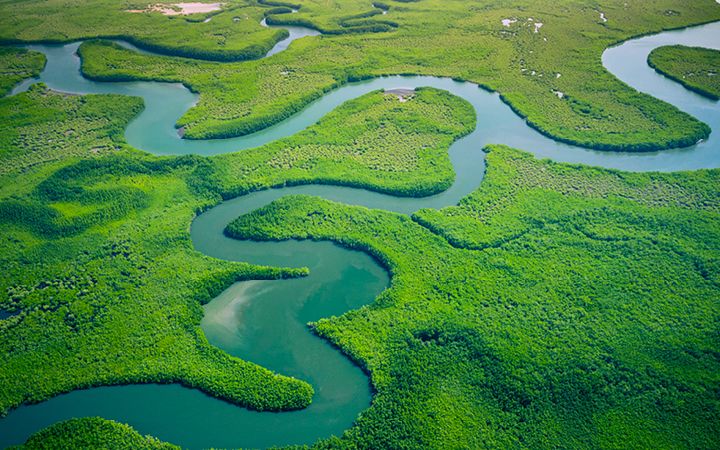 Sign up to receive exclusive Climate insights
Sign up to receive exclusive Climate insights
Sign up to receive exclusive Climate insights
Want to hear more from our experts? Get the Climate newsletter.
Want to hear more from our experts? Get the Climate newsletter.
Want to hear more from our experts? Get the Climate newsletter.
Subscribe now
Opportunities to enhance federal government climate resilience
5 key lessons from previous executive action
The Biden-Harris administration has an ambitious climate plan. It asserts that "the country is already experiencing the impact of climate change in diverse and varied communities across the nation." As a result, the Biden-Harris administration proposes to "make a historic investment in energy and climate research and innovation, as well as clean and resilient infrastructure and communities."
To implement the climate plan, the new administration has proposed a climate team made up of cabinet appointees and dedicated special advisors. In a video message released by the Biden-Harris transition on January 4th, the domestically-focused members of the nominated climate team stressed that it's "the first time that all of the Cabinet agencies have a role and accountability and metrics towards fighting climate change impacts."
Clearly the new administration seeks to provide the strategic ambition for enhancing climate resilience across federal agencies, while also implementing actions on the ground. How can the new administration achieve these climate resilience objectives?
Reports produced under the auspices of the Center for American Progress, World Resources Institute, and Climate 21 Project have made detailed recommendations for actions that the new administration should take on day one, as well as a broad array of executive and administrative actions for the first 100 days. These recommendations include various Executive Orders (EO), presidential memoranda, administrative reorganization, legislative action, and standard setting. Commentators with the Center for Strategic and International Studies have argued that a science-led response to climate change in the new administration will require enhancing leadership and coordination, integration of climate risk into agency planning, various inter-agency coordination mechanisms, and private sector engagement—all underpinned by a decision-centered approach.
Rather than providing our own additional commentary, we reflect on the lessons learned through past executive actions—particularly ones designed to enhance the resilience to climate change of federal assets, plans, and programs. Signed between 2013-2016, three EOs and a presidential memo directed federal agencies to plan for a changing climate by assessing their climate risks, developing adaptation plans, mainstreaming resilience-enhancement through agency administrative process, and seeking funding to implement those plans.
Two of these executive actions were subsequently rescinded in 2017, while two remain in place. Our five key takeaways are:
Executive action enabled successful mainstreaming of climate resilience within some federal agencies. Reviewing the factors of this success will empower broader adoption.
A rapid review of existing agency climate adaptation plans and the budget submissions (including specific climate resilience expenditures) is essential to baseline agency priorities.
Formally embedding climate resilience into departmental or agency operating rules promotes sustainability of action. One example is USAID's Automated Directives System (ADS), which was revised in response to EO 13677: Climate-Resilient International Development (2014) to require consideration of climate risks in agency strategies and projects.
Successful mainstreaming of climate change across the federal government requires tools and approaches that can make this readily achievable by staff whose primary mandate is not focused on climate change. For example, USAID developed a set of climate risk screening tools to support its operational climate change requirements.
Mainstreaming of climate resilience requires moving beyond stand-alone climate-focused actions that are only part of the answer. A robust response requires that climate be considered in all climate-vulnerable aspects of the federal government's systems and programs.
The first EO in the Obama Administration with direct requirements for climate resilience was EO 13514: Federal Leadership in Environmental, Energy, & Economic Performance (2009). It required federal agencies to evaluate climate change risks and vulnerability and to manage both the short and long-term effects of climate change on each agency's mission and operations. Around 18 months later the Council on Environmental Quality issued detailed implementation instructions. Agencies were required to establish a climate change adaptation policy, assess climate change vulnerabilities, and develop a climate adaptation plan by mid-2012. The outcomes of these early adaptation planning efforts were largely strategic "first pass" assessments.
The release of the President's Climate Action Plan in June 2013, set the tone for the next three years of executive action. It stated: "[We] must also prepare for the [climate] impacts that are too late to avoid." The plan laid out a broad agenda for building stronger and safer communities and infrastructure, protecting the economy and natural resources, and using science to manage climate impacts.
Subsequently, EO 13653: Preparing the United States for the Impacts of Climate Change (2013) required domestic federal agencies to mainstream climate resilience through adaptation planning, stressing support for science-based adaptation decision-making and inter-agency coordination. As a result, 38 federal departments and agencies had produced climate change adaptation plans by December 2014. Additional requirements for implementing EO 13653 were subsequently provided in 2015 by EO 13693: Planning for Federal Sustainability in the Next Decade. This included requiring climate resilience to be incorporated into building codes of federal buildings, embedding into federal education, and leadership training.
Adaptation mainstreaming into the U.S. government's international development work was the focus of EO 13677: Climate-Resilient International Development (2014). The EO had a dual aim to improve the resilience of the federal government's international development programs and investments and to promote knowledge sharing globally.
The Working Group on Climate-Resilient International Development guided implementation of EO 13677, convened under the Council on Climate Preparedness and Resilience (EO 13653). The working group's mission included developing guidelines for integrating considerations of climate-change risks and climate resilience into agency strategies, plans, programs, projects, investments, and related funding decisions, among other things. Additionally, the working group was tasked with facilitating the exchange of knowledge and lessons learned in assessing climate risks to agency strategies.
One agency that was particularly successful in implementing EO 13677 was USAID. This was due to a couple of factors. One was the establishment of an agency strategy that was used to formulate implementation of climate change considerations across the agency. Another was a decision by USAID to codify EO 13677 in USAID's operating rules—the Automated Directives System (ADS). This made it mandatory for all new strategies, projects, and activities to consider climate risks and to address the most significant ones. This codification brought climate change into the mainstream of USAID's procedures. It also made it more unlikely for a subsequent administration to unravel the agency's approach to climate change.
Another ingredient of success was USAID's creation of tools and resources that could be used by staff to identify and address climate risks and thereby fulfill the ADS requirement. These tools follow an eight-stage process (see figure below) that provides consistency across the agency to avoid situations where climate change undermines USAID's investments. These tools and resources were accompanied by training of USAID staff to meet the climate change mandates in the ADS—and by extension in EO 13677.
Explore insights on how to drive low-emission transitions and build resilience against the effects of climate change.
Go to Climate Center
One critical aspect of its success was that USAID's climate change efforts were not isolated to a climate change office. Instead, the agency's approach was to permeate climate action across the entire fabric of the organization. Few activities were exempted from asking the question: How might climate change impede (or in some cases support) the success of our investments? It was also critical that the agency's efforts were sufficiently funded and staffed to create the operational requirements, tools and resources, train staff, and to follow-through to implementation. Finally, when the agency's leadership said "climate change is among the greatest global challenges of our generation," it put wind in the sails of those implementing the climate change policies.
Although critiques have been offered of the agency's approach to climate change adaptation, we feel that it had key features that are worthy of careful consideration by all agencies required to undertake enhanced climate action under the Biden-Harris administration. Thus, we have some confidence that agencies being handed new climate change mandates can efficiently and effectively embark on their own journeys to tackle this critical challenge.
New climate data reveals warmer, wetter future for the U.S.
In this report, our climate scientists project some Americans could experience 42-61 additional days with temperatures above 95 F by midcentury.