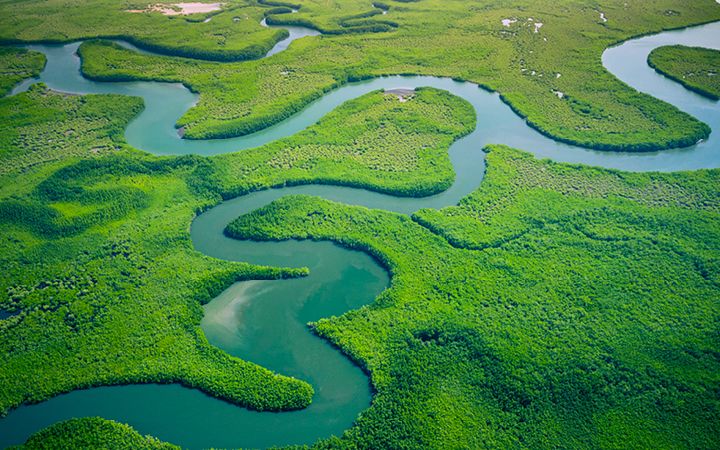 Sign up to receive exclusive Climate insights
Sign up to receive exclusive Climate insights
Sign up to receive exclusive Climate insights
Want to hear more from our experts? Get the Climate newsletter.
Want to hear more from our experts? Get the Climate newsletter.
Want to hear more from our experts? Get the Climate newsletter.
Subscribe now
Accelerating the transition to a zero-carbon global economy
Many countries have set ambitious goals to achieve zero-carbon economies. There's an opportunity to build back better—to focus more fully on sustainable development and create more resilient societies. How we get there includes re-thinking social and economic development, local resilience, and scalability.
Define themes that consider social and economic development
Focusing on issues that already have social co-benefits built in will result in a more holistic approach. ICF's work with UK PACT (Partnering for Accelerated Climate Transitions)—a £260m capacity building program that assists partner countries as they accelerate their clean growth transitions—is one example.
As part of the UK PACT, the Green Recovery Challenge Fund supports low-carbon transition to greener, more resilient, and inclusive economies in low- and middle-income countries in Latin America, Asia, and Sub-Saharan Africa.
Projects are designed to build capacity for climate action through targeting specific themes—they might be anything from electrifying mobility projects to nature-based solutions for challenges specific to a particular country. Project targets include:
climate mitigation
poverty reduction
sustainable economic development
gender equality
social inclusion
scalability
Explore insights on how to drive low-emission transitions and build resilience against the effects of climate change.
Go to Climate Center
Key learning:
Concentrating on themes that combine social and economic aspects early on in the process can help identify project ideas that are creative, innovative, and scalable, resulting in a more holistic vision of climate programming and helping to advance development.
Embed urban resilience into the local context
Delivering a successful zero-carbon solution means ensuring that there is local capacity to build on the initial intervention.
ICF's work on small- and medium-sized urban centers in Nepal, Cambodia, Lao PDR, Tajikistan, Kyrgyz Republic, and Kazakhstan aims to make cities healthier and more prosperous economically and environmentally.
Socio-economic development work is undertaken with a climate variability lens, demonstrating that innovations such as low-carbon transport and nature-based solutions in urban resilience programs enhance livability by improving air quality, access to water, and land use.
As an example, the Sudridh-Nepal Urban Development Program promotes local technical expertise, helping municipalities to realize their development potential by transitioning to greener, more resilient, and inclusive urban economic growth. Teams in each of the towns work closely with the municipalities under the auspices of a project office in Kathmandu.
Key learning:
Capacity building goes hand-in-hand with climate development; there needs to be local capacity—whether pre-existing or built into the project—to implement zero-carbon solutions.
Use technology and data analysis to build scalability
Building scalability into zero-carbon programming is critical if the solutions are to have both local and global application and impact. Technology or data analysis—or both—can be used to identify the most effective interventions, and how they can be applied and scaled to other cities or regions.
ICF's Urban, Gender & Inclusion Lab is an example of this approach: data are collated to illustrate evidence of similar characteristics across cities and towns. These are analyzed geo-spatially to provide scenarios and evidence for the green and resilient development pathways implemented globally. Many urban centers can benefit, providing opportunities to scale up. The scalability of solutions comes from analyzing sound data as well as from empirical evidence.
Key learning:
The use of technology, data analysis, and empirical evidence contributes to scalability when combined with broad expertise in climate mitigation, adaptation, and capacity building. These interventions can be scaled up globally.
Together, these three insights can help governments achieve their climate goals and move the world toward a net zero economy.
New climate data reveals warmer, wetter future for the U.S.
In this report, our climate scientists project some Americans could experience 42-61 additional days with temperatures above 95 F by midcentury.