I was recently asked an impossible question during a Society for Human Resource Management (SHRM) webcast. "What is the reputational risk of not moving to a hybrid way of working?"
It was an interesting query from a nervous HR professional and not a particularly easy one to answer.
For anyone working in the employee space, we should delight in the fact that this debate matters so much. It's great to finally be throwing around these issues of workforce, balance, wellbeing, choice, and flexibility. And for organizations, handling these issues well has clearly never been so strategically and reputationally important.
But why is this question around the reputational pros and cons of the move to hybrid working so tricky to answer? Well, because when it comes to framing any potential response, we need to look at the question from at least three different perspectives.
ICF's global marketing services agency focuses on helping your organization find opportunity in disruption.
Go to ICF Next
The first is the view from where we are right now—in the eye of the storm. The second perspective is the hindsight we'll have when we look back on the current situation, 12 months from now. And thirdly, we need to understand that with this question, we're looking at the topic through the wrong end of the telescope: my take on this is that there is much more to consider and think about than just hybrid ways of working.
I wanted to give a bigger answer than the two minute one I gave on the webcast. So, here is my unfiltered response and recommendations.
Stay committed to your own learning and rationale (and don't engage with FOMO)
Right now, the reputational risk of not moving to a hybrid way of working appears significant.
We've never seen so many headlines about how many days employees should work, or how companies are supporting their employees to be flexible. But that's our reality. A letter signed by only 80 Apple employees to Tim Cook, Apple CEO, recently generated international attention because of their resistance to adopting a three-days-a-week in the office working policy. We've also seen the backlashes against Morgan Stanley and Goldman Sachs—two organizations who want to adopt a pre-Covid picture of work.
Organizations that aren't seen to be adopting hybrid ways of working are now having their values and their culture questioned in public.
The common narrative is that these companies don't care about their people and haven't learned anything at all about employee welfare over the last 16 months of the pandemic. Dinosaurs!
Yet from the client conversations I've been having, this couldn't be further from the truth.
Most organizations are researching, exploring, and learning about potential new ways of working. But they're also wrestling with a range of commercial and people tensions. These include the potential cost of keeping low-occupied, long-lease offices open. Or concern around whether they have the well-being strategies ready to avoid remote work burnout or worries that their culture of comradery will be affected. There are debates around whether local towns will miss the economic boost of a local hub, or whether clients and customers will want to come back to offices, or if their IT infrastructure can cope with new ways of working. Of course, most importantly, there is the big question of what their employees actually want to do. And there are many more.
Consider this: Now is a moment for considered and open experimentation. A time to talk to employees about what you've learned, the feedback they've provided, the operational considerations in play, the way it will affect culture. Present your rationale based on evidence—but ultimately, show a commitment to continuing to learn and optimize.
Embrace how important this is now to boards and CEOs (so, seize the opportunity)
Workforce dynamics are now a top priority for CEOs everywhere. In a recent Gartner CEO survey, they found that "workforce" is the fastest-growing business priority for leaders (up 24% year over year) and it's now fifth on the overall list of business priorities along with topics like growth, financials, and technology. It's the first time that HR or people teams have been asked to step forward and really drive the strategy. This is your moment: In times of crisis, certain areas of the organization come to the fore. During the financial crisis, it was risk and corporate affairs. In 2021, it's people functions.
And yet the real challenge is only now emerging. According to the most recent Microsoft work trends index, 46% of workforces are planning to move because they can now work remotely. The media have labeled it THE GREAT RESIGNATION. And daily workplace stress is now at an all-time high—increased from 38% in 2019 to 43% in 2020 (Gallup), during a period of majority remote working.
The pandemic has had an exponential impact on us all as a workforce, in both good and bad ways. It has allowed us to collectively take stock and reflect on some important questions. It's helpful to split these questions across three broad areas: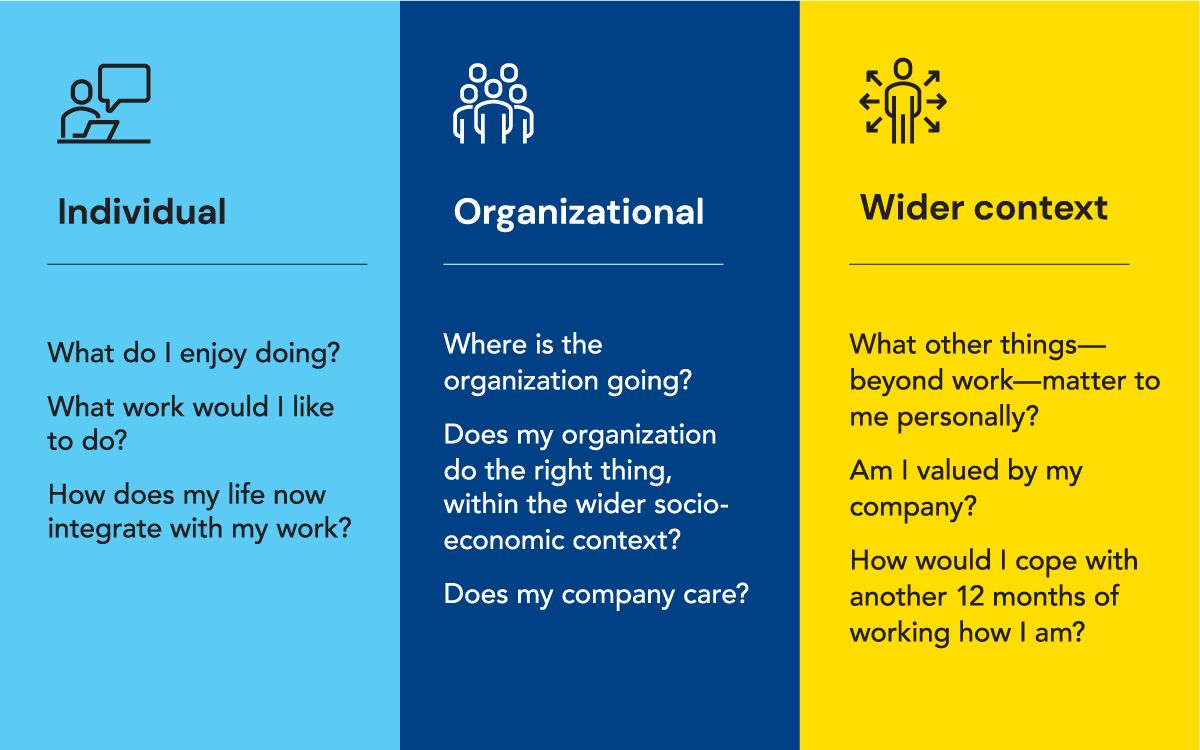 Since the beginning of the pandemic, all organizations have had to embrace a shorter-term outlook—working week by week, driven by government pandemic remedies and changing market conditions. A big plus is that this has created a far more authentic and immediate dialogue between organizations and their workforce. But the uncertainty has also resulted in a lack of medium-term direction, which we'll really start to see the impacts of soon. Employees see everything. They just decide whether to say something about it.
Consider this: How would people in your organization answer the questions above? This is a moment to begin looking again at your story, your commitments, your ambition, and your purpose. As hybrid strategies kick in, the need for location-based talent pools will subside as people are able to work remotely. The result? That your approach to talent acquisition, skill development, and geographical footprint will need re-thinking too.
Acknowledge that hybrid is just the start of the journey (and you'll need to re-imagine the foundations it's built on, too)
It's no surprise, but the media debate around hybrid working is being over-simplified. You're a goodie if you do, and a baddie if you don't—which is totally missing the point. You can't boil down the breakthrough learnings and experiences of the past 12 to 16 months into a binary decision.
When you toss out the rulebook (and no one has a guide for what we've just been through) it's critical to take an approach based on continual testing, learning, and adapting. It's probably true that the hybrid working approaches that are being adopted now will look a little different in 12 months' time. And they should.
Consider this: Take a look at the 'accelerators' below. In our work, we're lucky enough to speak to many HR, experience, communication, and business leaders. We've formed these accelerators based on our experience of the gaps that organizations often overlook. How well is your organization covering these areas with your current approaches to changing ways of working?
7 ways to accelerate your future of work strategy
#1: Leading and managing.
Development programs have been few and far between during the pandemic, but the skills and mindset required to lead and manage in a post-pandemic world are crucial. Much has changed and so much of the employee experience is shaped by manager attitudes and capabilities. They need support and educating now more than ever on everything from impact, sustainability, and leading across diverse and geographically dispersed teams, through to bias, agility, and decision making.
#2: Define collaboration.
The term "collaboration" is becoming as overused and generic as "innovation". The challenge is that collaboration has been defined by the tools and IT platforms that we're able to use—whether it's Teams, Slack, Miro, or Workplace. But collaboration needs a strategy of its own. It needs clear focus and proper design, based around the behaviors and role required to collaborate well. We've come a long way over the past few months, but collaboration is the art of creating better outcomes by combining expertise. So, take time to look again at what collaboration is and what it looks like at its best in your organization. Then coach people to that.
#3: Be flexible by design.
Clearly, there has been a huge amount of disruption to how we work and what we work on. The question then turns to how organizational structures, roles, and methods will hinder or help as we try to create the flexibility that organizations will need. If you were to design a role from scratch—thinking about how it is structured, who it connects with, how it is productive, how it is fulfilling—it would look very different to how we would have designed it only two years ago.
#4: Hardwire wellbeing.
For much of the past five years or so, wellbeing has become a growing priority for many organizations. But it's often seen as a remedy for working within increasingly stressful and highly pressured environments. We hear this a lot: "To avoid burnout, you need to focus on your wellbeing". My take on this is that too often, wellbeing is probably solving the wrong problem. So, thinking about tackling burnout head-on, what would roles and working practices look like if balance and wellbeing is hardwired into them from the start?
#5: Re-engage employees and potential talent.
So much has changed in employees' lives and the companies they work for. Customer propositions are different. Distribution channels and whole business and service models need to change. All this needs to be contextualized and brought to life—and it's a story for retention and talent attraction too. Never has it been more important to reconnect employees to the meaning and direction of your organization. Employees need to buy into the new future and top talent need to see how organizations have changed. The Employee Value Proposition (EVP) is a powerful vehicle for this.
#6: Personalize the employee experience.
Most hybrid working strategies have been designed around job-based personas. They're centered on where you need to be to carry out the tasks you need to do. But true personalization also needs to be developed around employee motivations, their personal lives, their passions, and their impact—i.e., how they can affect the success of the organization in the best possible way. Building these experience personas is key, as is then connecting them to hybrid ones. There is no one-size-fits-all solution, so organizations need to think about how employee choice weaves into the employee experience.
#7: Evolve your culture.
Diversity. Inclusion. Equity. Empathy. Flexibility. Belonging. These are all aspects of cultural design that have really grown in importance over the past 12 months. Hybrid working will impact your future culture, but don't allow this to happen by accident.
This final point around culture feels like an important one to end on. In the coming months and years there will be unintended cultural consequences that we can't yet foresee, and to begin to cope with them, we need to switch on our cultural analysis sensors now. These changes could be anything from the impact on our sense of belonging or camaraderie, through to our ideas about the culture we share, or even the way that we empathize with each other—digitally or in person.
The bottom line? That ultimately the situation we find ourselves in right now is an unprecedentedly complex, subtle, and ever-changing one. This is not a situation that we can simply take a snapshot of and then set our ideas in stone. I believe that the accelerators I've shared here are a good start—something to think about and build our future thinking on. But as we move forward, we must have both our hearts and our heads open. It's a time to set clear strategies, of course—but also a time to become even more sensitive and ready to anticipate the changes we'll see in everything from our culture through to our performance, policies, and processes.
This is a time for re-understanding who we each are, how we work best, what motivates us, and what matters to us, both as people and as organizations. And as we do that, of course there's a risk attached to the changes we do or don't make, for sure. But I also believe that this unprecedented moment represents a far bigger opportunity for positive change—and one that ultimately no organization can afford to mishandle.