Maximize your Martech stack investment for better customer experiences
Marketing technology (Martech) by itself isn't hard, whether enterprise or mid-market, but when combined into an ecosystem without the right strategy, it can lead to high costs and low reward.
There is nothing like admiring a high-performance vehicle—the attention to detail like the orchestration of the engine and how it maximizes every valve and drop of fuel. The fine stitching in the leather. The curves and aerodynamics of the design. It doesn't matter if you are an enthusiast or just an admirer, seeing and hearing an exotic car drive down the road is a thing of beauty.
It is also a sight to be seen when these beautiful machines are driven by someone who doesn't know how to drive them. You hear metal grind as they shift gears. You see the car jerking up and down the road. It would make anyone cringe—all that money spent on a car and they don't even know how to drive it properly.
The same goes for marketing technology; you've assembled your stack to turn your company into a high-performance machine. The problem is you bought a Ferrari, but you drive it like a Fiat. In fact — to continue the automotive analogy — you may have a fleet of high-performance cars in your garage and still don't know how to really drive them. Marketers are only using 58% of their marketing technology (Martech) stack's potential according to an annual Gartner technology survey. If that sounds like you, it means you are not only wasting money but you are likely not creating the customer experiences needed to give your company the edge to attract, win, and retain customers.
What's in your Martech garage?
Whether it's a two-car garage or Jay Leno's warehouse, your Martech stack is more than one piece of software, and the elements should be interacting with each other. Chances are you at least have a customer relationship management system (CRM), a website, analytics, email marketing, and a social media platform – the basics for many organizations. However, the extent to which you will have invested in these will depend on your organization, marketing maturity, and team.
The number of technologies a company owns varies depending on size, but according to a survey conducted by Blissfully, large organizations average 129 SaaS (Software as a Service) marketing technologies, and small- to mid-sized companies rack up a staggering 73 applications. Many SaaS applications make it relatively easy to get a subscription and leverage it, so for organizations that are siloed or not integrated, these numbers can easily be reached. Also, for organizations in which IT manages some of the marketing technology while marketing has the ability to acquire additional software, it is easy to build an inventory of tools without realizing that you may have duplication of capabilities or niche tools that may or may not be needed. Still, these are remarkably high numbers.
Take a moment to conduct a quick audit of your technology. This should include every piece of technology that is either in your server stack or a SaaS subscription that you and your marketing team has access to. Do you have any redundancies? Do different departments have subscriptions to the same software that you were unaware of? (This is not uncommon.) Once you get a list, you should then do an assessment of the tools you are really using. How are you looking? Good? Bad? Are you in that 56% underutilizing your investments? Curious to see how you "stack up?" Here are a few award-winning examples.
Martech maturity isn't just about technology
Martech maturity is not a "bigger is better" proposition; it's about maximizing the use of the tools you have and seeing the business results from using them. Maturity assessments universally cover a number of areas including:
People
Processes & governance
Technology
Leadership
Integration
Results
The reality is that you can have all the technology in the world, but if you don't have the right people, processes, governance, leadership support, and defined metrics to show what is working and what is not, it doesn't matter what you own. Take the time to invest not only in your technology, but all the aspects that go around it. Mature organizations will ensure their teams are trained on the tools and technologies. There will be investment in the right change management processes as new technologies, processes, and procedures are implemented. These organizations will take the time to integrate the solutions to ensure data flows back and forth for marketers, customer service, and other stakeholders to do their jobs with the most up-to-date information in as real-time as possible. However, no organization is perfect in implementing these technologies, let alone learning how to "drive the car." That's where partners come in.
Bring in partners to help
If you were in the market to buy a Ferrari and wanted to learn how to drive it, you could try to learn on your own, and you might figure it all out. Or you could go to the Ferrari Corso Pilota Driving School to learn from driving experts who will teach you all the nuances of driving your high-performance machine. The same applies to marketing technology.
Whether it's an enterprise or mid-market solution, marketing technology is not something you "just pick up and use." It takes a lot of training and skills to fully understand these solutions, let alone how they work together to create exceptional customer experiences. Often the skills needed to really use these solutions are not on your team out of the gate—especially if the solution is new.
Every major marketing technology software provider has a partner ecosystem. These partners are there to help not just implement the technology solution, but also enable your organization to use these solutions, too. There are many ways you can approach working with a solution partner, but here are a few recommendations:
ICF's global marketing services agency focuses on helping your organization find opportunity in disruption.
Go to ICF Next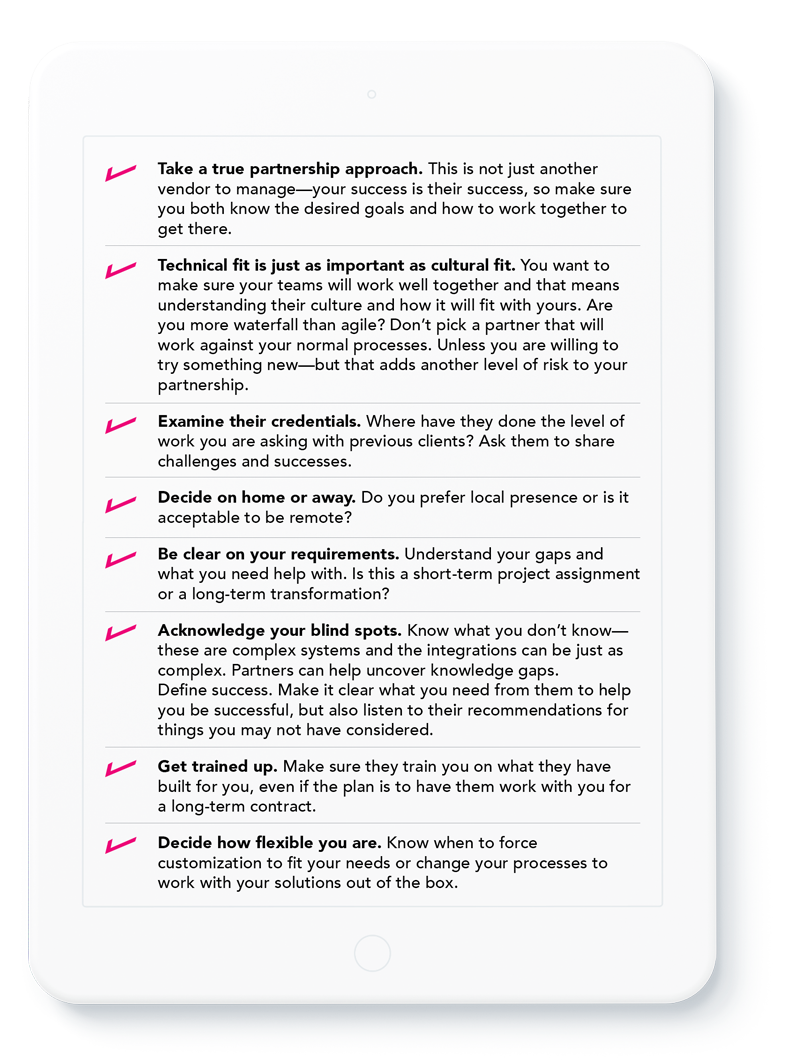 There are many other factors to consider, but this sample checklist will give you a head start before engaging with a partner. Think of it as wanting to have a really good driving school team with you—one that has a great driving teacher, mechanic, and pit crew.
Maximizing your investment means staying focused on your customer
All of this would be for nothing if you weren't trying to provide your prospects and existing customers with great experiences. Because we all know what poor customer experience looks like: having to share your account number numerous times as you shift between departments, or being forced to log into different systems to get the information you need to resolve an issue. It goes without saying that these are not great customer experiences, and companies not looking holistically at their Martech stacks are more than likely part of the problem.
Customer experience is the new battleground for differentiation. Companies are reading the tea leaves in the stats—research has shown that 86% of customers will pay more for a great customer experience. In fact, according to a PWC study, 32% of customers will walk away from a brand due to a bad experience. That is lost revenue that is likely not going to come back.
By creating a strategy and a marketing technology stack that is integrated—one where your teams are trained to use the solutions to their maximum potential—you can avoid lost revenue through poor experiences. A stack where, no matter how many layers you have, the customer experience is elegant and seamless. That is where having the right tools with the right partners to help you implement, integrate, learn, and manage your Martech stack is critical to exceptional customer experiences. Don't feel that you have to take on this challenge alone.
If you are going to buy a Ferrari, make sure you learn how to drive it. Your customers will thank you later. Now go find sixth gear on that straightaway.