Agency's digital portfolio is a go-getter for clients and industry experts
ICF Next is a new name in the game. The expertise behind it, however, has captured industry praise for decades. Especially for our Brussels-based ICF Next team, who recently earned a lot of recognition for their work with the European Commission.
ICF's global marketing services agency focuses on helping your organization find opportunity in disruption.
Go to ICF Next
One project—for the EU and Me campaign—earned Gold at the Deauville Green Awards, for the team's short film series. Watch all 12 ICF Next-produced films, which personify the advantages of living in the European Union.
And another—the RegioStars2018—highlighted five regions within the European Union who earned financial awards to help fund their smart, sustainable, urban development, migration, and cultural heritage projects. (The event itself, which ICF Next managed from start to finish, attracted 5,666 participants from 35 countries—as well as 260 journalists.)
These projects, as well as the hundreds of digital programs ICF Next designs for the EU, impressed Digimedia.be—a site dedicated to digital technology, marketing, and communications news in Belgium. So much so that Digimedia listed ICF Next as #8 of the Top 100 Digital Agencies in Belgium.
The announcement had ICF Next managing partner, Tobias Schaefer, beaming with pride. "It's recognition of the hard work and dedication we have contributed over the past year," he said.
ICF has a long history of promoting European Commission initiatives: balancing fun with fact, vacation and vocation opportunities, EU networks with networking. Last year in particular, ICF Next managed over 250 campaigns—reaching over 250 million EU citizens. (About 92 million viewed our ERASMUS+ social media campaign alone!)
The resulting strategic (and ongoing) communication campaigns command attention and compel action.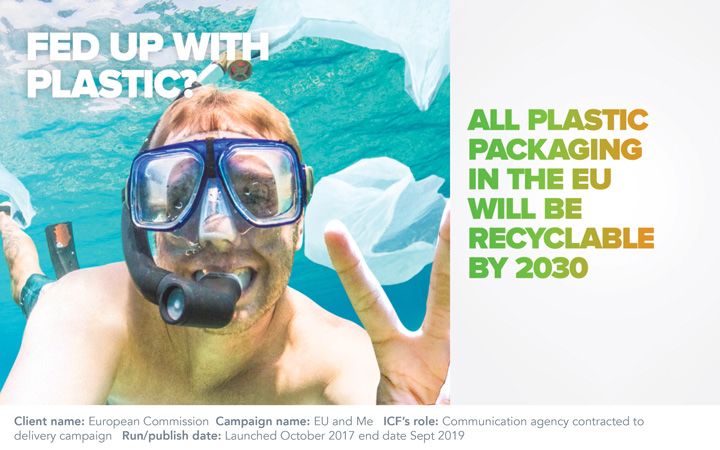 They get EU citizens to explore. The EU and Me campaign targets millennials, highlighting the rights of EU citizens across Europe—including employment opportunities in just about any field and in any EU country. Our efforts have already boosted awareness of consumer rights by 14 percent, and professional development prospects by 22 percent. And the DiscoverEU campaign, which focuses on travel and exploration, granted 30,000 young Europeans travel passes to meet like-minded travelers, become more confident, and appreciate their EU identity. (A second application round for travel passes began this May.)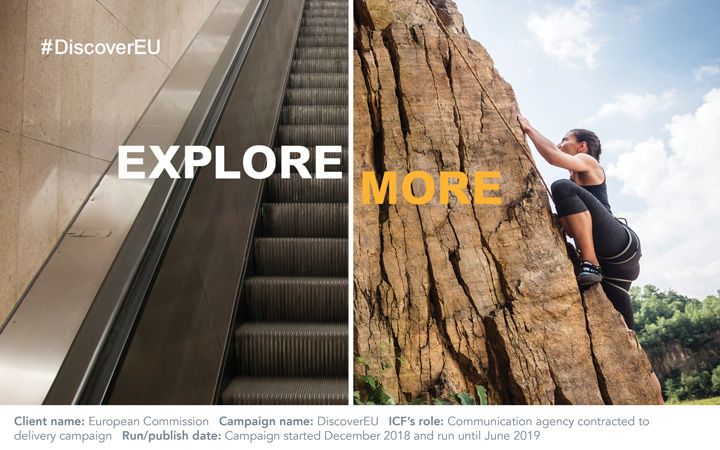 They get EU citizens to understand. The EU Protects campaign showcases how the EU sets the pace for international action regarding climate change, environmental issues, public health, and more. The first wave of our campaign resulted in nearly 10 million views (Facebook and YouTube combined) in 14 EU Member States. The second wave reached 46 percent of citizens (that's 14.25 million people) in the 10 countries where it ran. (The third wave is still in progress.) Watch any one of these ICF Next-produced short films to see "ordinary heroes" working together across borders for the greater good.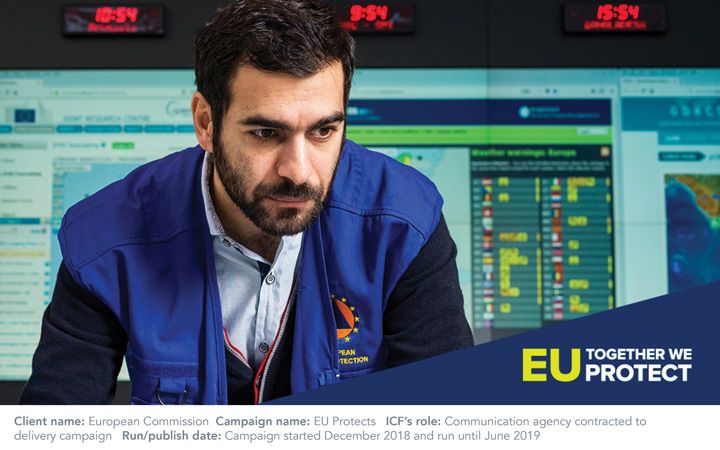 They get EU citizens to act. For the RegioStars2018 specifically, Fundão, Portugal, will soon see a new business center. A textile mill in Finland's Helsinki-Uusimaa region will spin more sustainable fabrics. Ostrava, Czech Republic, will launch a social housing pilot project. Refugees in the Spanish region of Murcia will benefit from a personalized labor market integration program. Nant Gwrtheyrn, an abandoned mining village in Wales, will see its own rebirth as a cultural center.
Majid Guechati, ICF Next social media expert, works on the Passenger Rights campaign. "The high level of engagement we've seen," he says proudly, "reveals the impact the campaign makes on the daily lives of EU residents."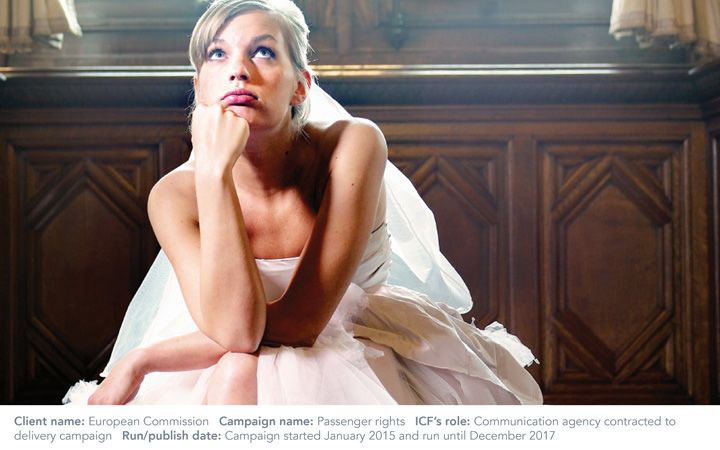 This is only the beginning. We're helping the European Commission tackle fraudulent e-commerce. Understand the power of Instagram. And managing events and campaigns for nearly every institute and agency in the European Union. Stay tuned to see what we'll help EU citizens get next.