The activist generation: How Gen Z uses social media for climate action
How can governing institutions effectively use social media to talk to Gen Z about climate issues? What about using social media to encourage Gen Z to help them achieve their climate goals?
Perhaps the solutions to these questions have been hiding in plain sight.
Since 2018, youth-led climate movements—particularly Fridays for Future and Extinction Rebellion—have inspired millions to take actions that address climate change and ensure climate justice for the Most Affected People and Areas (MAPA).
As more Gen Zers enter adulthood, governments wrestle with how best to communicate to this generation of digital natives, born between 1996 and 2010.
Our report on climate communications finds that engaging with Gen Z starts with active listening. After all, no one knows how to communicate with Gen Z as well as Gen Z does.
Here's how Gen Z-led climate movements and individuals use social media to communicate, educate, and motivate each other to take climate action.
Localizing social media communication is key
Before diving into which social media channels Fridays for Future and Extinction Rebellion use, we must first understand their social media communication structure.
These movements don't primarily use social media as a site for activism, but rather to educate and communicate for offline action.
The key to disseminating their message is a multi-tiered, localized social media approach.
Both movements have communication channels at the international, national, and city-specific levels, such as Instagram profiles, Facebook pages, websites, and instant messaging groups.
For instance, here's a breakdown of Fridays for Future's communication in Germany, which extends to the local level.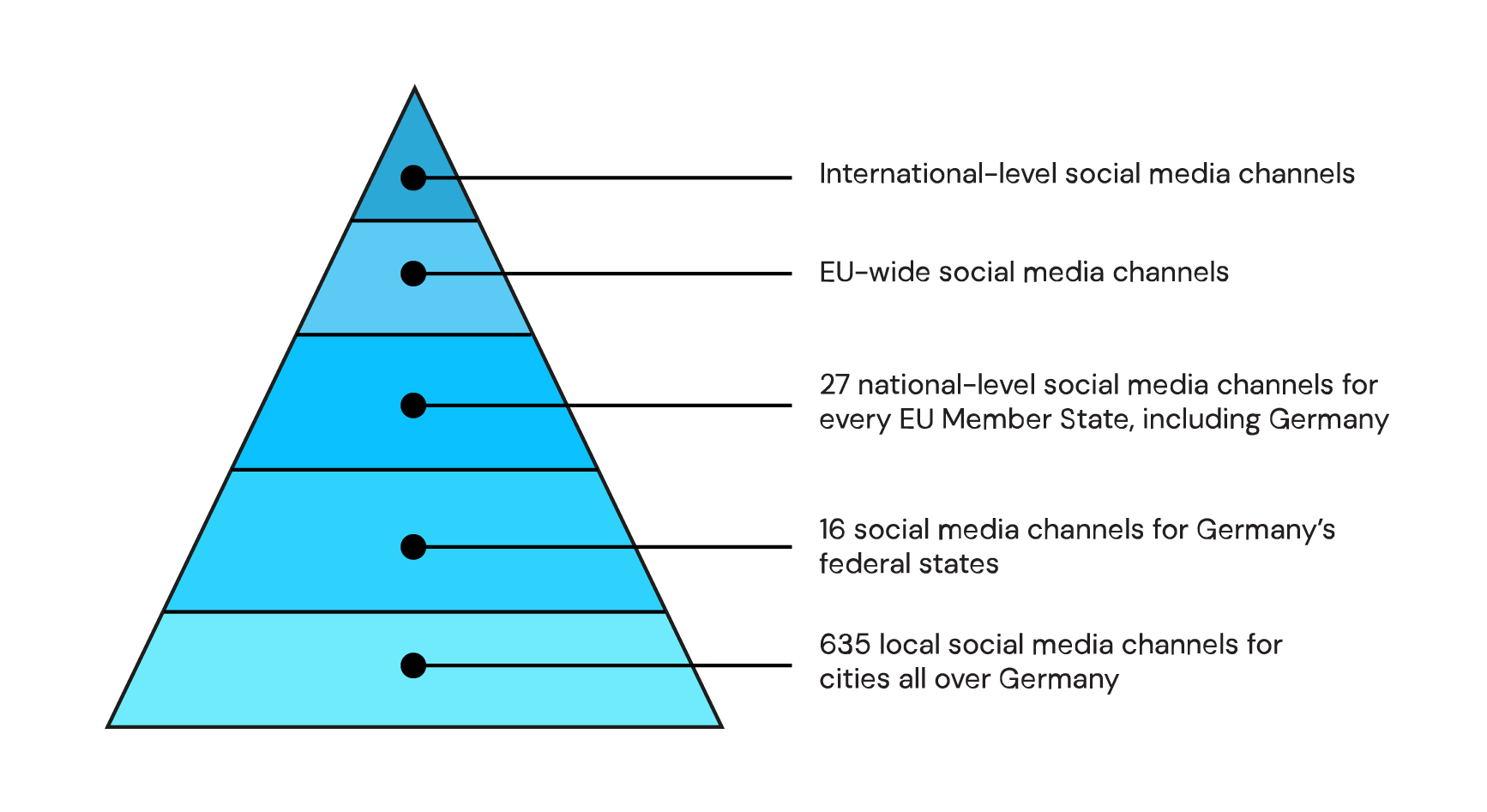 Localizing communication offers several benefits:
Local ramifications: The way climate change impacts someone depends on where they live. Researchers find that localizing the effects of climate change—explaining how a specific environment or community is affected—has the potential to change the perception of this issue as a distant event.
Local language: While English is often the default language for international communication, localized social media pages can post in the local language, making the movement accessible to non-English speakers.
Local demonstration information: Local social media pages provide demonstration information for the actions in their area. It's impractical and unfeasible for the global-level social media pages to promote every single local demonstration, given that global climate strikes see hundreds of cities demonstrating on the same day.
Local actions: Global climate demonstrations get the most media attention, but local groups organize many actions independently of the international collective. Having local social media channels allows them to promote their local actions.
Expanding reach with Instagram slide shows and green influencers
Instagram is the most-used platform among European Gen Z. Through green influencers and informational slide shows, young people educate and encourage each other to take climate action.
Green influencers focus on the environment and sustainable behavior, often creating content around a sustainability niche, such as climate justice, veganism, or slow fashion. Their followers trust them, putting them in a unique position to educate them on climate issues. Authenticity and credibility are particularly important for green influencers, so most limit the number of sponsored posts and thoroughly vet potential sponsors.
The Black Lives Matter movement of 2020 popularized the use of 10-image Instagram "slide show" posts that today educate people on many issues, including climate change.
Though each slide show is designed differently, they bear an undefinable stylistic uniformity. They tend to be heavily over-designed, colorful, and feature digestible chunks of information written in bold typefaces.
A 2018 Instagram update made it easy to reshare posts from public accounts onto one's story, which helped slide shows go viral. If a user likes what they've read, they can add it to their story for all of their followers to see. Those followers can then reshare it on their own stories and so on, broadening the potential reach.
Climate activists create slide shows to inform people about environmental issues or inspire action. For example, Instagram user @discover_eco created a slide show about the newest IPCC report in which he explains what the IPCC is, the bad news in the report, and what we can all do to help fight climate change.

Source: @discover_eco on Instagram
Facebook events inform Gen Zers about local actions
Organizers can include key information, such as the time, date, location, and purpose of the action, and people can communicate easily with organizers or attendees by posting their questions or advice on the page.
Page visitors can see how many people have indicated that they're interested in or attending the event. Seeing many people pledging to attend can foster a sense of society and a group mentality that is very persuasive. Furthermore, when someone clicks that they're attending the event, Facebook may notify their friends, further spreading awareness.
Localizing communication allows Fridays for Future and Extinction Rebellion to take advantage of Facebook events to spread the word about their actions. In fact, to help bring people into the movement, Extinction Rebellion's website encourages people to click "going" on Facebook events.
Adapt TikTok trends to environmental topics
As Europe's most downloaded app in 2021, TikTok is a great platform for Gen Zers to educate each other about climate change.
Whether by incorporating humor or explaining the effects of climate change, creators take advantage of the short-video format for digestible, engaging storytelling.
Climate activists take popular sounds and TikTok challenges and adapt them to environmental topics in entertaining, memorable ways. Then, the algorithm helps spread the videos far and wide. Videos with the hashtags such as #ClimateChange and #EcoFriendly have already garnered billions of views.
For instance, TikToker @sabrina.sustainable.life took the "things about my ________ that just make sense" trend and made it about her eco-friendly home. She used the trend's format, sound, and hand gesture to show off her recycled glass jars, compost bin, and house plants. It's memorable and inspiring for viewers looking to live sustainably.
Create short, educational YouTube videos
Launched in 2005, YouTube is a platform Gen Zers have known virtually all their lives. Unsurprisingly, the video-sharing platform impacts how Gen Z learns, with 59% of Gen Zers citing YouTube as their preferred learning tool compared to other methods such as printed books and in-person activities. Furthermore, 44% say that they spend at least three hours per day on YouTube.
Researchers cite YouTube's growing popularity among Gen Zers ages 13 to 17 as evidence of the platform's potential to reach and engage young people on a large scale about critical climate change issues.
Extinction Rebellion's use of YouTube may show us how.
With over 70,000 subscribers and 1,100 videos, many under five minutes, Extinction Rebellion UK has created an easy way for people to learn about the movement and how to get involved.
The videos are organized into playlists such as:
XR Principles, Philosophy, and Core Values
Getting started with XR
XR Workshops
Whether someone is just curious or ready to join the movement, Extinction Rebellion's YouTube channel helps people find the information needed to learn and take action.
How can governments communicate to Gen Z like Gen Z?
We've analyzed how Gen Z use social media for climate education and action. But how can we replicate their strategies to reach young people?
Some strategies have already been applied successfully and could be replicated in future campaigns.
Together with the European Commission, we developed a unique strategy for localizing communication through the Climate Pact. People can apply to become European Climate Pact Ambassadors and work on the ground to raise awareness, advocate for climate action, and persuade organizations to pledge to lower their environmental impacts. In addition to each ambassador's own social media platforms, there are also grassroots national accounts in countries such as Slovakia, Portugal, and Austria. These national-level accounts offer content in the local language, allowing them to reach people that are harder to engage with using the official Climate Pact accounts.
During the Ding Dong campaign, we partnered with 15 influencers on behalf of the European Commission who travelled to EU-funded projects to raise awareness for the EU's involvement in fighting climate change. The campaign reached nearly 20 million people and garnered over 200,000 likes on Instagram. Future campaigns could replicate this approach and even tap into TikTok's potential to maximize reach with short videos that explain complex ideas in a Gen Z-friendly way.
We also find some takeaways for future campaigns.
YouTube can be used effectively to educate youth about climate change, particularly by focusing on short, digestible videos organized into playlists that make valuable information easy to find.
Governing institutions can utilize Instagram slide shows to reach Gen Z audiences about climate legislation, current events, and opportunities for young people to make their voices heard. They should match the look and feel of other slide shows and contain useful information. If done right, viewers may reshare the slide shows to their stories, generating a substantial organic reach.
The bottom line
Young people know how to reach young people best. By listening to what they say and how they say it, we can foster a future where young people are informed on climate change issues and feel empowered to take action.
Download our report, "Climate communication: Reaching youth starts with active listening"
New climate data reveals warmer, wetter future for the U.S.
In this report, our climate scientists project some Americans could experience 42-61 additional days with temperatures above 95 F by midcentury.