Why we're excited to be the new low-code leader for federal agencies
We're accelerating mission outcomes by offering rapid delivery of the U.S. federal government's most highly adopted low-code platforms: Salesforce, ServiceNow, and Appian
Low-code platforms allow federal agencies to build applications faster and easier, so they can better meet their missions. These platforms offer new ways for agencies to leverage their workforce with less reliance on the software development skills traditionally needed to write infrastructure or underlying code.
We strategically plug in the right low-code solutions for our federal clients to make a quick and meaningful impact—improving efficiency to solve problems that used to take years. Our recognized delivery solutions span the government's most highly adopted low-code platforms: ServiceNow, Salesforce, and Appian.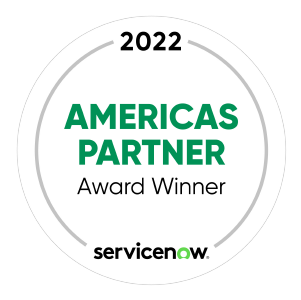 We've been named ServiceNow's U.S. Federal Partner of the Year twice, in 2019 and 2022. As a ServiceNow Elite Partner, we combine deep domain knowledge, unmatched ServiceNow expertise, and cutting-edge digital capabilities to rapidly build and deliver secure and affordable low-code solutions to federal agencies.
We're a Salesforce SUMMIT Partner—the highest implementation partner tier—and Salesforce public sector industry expert with more than 100 federal applications that help agencies achieve mission-critical goals. We quickly deliver digital modernization solutions that help federal agencies optimize customer service, citizen and partner collaboration, enterprise data management, and transparency across functional areas.
We're the largest federal Appian practice in North America and an Appian Premier Partner. As the Appian 2021 Trusted Delivery Partner in the Public Sector, we're known for our consistent delivery of complex implementations built on the Appian low-code platform. And we won Appian's 2021 Public Sector Solutions Cup for our delivery of an efficient, effective financial examiner platform.
"When interacting with governments, citizens expect digital experiences like what they see in their daily lives. Low-code solutions give agencies the agility and time to get products in front of citizens faster than before." — Kyle Tuberson, public sector chief technology officer
4 modernization tips from agencies who rapidly improved mission outcomes
How government leaders can build applications that improve service delivery and transform the way work gets done—quickly.