How we transformed complex scientific information using CX design to tell the story of the impactful work of our NCI client, earning us a Webby People's Voice Award.
The National Cancer Institute's (NCI) Division of Cancer Control and Population Sciences (DCCPS) has played a unique role in reducing the burden of cancer since its creation in 1997. DCCPS wanted to share the story of the remarkable work they do in a new and engaging way. So they leaned on experts from our marketing, communications, and digital transformation agency ICF Next to tell it.
And for this work, we won our first-ever Webby Award, the leading global awards for excellence on the internet. Winning the People's Voice Award in the Websites and Mobile Sites Government and Civil Innovations category—where our work was chosen from over 14,000 entries from 70+ countries.
Telling the story of the future of cancer control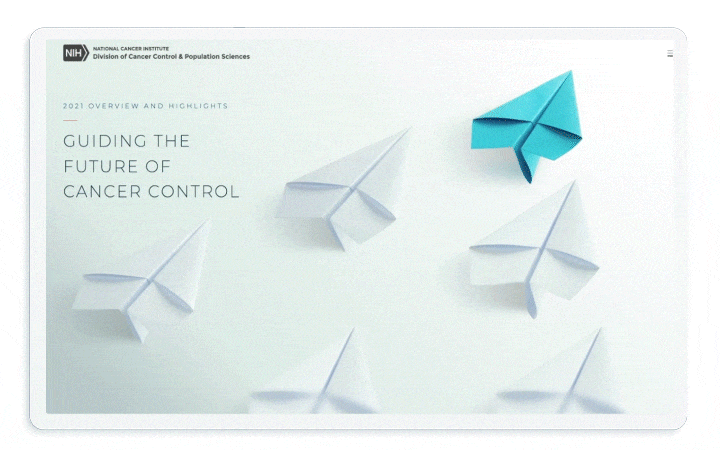 Working with DCCPS, we developed a journey map to ensure we could tell the story from a customer experience perspective. We needed to incorporate a number of topics—ranging from the history of DCCPS and its current organization and leadership, to complex scientific concepts and data, to the future of cancer research, and more.
The resulting simple, elegant microsite, and companion print publication, now guides visitors through all of these findings in a fresh, interactive way. Providing them with a comprehensive understanding of the important role DCCPS plays in reducing cancer risk, incidence, and death and enhancing quality of life for cancer survivors.