Recognition for our digital transformation growth strategy
Association for Corporate Growth selects us for Deal of the Year award for our acquisition of IT modernization powerhouse ITG
Today's federal chief information officers face a tall order: deliver technologies that help meet broader missions, meet user expectations, keep sensitive data and systems secure, and ensure responsive, multichannel access to services.
In addition, the COVID-19 pandemic exposed serious vulnerabilities in our public health infrastructure. We can't share important information quickly or securely enough between public health agencies or with citizens, making it more difficult for agencies and providers to make important health decisions. IT modernization and stronger public health surveillance systems continues to be a big part of addressing these gaps.
To achieve this kind of transformation—at scale—federal agencies are moving off outdated legacy platforms and into agile environments, with cloud computing and hyperautomation at the core. And they're turning to firms like us to help them do just that.
Our 2020 acquisition of ITG (Incentive Technology Group), one of the leading and fastest growing providers of cloud-based platform services to the U.S. federal government, significantly expanded our IT modernization capabilities. When combined with our existing deep domain expertise—in public health, social programs, climate, energy, environment, and more—we became uniquely positioned to architect and implement technology platforms that drive the strategic transformation agencies need to meet their mandates.
"We were looking for the right kinds of people, cutting edge technology, and a culture that values doing important work, really well. ITG checked all of those boxes." — Mark Lee, executive vice president and public sector lead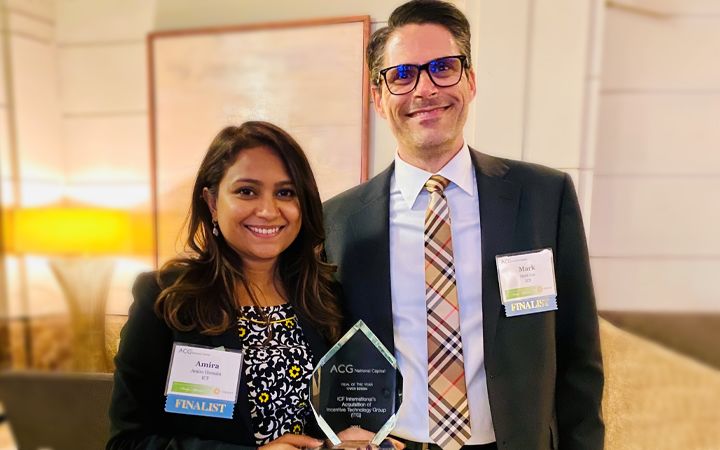 And for this acquisition, we've been recognized by the Association for Corporate Growth, National Capital Chapter, with its Corporate Growth Deal of the Year (over $250M) award.
The integration of ITG has been seamless. Our two teams came together quickly, putting our best-in-class qualifications, domain and leading platform expertise, performance track record, and deep technology partnerships to work for our broadened client base.
"It's been an honor to bring ITG into the ICF family, combining their deep technical excellence with ICF's vast subject matter expertise and robust business development platforms." — Amira Hossain, senior vice president and head of corporate development
For example, we brought our newly enhanced tech chops to the Children's Bureau, an agency we've supported for over 20 years. There we proposed a roadmap that addressed both the program needs of the Child Welfare Information Gateway and a technology modernization vision and strategy to bring together 28 systems, websites, and databases. We're now delivering powerful new IT capabilities to help the agency meet its business objectives.
In under a month, we designed, developed, and released COVIDcode, a portal to help the National Cancer Institute understand the role of genetics in determining an individual's severity of COVID-19. Data collected through COVIDcode has been used in Operation Warp Speed and other large-scale research efforts that aim to develop therapies that reduce the severity of COVID-19 symptoms for some people. And we're helping the Food and Drug Administration stand up its first Digital Services Center to modernize and transform IT systems and business services centers across the agency through the adoption of cloud-based software and platform best practices.
"Joining ICF has expanded our horizons and opened new doors for opportunity – both for our staff and clientele. I look forward to celebrating many more successes in the years to come," says JC Chidiac, senior vice president and ITG division lead.
"The culture, skills, and exceptional value brought by ITG are remarkable and joining forces has proven to be a winning combination for success," adds Amira.
Read more about the market and cultural impacts of the acquisition in this ACG blogpost.