ICF in Nepal
ICF works with government agencies, not-for-profits, the private sector, and marginalized groups to navigate the most pressing development needs in Nepal to best support disaster resilience, sustainability, and effective governance.
Our services
Urban development
Our team works with governments and municipal authorities to design and implement methodologies to achieve enhanced basic infrastructure and connectivity. Driven by data, our approaches are crafted to address the most critical issues with thought for future growth. We provide an integrated package of services including investment preparation, administrative reform, and infrastructure development.
Economic growth
We help facilitate economic growth driven by
urban development
and effective institutions. Our experts work closely with businesses in the private sector, government officials, and marginalized groups to ensure program policies and activities reflect the needs of the population while being inclusive and equitable.
Governance
Our governance experts help create effective institutions at the municipal and federal level that demonstrate greater transparency and accountability through tailored capacity building and institutional strengthening. We help advance sustainable economic development, embrace gender equality and social inclusivity, tackle corruption, and improve citizen access to better public services.
Climate change and disaster resilience
We work across the public and private sectors to offer clients resilience solutions in the areas of disaster risk management, urban development, economic growth, and
climate change mitigation/adaptation
. Resilience is a paramount cross-cutting consideration across all our areas of work.
Social and infrastructure services
From health to waste management, we work with municipalities, provinces, and the central government to improve access to basic services and their delivery. We conduct needs assessments, produce evidence-based monitoring and survey reports, and design strategies and action plans to implement solutions that result in extended access to infrastructure services and enhanced accountability of public service provisions.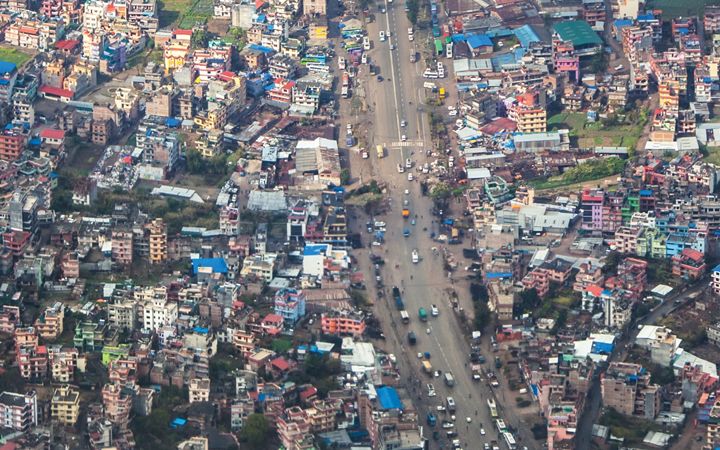 Building urban resilience in Nepal
By building a foundation of trust and cooperation with local governments, ICF is working to enhance institutional capacity for sustainable development—and create new and inclusive economic opportunities.
Location
Kathmandu
Ekata Tole Marg
Ekantakuna, Jawalakhel
Kathmandu, Nepal
Talk to our experts today