Strengthening our defenses against dangerous infectious diseases
How we are working with global partners to strengthen detection and surveillance of infectious diseases in more than 20 countries in Africa and Asia.

Along with a consortium of partners, we implement the U.S. Agency for International Development-funded IDDS project. Infectious Disease Detection and Surveillance (IDDS) is strengthening public health diagnostic networks and surveillance systems to effectively detect and monitor infectious diseases of public health importance in more than 20 countries in Africa and Asia. IDDS is a key partner for countries in meeting objectives of the Global Health Security Agenda partnership, United Nations High Level Meeting (UNHLM) targets for tuberculosis (TB) case detection and other critical infectious disease program objectives.
Challenge
The spread of infectious diseases across countries is a grave threat to us all. In the age of rapid global travel, dangerous infectious diseases can travel halfway around the world in a matter of hours. Unknown diseases like COVID-19 emerge, jumping from animals to humans, and drug-resistant strains of common infectious diseases threaten the great advances made to modern healthcare by antibiotics.
Related services and industries
Solution
Since May 2018, we have had a major impact in the countries where we work (see map below) by focusing on improving:
Diagnostics: The process of identifying pathogens and the diseases they cause.
Surveillance: The collection, analysis, and interpretation of health data, such as disease outbreaks, essential to the operation of public health policy.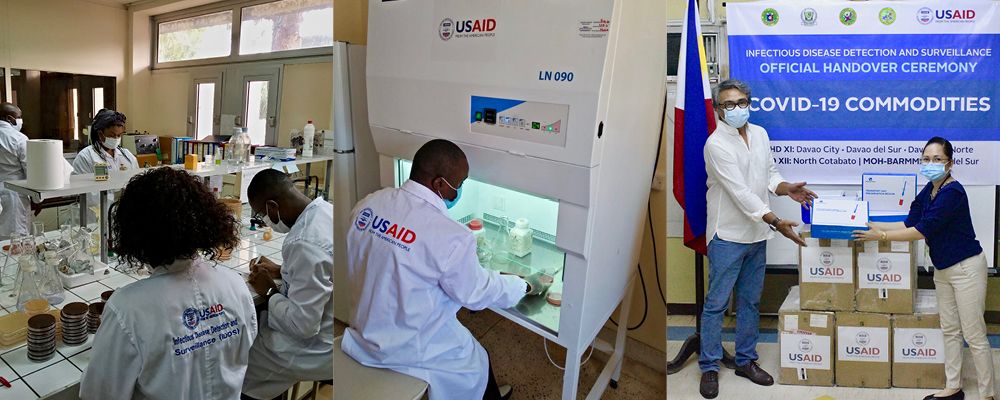 COVID-19: Training, specimen transport, and testing in challenging environments
IDDS has supported the COVID-19 pandemic response in 14 countries across Africa and Asia with training, COVID-19 specimen transport, and testing. In the Philippines region of Davao, which suffers from security challenges and poor infrastructure, our support led to a dramatic decrease in COVID-19 specimen transport time, which dropped from up to 3 days to under 3 hours. The IDDS model proved so popular that Philippine local governments are looking to replicate it in new areas of the country. IDDS has also improved specimen transfer and testing in challenging environments in Bangladesh and Mali.
Antimicrobial resistance: Spotlighting drug-resistant superbugs
Drug-resistant strains of common diseases threaten to undermine the huge progress antibiotics have made in medical treatment. IDDS is boosting the capacity of host country governments to detect and track antimicrobial resistance (AMR), enabling them to report drug resistance into national and global electronic reporting systems. This reporting builds global intelligence on matching the right antimicrobials against the "superbugs," combating drug resistance and enabling effective treatment.
With IDDS support, Senegal's Guediawaye and Linguère laboratories restarted antimicrobial susceptibility testing in March 2021 after a two-year hiatus.
Tuberculosis: Building effective case detection where the disease strikes most often
Tuberculosis is the world's leading killer infectious disease, taking an estimated 1.4 million lives in 2019. Most cases of TB are curable if diagnosed early, however, many of the countries with the highest rates of the disease are the least equipped to detect cases effectively. In these high burden target countries, IDDS seeks to make testing for TB accurate, reliable, and easily accessible. IDDS has assessed the national TB diagnostic networks of Vietnam and Zimbabwe and has started the process in Bangladesh and Tanzania. Our TB diagnostic network assessments aim to identify and address gaps in the diagnostic process. IDDS is also advancing TB diagnostics in the high-burden countries of Burma, Cambodia, the Democratic Republic of Congo, and India.