Digital storytelling tool counters misconceptions about HIV
Unlocking the Power of Personal Storytelling

Challenge
Educate people on the steps a person takes from diagnosis to treatment of HIV - a sensitive and often stigmatized topic.
Solution
Created a comprehensive digital tool that uses personal HIV experiences -rather than statistics and facts alone - to promote the importance of getting people with HIV into treatment.
Results
Rapid social media circulation with nearly 2,000 Facebook likes, 300 retweets and over 369 Instagram likes one month after launch.
2016 Webby Finalist
in multiple categories
700 video views
within the first month
5 exclusive
personal stories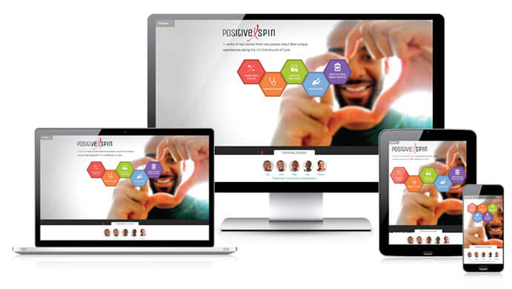 Out of the estimated 1.2 million HIV-infected individuals in the U.S., only about 40% actively receive care and just 30% achieve the ultimate goal of viral suppression. In partnership with HIV.gov (formerly AIDS.gov), ICF designed and launched Positive Spin, a digital storytelling tool that features personal experiences of HIV-positive individuals that have successfully navigated the HIV care continuum. These stories help counter misconceptions and stigmas around HIV testing and treatment.