Coronavirus and the three Cs: How businesses can navigate the new normal
In these unprecedented times, businesses across the world are scrambling to adapt to new ways of working. And while change might seem uncomfortable, the global outbreak and spread of the coronavirus (COVID-19) gives organizations no option but to show customers, colleagues, and clients what they're made of.
Make no mistake: this is a pivotal moment for your business. Asserting your role as a human company that knows its colleagues and customers are citizens–and victims of this pandemic–is crucial to survival.
How can your business make a stand for its community, while retaining commercial value and respecting the needs of its colleagues?
Introducing the three Cs
At ICF Next, we see a sharp focus on the 'three Cs'–customer, colleague, and citizen–as key to business transformation and survival.
ICF's global marketing services agency focuses on helping your organization find opportunity in disruption.
Go to ICF Next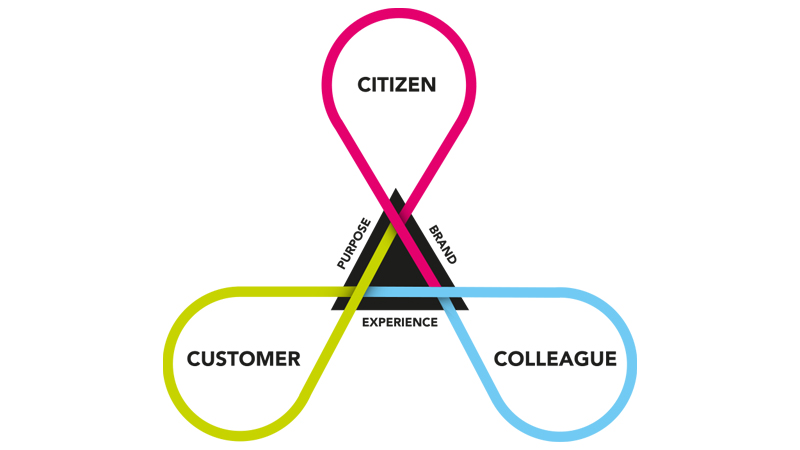 Customer behavior is impacted by citizen status, which in turn affects how colleagues sell to customers. And when just one of the three elements is out of whack, a snowball effect leaves businesses scrambling to adapt to change.
To empower our clients to succeed, we have developed the Infinite Loop, a proprietary framework tool designed to track how evolving customer needs are forever creating demand for brands and businesses to adapt, existing fluidly to keep pace with an ever-changing buying climate.
Business has always focused on customers and colleagues—two key parts of the three Cs. But the coronavirus epidemic has moved both customer and colleague under the "citizen" umbrella. Now more than ever, your team and its audience are humanizing the business world. Now you'll be judged on how you act far above and beyond your commercial success.
How companies act throughout this period of accelerated change will determine their future.
Customers are simply demanding that brands act differently in response to coronavirus, according to a special edition of the Edelman Trust Barometer. Almost two-thirds of customers say the way brands act now will have a "huge impact" on the likelihood they will buy their products or services in the future. What's more, 90 percent of customers surveyed want brands to partner with government and local authorities to tackle the crisis. This is a time for taking action. Words won't be enough to retain customer loyalty.
Now more than ever, your business will be judged on what it does, not what it says.
Customer, colleague, and company behavior drives every area of our work at ICF Next. How we understand the world, how we drive our business, and how we empower other businesses to succeed all responds directly to the three Cs. And as our world moves further into uncertainty, our behavioral expertise is more important than ever.
Making a stand for your colleagues and customers in their common role as citizen is the best move your business could make right now.
The fourth C: Coronavirus
None of us could have predicted the global spread of COVID-19, but we each have the opportunity to make this a defining moment for our business. It's an opportunity to think "we" not "me" and show the world what we stand for.
Now is not the time to sit still.

How can you stand by your values, purpose and vision in such uncertain times? There's no question about it: your core principles matter more than ever. They must be the anchor points at the center of your every move through this turbulent time, so make sure to revisit them.

Not everyone is getting it right–there's a fine line to walk for businesses hoping to survive the economic downturn while retaining their reputation. In the UK, sporting equipment giant Sports Direct made the remarkably tone-deaf statement that its stores should remain open as its workforce is key to beating the crisis. Apparel store assistants are not front-line workers in a health crisis.

And it's not just the business entities themselves that are coming under fire for their response to this crisis, CEOs and top business voices have made some frankly shocking statements across the board, using their voice to be, well, less than helpful.

Take Elon Musk, founder of Tesla and all-round genius, decided it was prudent to tweet to his 32.9 million Twitter followers that "The coronavirus panic is dumb". Considering the situation, and the impact it has had on lives around the globe, this was not only poor personal judgement, but a real swing and miss for his business.

Amazon has received a deluge of complaints from warehouse workers who claim they're at high risk of contracting and spreading coronavirus. The company is showing a clear disregard for its colleagues as citizens, putting the profit of the business before their welfare. In fact, Amazon has fired a New York warehouse employee for organizing strike action in protest of the conditions. In this case, putting profit over people is only damaging Amazon's reputation.
An inability to think about the long-term effects of today's actions will cost businesses in the future.
Navigating the new normal: How ICF Next is empowering businesses to succeed
An intimate understanding of the interdependency of the three Cs is what drives ICF Next. It's what informs our work with clients, and how we see ourselves in the world. At ICF Next, we know how not to act.
The Infinite Loop can inform, advise, and steer businesses towards doing what's right in a time where uncertainty is the new normal. It can help brands and organizations of all sizes meet the needs of customers, clients, and colleagues at the citizen level, supporting them through this uncertainty and emerging commercially strong at the other side.
Every stage of the Infinite Loop is interwoven, important, and influential. If there is one broken part the whole process will weaken. Customer needs evolve, businesses must adapt. When offerings change, colleagues will do things differently. And when customers consume differently their needs change again. Companies must change with them. Companies must change now.
What's next?
As the situation unfolds around the world, your business will be tested like never before. For many businesses, this is the first true test of integrity, and for many it will be the last.
With alarming figures in the UK showing that one-fifth of UK businesses could collapse as a result of the coronavirus pandemic, and with the United States–the biggest economy in the world–expecting to take a huge hit on Q1 retail imports, now is the time to take decisive action to protect your commercial value, with the three Cs at the heart of every decision.
For now, at least, coronavirus isn't going anywhere. To make sure your business sticks around through the long haul you must act fast and with heart. With a renewed focus and an ability to adapt to change, we'll come out on the other side stronger than ever.