ICF continues to achieve record sales as we meet growing industry demand for our notable combination of domain expertise and technology solutions
Sergio Ostria, our executive vice president of growth and innovation, is known for getting things done. Since joining ICF in 1999, he's been busy—integrating multidisciplinary practices, delivering competitive solutions to customers, and thoughtfully leading and mentoring others. All while serving as an invaluable part of ICF's growth story where we've doubled in size every five years, on average, over the past two decades.
During Washington Executive's 2023 Chief Officer Awards celebration, which honors and recognizes leaders in the federal public sector, Sergio was aptly recognized as the Chief Growth Officer of the Year in the public company category.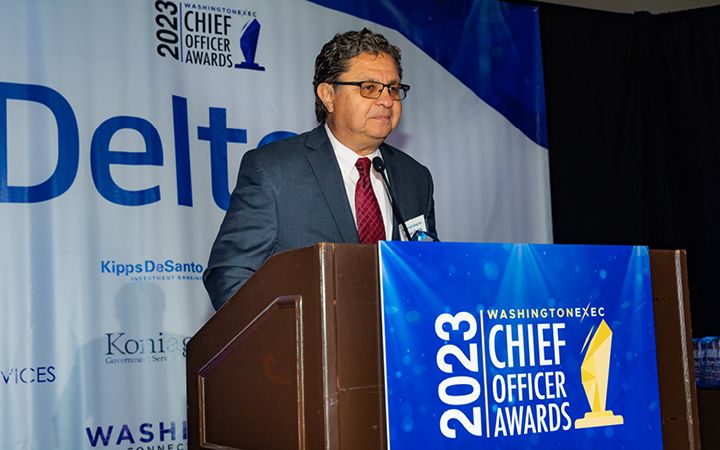 Sergio leads our marketing, business development, client engagement, and innovation activities at the corporate level and is responsible for strategically aligning and deploying resources that connect and improve customer growth and experience. His team develops, manages, and measures the effectiveness of our processes that drive growth, establish market leadership, and bring differentiated solutions to our customers.
ICF closed 2022 with $1.78 billion in total revenue, a record $2.3 billion in contract wins (with over 75% representing new business), and a long runway of opportunities with a business development pipeline of over $8.5 billion (reflecting aggressive expansion of our technology and digital modernization capabilities to better assist federal agencies).
"Organizations grow by taking calculated risks and accepting harder challenges that can create greater positive impact."
Sergio joined ICF over two decades ago to build and lead our transportation, energy, and environment businesses where he laid the foundation for what eventually became ICF's companywide multidisciplinary approach: bringing together disparate solutions and services to build a distinct, end-to-end value proposition for clients. This approach underpins our current growth strategy of combining new, advanced technology capabilities with our legacy domain expertise to deliver high-impact solutions to our clients with greater speed, efficiency, and aptitude.
"Sustained business growth depends on the growth of your people."
Along the way, he's helped unlock the full potential of countless teams and people. Sergio is a firm believer that as companies constantly innovate to stay relevant, their people should too. And he's deeply committed to developing future leaders. In fact, several of ICF's highest level and most successful business leaders were led and mentored by Sergio at key points in their careers. He's worked with them to intentionally build a culture of collaboration at ICF that appreciates the power behind diversity—in every sense of the word—to help strengthen and sustain ICF's strong sense of purpose and values.
For those who want to follow in his footsteps, Sergio shares this advice: "Don't wait for things to happen to you, make things happen. I have found that being proactive and an agent for positive change is a key ingredient to being successful at the executive level. Constantly pushing yourself to stretch outside of your comfort zone can lead to highly rewarding professional experiences."