CMO Matt Maurer recognized by Washington Executive for innovation, thought leadership, and contributions to business growth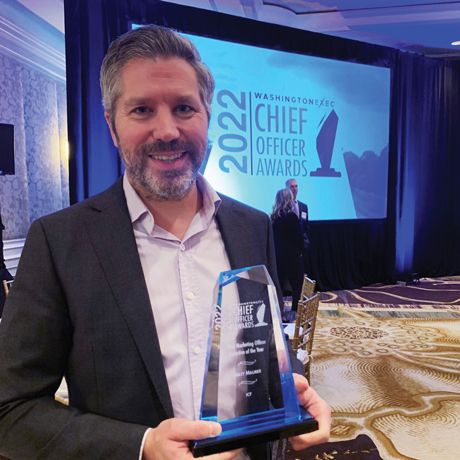 Matt Maurer, senior vice president and chief marketing officer (CMO), knows how to tell a story, especially ICF's story. Whether it's how we're helping clients advance their digital modernization efforts. Supporting the fight against climate change. Or contributing to the federal response to the COVID-19 pandemic and other critical public health challenges.
"Being a marketer means being a storyteller," Matt shares. "In my work at ICF, it is my greatest privilege to share our stories of impact, in partnership with our clients, to make meaningful improvements in services provided to citizens and stakeholders."
But Matt isn't just ICF's head storyteller. He leads all aspects of ICF's marketing and communications efforts: strategy, brand management, digital marketing, public relations, marketing and sales operations, executive and employee communications, and more.
Leading for growth
A true growth marketer, Matt views marketing as a strategic lever to driving business growth. And in his two short years at the helm, he's transformed ICF's marketing model to ensure it supports sustainable growth for our key markets.
To do this, he's built an exceptional team of marketers and communicators who closely monitor market dynamics and work in partnership with leadership and business developers to develop creative, compelling messaging to engage audiences. Some of his key contributions over the past year include:
Conceptualizing then leading the launch of the ICF Climate Center, which leverages the power of our 2000+ climate, energy, and environment experts to provide insights, data, and analysis on climate change and its impacts.
Developing then leading execution of the communications strategies for two major acquisitions—ESAC and Creative Systems and Consulting—to show how we're making critical investments in complex health and IT solutions to bring greater value to clients.
Leading internal and external communications throughout the COVID-19 pandemic, and current return to office phase, to reassure employees, clients, and shareholders about workplace safety and continued client delivery.
And much more.
We closed 2021 with a record $2 billion in sales and $1.5 billion in revenue, with Matt's team achieving an 85% increase in marketing-influenced business pipeline and $200M+ in marketing-influenced contract wins. ICF's biggest year-over-year increase in our 50+ year history.
"I am proud to have built a team of future leaders and talented marketers here at ICF. And I've had the immense pleasure of leading a team that is motivated for growth—both personally and professionally—and always ready for innovation."
And for his vision and leadership, Matt was recognized as Washington Executive's 2022 Chief Marketing Officer of the Year in the Public and Private Company category. Which recognizes the most impactful CMO in industry who is leading with innovation, expertise, and thought leadership.