Accelerating e-bike adoption for clean, equitable communities
How we're helping New York State make e-bikes more accessible to underserved and disproportionally impacted communities while promoting clean transportation
With 36% of New York State's greenhouse gas emissions (GHG) from the transportation sector, it's one of the biggest areas for the state to target to help meet its GHG emissions reduction goal of 85 percent by 2050.
Add that transportation costs are the second-largest expense category for the average household—meaning lower cost alternatives can mean big savings for New Yorkers, especially in households with lower incomes.
As a New York resident and part of our transportation demand management team, transportation and mobility expert Katie O'Sullivan understands the problem firsthand. For the past four years, she's worked on New York's statewide mobility program 511NY Rideshare program, which supports 150,000+ travelers and 9,000+ employers.
And she's now developing a pilot e-bike mobility access project under Phase One of the New York Clean Transportation Prizes program. Administered by the New York State Energy Research and Development Authority, the program funds transformative projects to advance solutions to reduce air pollution, enhance electrification, and grow mobility options in underserved communities across the state.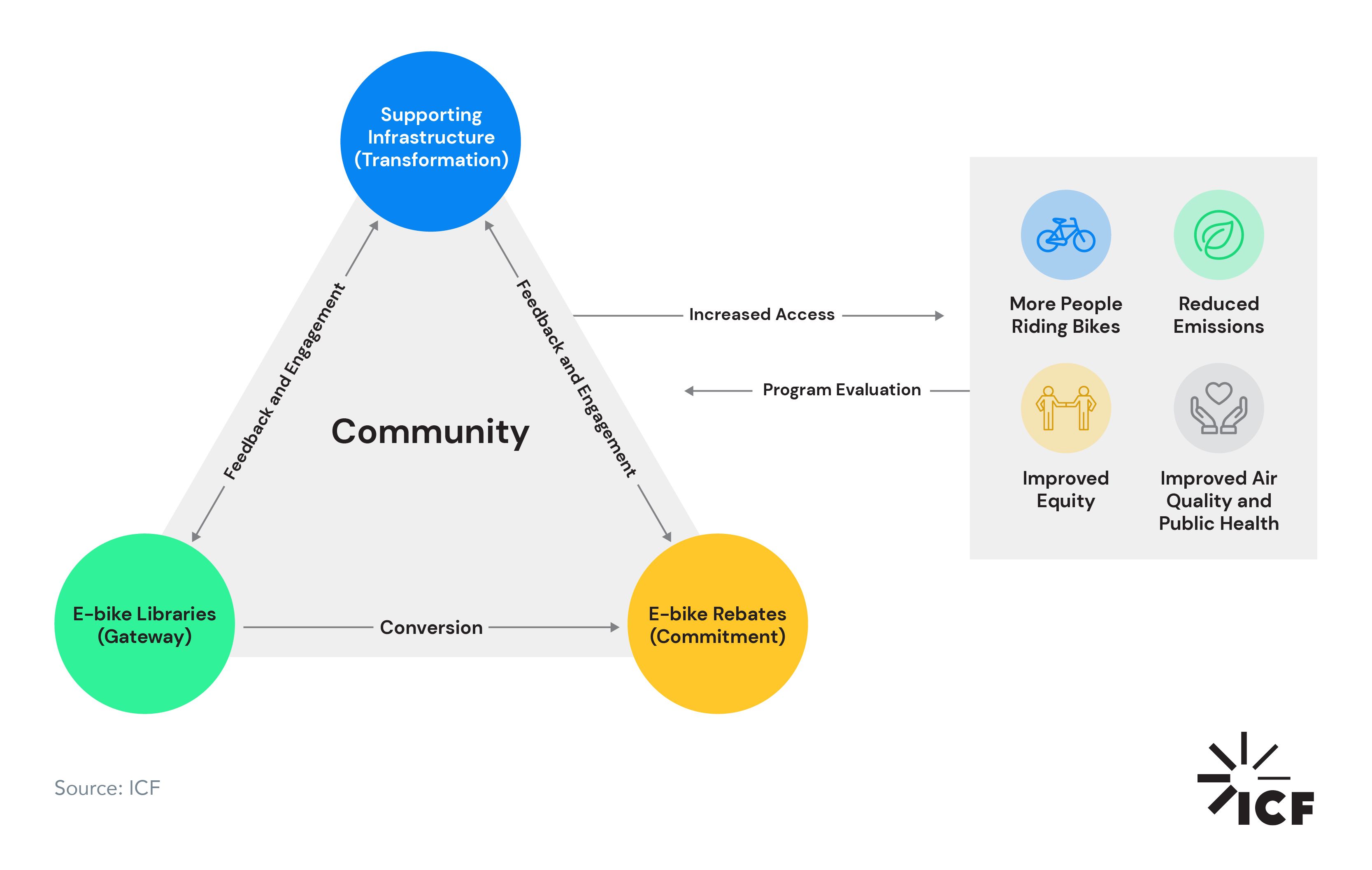 E-bikes outsold electric cars by 2:1 in 2020. Yet low public investment undervalues their clean transportation impacts and latent demand. And shared micromobility companies rarely invest in markets serving smaller or low-income communities, nor do they offer a consistent, everyday transportation solution for residents.
Our project "Accelerating Clean Communities With E-Bike Systems (ACCESS)" helps address these challenges. If awarded a grand prize, ACCESS will encompass short-, medium-, and long-term actions to make e-bikes more widely accessible, and at scale. Since personally owned e-bikes can be expensive, this means bringing more low-income communities into the growing e-bike revolution with its active and electric mobility benefits.

Along with partners Shared Mobility Inc. and GObike Buffalo, we'll integrate e-bikes within five underserved communities. Establishing free e-bike lending libraries, which includes operation, maintenance, and safety support. Enabling permanent bike ownership through substantial tiered rebates to participants. And catalyzing active/electric mobility with infrastructure planning to support electric active transportation in each community, including bike lanes, corrals, and charging facilities.
"Our goal is to make e-bikes an integral part of the local transportation landscape, improve access, and reduce emissions." — Katie O'Sullivan
If successful and selected for a grand prize, our team will receive $10 million in additional funding—awarded through Phase Two of the New York Clean Transportation Prizes program—to fully implement the e-bike program in select communities.
New climate data reveals warmer, wetter future for the U.S.
In this report, our climate scientists project some Americans could experience 42-61 additional days with temperatures above 95 F by midcentury.