Commercial marketing technology delivery leader Ravi Krishnadas finds purpose in his work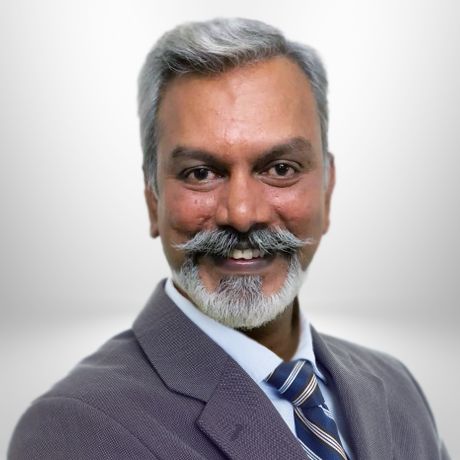 To thrive in today's fast-paced digital world, companies need innovative strategies to grab the attention of audiences exposed to massive amounts of media daily. But it's not enough to simply connect. That next level of engagement is participation—and developing and implementing the right technology is key.
As we're continuing to grow our commercial marketing technology offerings, we're expanding in one of the hottest tech markets in the world: Bangalore, India. And we've got the right people in place to make it happen.
Ravi Krishnadas joined ICF Next, our marketing, communications, and digital transformation agency, a year into the pandemic as the leader of our commercial marketing technology delivery team. He recently sat down with Daniel Knauf, chief technology officer for ICF Next, to talk about his first few months on the job and why he's excited about where we are headed.
Daniel: Tell us about yourself.
Ravi: I started my career in the Indian Air Force, where I learned adaptability, the essence of "leading from the front," and a strong sense of delivering results. Since then, I've been an entrepreneur, technology manager, delivery lead, startup specialist, and much more. I've even been the production manager for a local language movie. So, it's safe to say I bring varied experience to my role here!
Daniel: What's your leadership style?
Ravi: I take a structured approach to leadership. My three priorities are people, process, and technology—in that order. Taking care of our people is the foundation. Processes help them work effectively and creatively, forming the glue that holds us together. And technology is something that aids us in the process.
Daniel: Why did you choose ICF?
Ravi: There are many for-profit organizations that say they want to change the world, but don't follow through on that mission. Typically, if you want to accomplish world-changing work, you work for a nongovernmental organization or charitable institution.
But ICF is actually working on tough global challenges—and we're making a difference. It's more than just talk. That touched my mind and my heart. And that is what I look for in anything I do. It needs to appeal to me as a person and as a professional.
Most companies talk about diversity and inclusion. But I see diversity and inclusion in action at ICF. My interviewers specifically inquired about my differences to find my strengths. I could immediately tell it's foundational to our company.
That's why I'm here. The mission, vision, and values really speak to me. And it's what is moving us into the future.
Daniel: How have you approached leading during the pandemic?
Ravi: Engagement is challenging because remote work sometimes creates isolation. And in India, many people are struggling or have struggled with the virus—including myself and my family.
Communication has been so important. When a team member is affected by the crisis, I reach out to them or their family members. I give them reassurance—letting them know that their jobs aren't in jeopardy, we know they're doing the best they can, and the most important thing right now is to take care of themselves and their families. I truly care for my team and I hope that comes through in these conversations.
Daniel: Why is now an exciting time to work in Bangalore?
Ravi: Bangalore is known as one of the top cities in the world for the global delivery of technology services. Over the last 15 years, it's become a hub for global delivery centers for multiple large organizations. These centers focus on developing solutions with global relevance, driving high-end design and development, and owning strategic initiatives.
The culture of the city itself is exciting too. We draw people, including many IT professionals, from all over India. You hear the diversity in all the different Indian languages spoken here. And it doesn't hurt that our weather is pleasant throughout the year!
Daniel: Why is it a good time for IT professionals to join ICF?
Ravi: We're growing. The need for digital transformation has accelerated and we offer plenty of career opportunities for tech professionals.
Instead of looking for a new job when you outgrow your role, you'll find a path to grow here. We'll nurture your aspirations and career goals, helping you along the way with training, courses, and certifications for technical skills to prepare you for the next step.
Our team is already doing a good job. Our next step is to go from good to great. Building on our high-performance culture, it's an exciting time for all of us to be part of a global digital transformation.